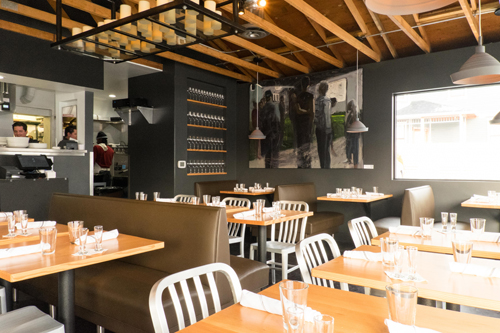 Tinker Street, an upscale restaurant in Herron-Morton Place that has remained closed to dine-in customers since the beginning of the pandemic, is up for sale.
Owner Tom Main, 63, said he contacted a broker about two weeks ago to put the business on the market. The asking price is $1.2 million, which includes both the business and the 900-square-foot building it occupies at 402 E. 16th St.
Tinker Street suspended operations on March 14, a few days before the stay-at-home orders prohibiting dine-in restaurant service took effect in Marion County.
Main said the restaurant reopened for carryout service in June but closed down again after a few weeks because the restaurant wasn't doing enough in sales to cover payroll costs.
The restaurant's size poses a challenge, Main said, because social distancing guidelines limit the space to about 10 to 12 indoor guests.
"It's so tight, there's really no way not to be close to one another," he said.
Main said he planned to reopen the restaurant when capacity restrictions were eased. He also considered adding picnic tables in the parking lot to expand outdoor seating capacity beyond the existing patio.
But when capacity restrictions did not loosen as the restaurant had anticipated, het decided it wasn't worth it to reopen.
He said selling would allow him to get out from under the $8,000 to $9,000 a month it costs him to keep the business closed. If he can't find a buyer at the right price, Main said he'll hold on and hope to reopen when conditions improve.
The most frustrating thing, Main said, is the uncertainty created by the pandemic. "I've been waiting for some light at the end of the tunnel. It's out so far I can't really see it."
Please enable JavaScript to view this content.