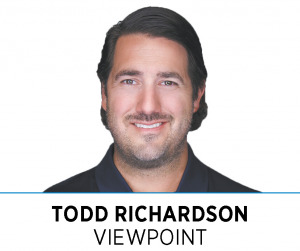 The Great Depression in the 1930s. The bursting of the dot-com bubble in the early 2000s. The Great Recession of 2008. And the 2020 COVID crash.
Just a few of the seminal moments in our nation's economic history. We are now in the midst of another impactful moment in our economic history: The Great Resignation. The question for all of us is, how will our businesses, large and small, respond?
In April of this year, 4 million people quit their jobs. That represents 2.7% of U.S. workers and marks the highest resignation rate ever recorded.
It wasn't just an anomaly. In a recent poll by Monster.com, 95% of workers are contemplating a job change. Why resignations are happening en masse can likely be attributed to some combination of the following:
◗ Employees are fatigued by the events of 2020 and are looking for a fresh start.
◗ The grass is simply greener on the other side. With 9.3 million job openings in the United States, employers are paying a premium for talent.
◗ Remote work is now expected, and employers requiring employees to return to the office are being shunned.
◗ Employees (especially younger workers) are reevaluating their professional pursuits and opting for lifestyle-friendly options that emphasize work flexibility.
We can argue whether the high rate of resignations and the rationales are warranted. However, I would rather consider what employers are going to do in response to retain top talent.
The surest way to retain talent is to invest in the whole person. We need to understand each employee's personal and professional desires and aspirations and then create opportunities to grow, care for and develop the varied aspects of his or her whole person.
I encourage all employers to engage with their employees in three ways:
1. Have at least a monthly one-on-one check-in during which tactical work items are paused and attention is paid to employees' mental wellness, personal pursuits and professional reflections. Deeply understand where your employees' heads are, whether their needs are being met, and how you can play a positive role in their personal and professional development.
2. Provide your employees with a safe space and community to process life. With less than half of millennials claiming to have a single close relationship, it is important to assist employees in finding a mentor and a peer community. At our not-for-profit, Edge Mentoring, our mission is to ensure young adults have the supportive community they need to grow and develop.
3. Regardless of company size, all employers should maintain strategic human resource services. Included in these services should be a quarterly engagement survey to allow for employee feedback. You don't know how employees are doing unless you ask. And once you ask, be prepared to act on what you have learned. Strategic HR services are not reserved for large companies. If you are a small or medium-size business and can't justify having in-house HR, look to external partners for strategic people support.
Employers that focus on these three activities will be more effective in weathering The Great Resignation and ultimately retaining a more engaged workforce. Those that run the same playbook as before will succumb to The Great Resignation.•
__________
Richardson is CEO of Edge Mentoring.
Please enable JavaScript to view this content.