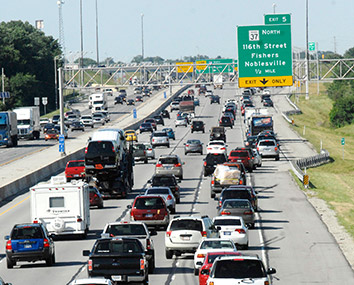 Drivers in many U.S. cities—including Indianapolis—were stuck in traffic far longer in 2022 than the year before, with time savings tied to the pandemic dissipating but not disappearing in commutes around the country, according to data from transportation analytics firm INRIX.
Chicago-area drivers had the most hours wasted while sitting in congestion last year, with the average driver losing 155 hours to traffic—a jump of about 50 percent compared to 2021, according to INRIX's global traffic scorecard released Tuesday.
Boston and San Diego saw delays per driver increase by about 70 percent in 2022. The tally of wasted time was up 89 percent in the Washington region, including Maryland and Virginia, soaring from 44 hours of delays in 2021 to 83 hours in 2022.
Indianapolis was ranked 39th among U.S. cities on the scorecard, with drivers wasting 24 hours, on average, to congestion, in 2022. That time marked an increase of 71% from 2021 but was down from pre-pandemic days in 2019.
Circumstances varied among cities, said Bob Pishue, a transportation analyst at INRIX, but work-from-home policies established to reduce coronavirus transmission led to stark drop-offs in driving during earlier stages of the pandemic.
"D. C. and San Francisco actually saw huge decreases in traffic, more so than some other major areas," Pishue said. "A lot of it came back last year. But it's still below pre-covid levels."
In Seattle, Baltimore, Providence and Washington, average time stuck in traffic is down by one-third or more compared to before the pandemic, according to INRIX. Congestion delays in Chicago are up 7 percent, while Miami's delays were up 30 percent.
The company's scorecard ranked 295 U.S. urban areas largely on the average delays faced by drivers, with slight adjustments based on population. Delays remained below their pre-covid levels in 179 of the areas, and they exceeded them in 116, according to INRIX, noting that smaller and less-congested cities have tended to see their old delays come back.
Data from the Federal Highway Administration showed vehicles in the United States traveled about 39 billion miles in the first three quarters of 2022, representing a 1.6 percent increase compared to a year earlier.
For many metro areas, the rebound in congestion in 2022 stemmed from the return of the morning commute, Pishue said. Traditionally, traffic would peak in the morning, drop during the day, then rebound in the afternoon and evening, he said.
During much of the pandemic, the pattern shifted toward traffic steadily increasing throughout the day, but now those peaks are coming back, Pishue said.
"Some would say that's kind of welcome," Pishue said. "I hate to say traffic congestion is welcome. But it does signify a little bit that 'return to normal' that most of us were used to."
Please enable JavaScript to view this content.