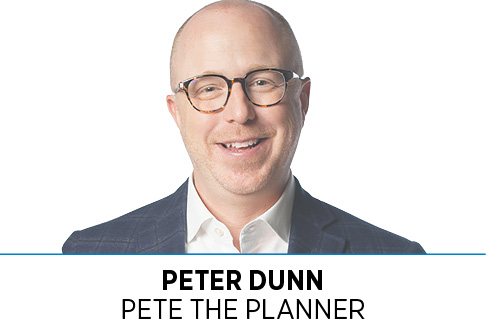 All I ever wanted to be was 16 years old. That particular age represented all the freedom and possibilities I could imagine. I dreamed of loading my sister's car up with my friends or even trying to convince a girl I could be entertaining for a couple of hours.
The reality is, my first solo excursion was a trip to the dentist, which ended with me tank-slapping the car into a guard rail on an on-ramp near Kentucky Avenue. When explaining this "slight, very minor inconvenience" to my father, I blamed a squirrel's indecision. To this day, he's let me live with my sad lie.
Achieving 59-1/2 years old isn't terribly different. But instead of getting the keys to your sister's rotten-cherry red 1989 Plymouth Sundance, you are handed the keys to your entire life savings.
I'm sure there's some clever backstory as to why Americans can access their qualified money (retirement savings) at 59-1/2, but I don't know it and there's no Wi-Fi on this flight, so I can't Google it. Alas, it's strange that the most dangerous period of a person's financial life starts in their 714th month on this planet.
At age 59-1/2, you can make withdrawals from your retirement accounts without penalty, and in the case of Roth retirement accounts such as Roth IRAs and Roth 401(k)s, you can access your money without paying taxes.
You might have heard the term "retirement poor," but it doesn't mean what you might think it means—a retired person who is poor.
Retirement poor describes a person who has a tremendous amount of assets but can't access them until retirement age, which for some reason is 59-1/2, even though that's not really retirement age.
I overheard a gentleman talking the other day about paying for his daughter's wedding, and he mentioned to his conversation partner (not me) that he was glad he'd just turned 59-1/2 so he had access to "serious cash" to pay for the wedding. I felt a bit like a priest who just overhead a person tell a barista he'd killed someone that morning. But this wasn't exactly a confession, so I guess I'll use it for a homily.
Your retirement nest egg is always fragile. It doesn't get less fragile once you gain access to it. In fact, it gets more fragile once you have access to it and your bad ideas start to swirl. If you're like most Americans who can successfully retire, your nest egg is just enough to create a reasonable retirement income stream. Letting money leak out of it before creating said income stream is usually a really bad idea.
Weddings, your kids' college education, a kitchen remodel, a trip to the Panama Canal, or even buying copious amounts of your favorite author's financial books, are all horrible uses for your nest egg.
But you gotta do what you gotta do, right, Pete? Eh.
Let's assume for a moment you don't care what I have to say, and you're bound and determined to use your retirement money for a non-retirement use once you reach age 59-1/2. Would you at least do yourself a favor and employ a little bit of math?
I'll give you the basics of the calculation, but if you find yourself confused, talk to a financial adviser. Don't just guess.
First, subtract the price tag for your good idea from your current retirement nest egg. Then project the future value of your nest egg by applying a reasonable annual rate of return and the deposits you've yet to deposit for the remainder of your career. Once you've calculated your new, future nest egg, determine whether it can supply you with the level of retirement income you need to survive. Simply, is the projected balance at least 25 times your desired annual income?
If it is, then your good idea isn't a bad idea. If your projected balance is less than 25 times your desired retirement income, your good idea is a terrible idea.
You know that talk you give your kids about responsibility and freedom when they achieve some exciting age? Find a mirror and give it to yourself when you turn 59-1/2.•
__________
Dunn is CEO of Your Money Line powered by Pete the Planner, an employee-benefit organization focused on solving employees' financial challenges. Email your financial questions to askpete@petetheplanner.com.
Please enable JavaScript to view this content.