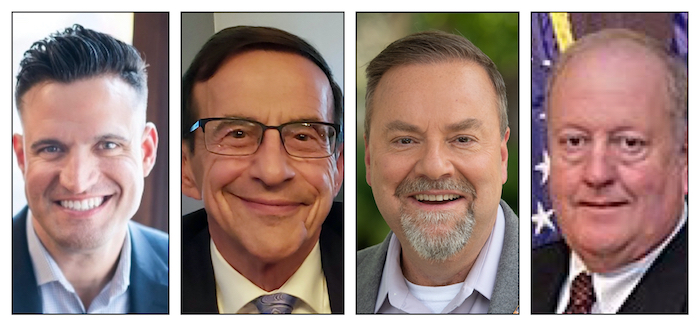 Four Hamilton County Council races are on the ballot for the May 3 primary, but only two will be contested when voters go to the polls.
Incumbents Amy Massillamany of District 2 and Ken Alexander of District 4 do not have primary challengers. They will advance to the General Election as Republican nominees.
Massillamany will face Democratic candidate Nathan Bullock in November. Bullock is the only Democrat who filed to run in the May primary.
Two Republicans are seeking the District 1 council seat to replace incumbent councilman Fred Glynn, who is running to represent Indiana House District 32. A rematch of a 2018 Republican primary in District 3 is also on the ballot.
The seven-member council controls the county's purse strings by setting annual budgets, appropriating additional funding throughout the year and signing off on the issuance of bonds.
District 1
John Accetturo will face Tim Griffin in the race to represent District 1, which encompasses most of Carmel and the western edge of Fishers.
Accetturo, who served on the Carmel City Council from 2008 to 2011, said he is running because he wants to make Hamilton County government better and more responsive to taxpayers.
The county needs to have a comprehensive plan to spend money it received from the CARES Act and the American Rescue Plan Act, according to Accetturo.
He also said he wants to see more transparency for major road and spending projects, such as construction on State Road 37 and the reconstruction of the East 146th Street and Allisonville Road intersection.
"I just feel we need to get better oversight of what's being done with the money here in Hamilton County and more transparency on the projects," Accetturo said.
He added that he thinks the county option income tax should be reduced to 1%. Accetturo also said one of his priorities would be to appoint people to county library boards who will "support the removal of sexually explicit material from [being available to] children."
Griffin, a firefighter with the Carmel Fire Department for 18 years, said he wants to provide oversight on programs and serve as a check and balance for the county commissioners.
"I want to be able to work well with the rest of the council and the county commissioners, whether we always agree or not," he said. "I think we're all there to try to do the best we can for the county."
Griffin said he is running because he wants to keep the county's tax base low and preserve its AAA bond rating. Road safety and infrastructure are other areas he would prioritize after years of responding to serious crashes in his role as a firefighter.
"It's kind of just a natural extension of service to the community," Griffin said. "I've been serving the community in a different capacity for 18 years, and [serving on the Hamilton County Council is] a new way that I can really kind of give back to this community."
District 3
In District 3, which includes Noblesville, Jackson and White River townships, incumbent Steve Schwartz is opposed by his 2018 Republican primary opponent, Mark Hall.
Schwartz, who is running for his sixth term on the county council, was first elected in 2002. He said his top accomplishments in office include working to make the county's tax rate the fourth-lowest in Indiana, while also helping to improve parks, infrastructure and schools.
He cited construction on State Road 37 and a planned domestic abuse shelter as projects he is excited to see completed.
"We have a huge amount of projects that we've started," Schwarz said. "I'd like to see those all the way through."
Hall, a 34-year Noblesville resident, criticized $42 million in cost overruns on State Road 37 and what he described as county officials' lack of transparency with the public.
He also listed public safety, oversight of the courts system, affordable housing and food insecurity as major issues facing Hamilton County.
"Crime has to be job one. Public safety has to be job one," Hall said. "[Food insecurity] is an issue that leads to crime. There's nothing more desperate than a mom and dad that can't feed their children."
Please enable JavaScript to view this content.