Kendra Patrick and Melany Bellucci are good friends and members of the Irvington Garden Club, who spend summers swapping plants, advice and neighborhood stories.
Kendra's garden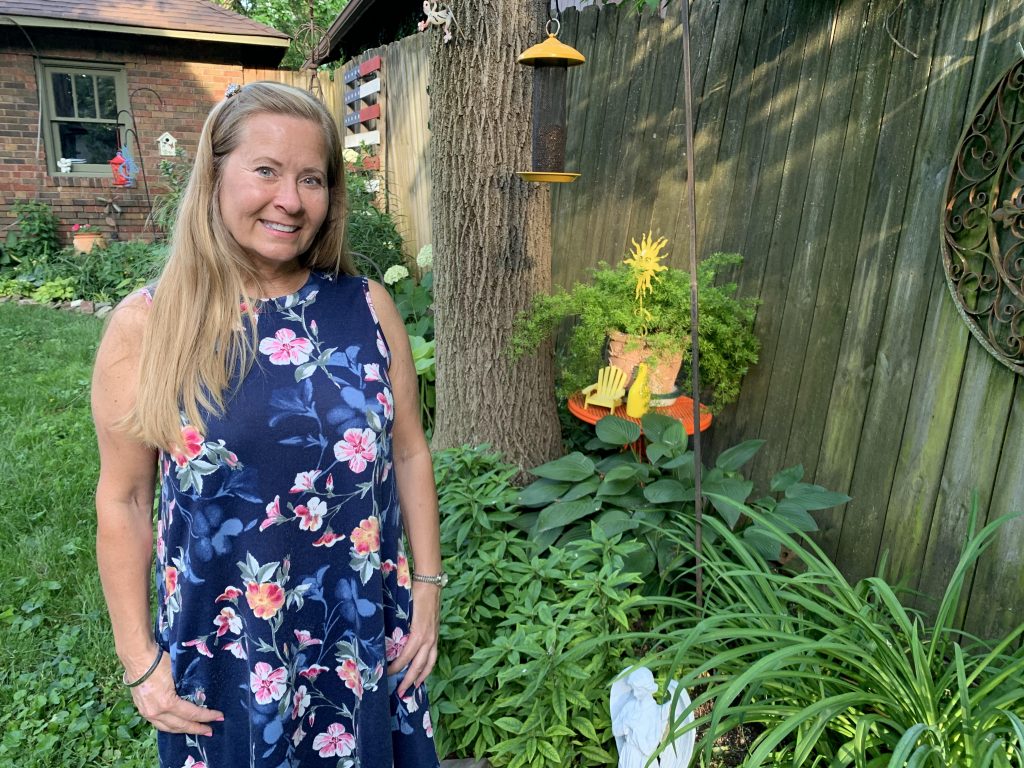 Patrick does her gardening at a duplex she moved into about 6-1/2 years ago.
But renting hasn't stopped her from personalizing the space. In fact, Bellucci's landlord told her to do whatever she wanted with the yard—and so she has, filling it not just with perennials but also pots of annuals, bird feeders, statuary, art and more.
Old bricks she found in the yard (a common thing when you're digging in Irvington) line flower beds that wrap her narrow fenced yard. Patrick didn't line up the bricks. Instead, she crossed them, creating a pattern that keeps the bed from feeling stuffy.
The garden is full of treasures. She hung an old wooden ladder horizontally on the fence to use as a sort of shadow box to show off small figurines, a mosaic birdhouse and more.
Much of the garden is in shade and is filled with ferns, variegated and green hostas, astilbe and dead nettle, with bright pops of color from annuals, metal flower art, and tiny wooden chairs in between. A potting bench against the back of the brick house has more tchotchkes, pots of annuals and a sign that declares, "I love it when you talk dirt to me."
There's more sun at the front—but not a lot more, which means the hostas still do well, but so do some showier plants that might burn up in too much heat. Several stunning clematis vines cling to some small trellises and a huge hydrangea is a focal point. Silver dollar plants, astilbe and black-eyed Susans add texture.
Melany's garden
Melany Bellucci was already living—and gardening—in Irvington when she met her eventual husband, Jerry, and they bought a house along E. Pleasant Run Parkway South Drive, just a couple of blocks west of Arlington Avenue.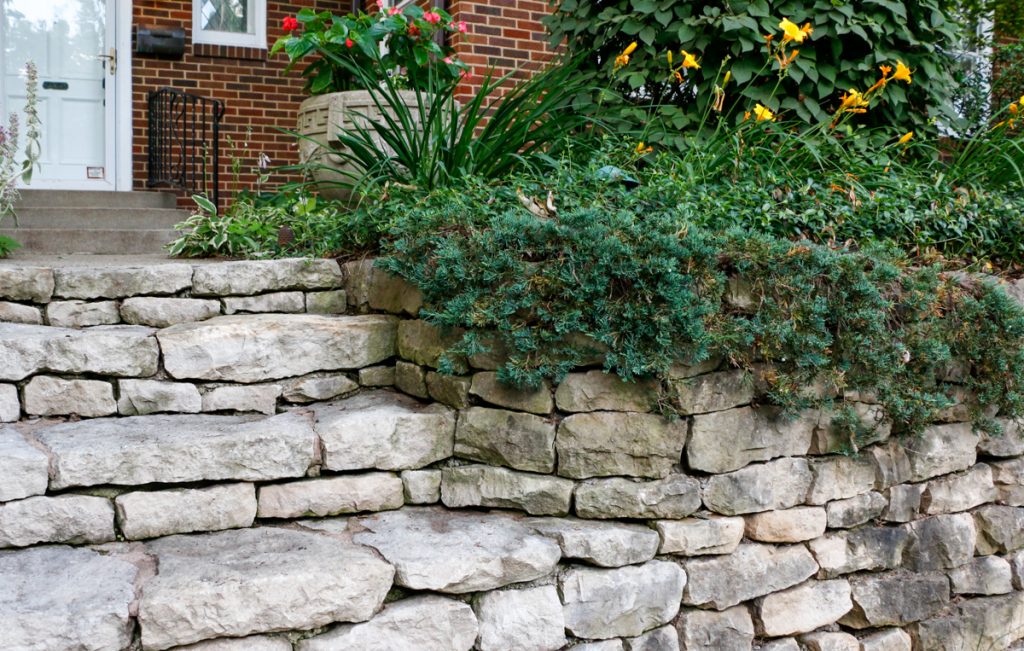 Twenty-two years (and a stone wall, a paver patio and thousands of plants) later, the Belluccis have created a peaceful place to relax and entertain friends.
A massive and stately chinkapin oak—between the house and the drive—hangs over both the front and much of the back yard, which means lots of shade gardening. That might seem like a challenge to some, but Melany loves it, saying more shade means less weeding—and plenty of room for ferns, hostas, columbines and dragon wing begonias in huge urns near the front door.
The begonias are one of her favorite plants.
"You don't really have to do anything. You don't even have to deadhead them," she said. "They just grow and are amazing. They really feel out a pot and they're easy. And I like that."
The urns sit at the top of steps that cut through a stone wall the Belluccis added not long after moving in. The tiers make room for a Japanese maple tree, holly and a pink dogwood that was "glorious this year," Melany says.
Day lilies, clematis and dozens of other perennials keep the front from feeling too formal. Ferns and hostas along a side yard—which is maintained by Melany, though it's on the neighbor's property—lead to a back yard that is shaded near the house and sunny at the back.
The couple added a paver patio out the backdoor, which is lined with iron posts from her dad, who was a welder. Adirondack chairs made by Jerry create a comfortable—and for now, socially distanced—seating area, lined with more pots of begonias and other annuals.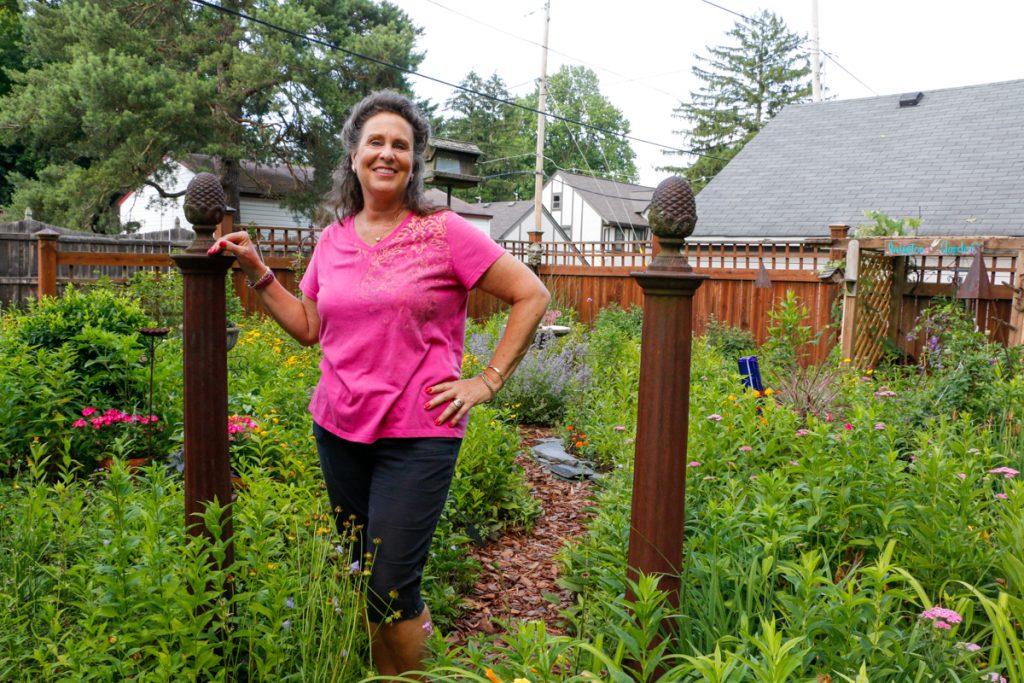 And speaking of those pots. Melany has 93 of them, hanging along the back, sitting on the patio, clustered at the end of the drive, tucked into small spaces here and there, overflowing with color and texture.
At the back of the yard—where the sun shines all day—is an explosion of wildflowers. Yarrow, coreopsis, bee balm, cone flowers, lilies and bear's breeches (a spiky perennial with deeply scalloped purple flowers) are tangled, interrupted by small paths and occasional stones, a bird bath, metal work, found objects—and, of course, more pots.
Two more iron posts that belonged to Melany's dad serve as a sort of entry to the wilder part of the garden, and tucked among the plants is a rusty metal table that Melany created in a welding class.
Even the path to the alley is lined with more lilies, a potting bench and a bench with yet more pots.
So what is Melany's advice for a new gardener? Start small and seek advice from those who are doing it.
Please enable JavaScript to view this content.