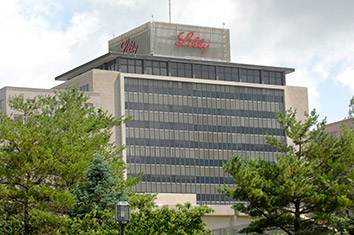 The U.S. Department of Health and Human Services has paused the distribution of COVID-19 antibody therapies developed by Indianapolis-based Eli Lilly and Co., as well as one from another pharmaceutical company. The agency cited new data that shows the therapies are unlikely to be effective against the Omicron variant.
The Lilly therapies, bamlanivimab and etesevimab, received an Emergency Use Authorization in February to be used together to treat mild-to-moderate COVID-19 in patients 12 years of age and older who are at high risk for progressing to severe cases or hospitalization.
The authorization was expanded earlier this month to treat certain high-risk pediatric patients from birth to 12 years old.
However, the U.S. Food and Drug Administration said the distribution of the combination therapy, along with the REGEN-COV therapy from Regeneron Pharmaceuticals Inc., will remain paused "pending updated data from the CDC."
The U.S. government purchased $1.29 billion worth of Lilly's antibody treatment, Lilly announced in November, amounting to 614,000 doses. That was a sharp increase from the previous government purchase announced in September, 338,000 doses of etesevimab to complement doses of bamlanivimab already on hand.
A potential time frame for the pause on the Lilly and Regeneron drugs to be lifted was not given.
For more than a year, the antibody drugs from Lilly and Regeneron have been the go-to treatments for early COVID-19, thanks to their ability to head off severe disease and keep patients out of the hospital.
But both drugmakers recently warned that laboratory testing suggests their therapies will be much less potent against omicron, which contains dozens of mutations that make it harder for antibodies to attack the virus. And while the companies say they can quickly develop new omicron-targeting antibodies, those aren't expected to launch for at least several months.
The government did say sotrovimab, developed by United Kingdom-based GlaxoSmithKline and Vir Biotechnology in California, did show effectiveness against the Omicron variant and shipments of the drug have resumed after being paused last month.
Please enable JavaScript to view this content.