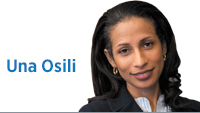 I grew up in Nigeria. As a young child, I witnessed firsthand the tragic effects of maternal mortality.
Nigeria has one of the highest maternal mortality rates in the world. When I was 6 years old, our healthy neighbor went to the hospital to deliver a baby. She never returned home. We were shocked to learn that she died tragically while giving birth in a hospital.
The death of any human being is a tragedy. But when that person is also a mother, the far-reaching loss imposes enormous costs and intergenerational impacts on families and communities.
Given advances in health care, deaths related to pregnancy are unacceptable. I was alarmed to learn from America's Health Rankings that Indiana ranks third in the nation for maternal mortality.
Indiana's maternal mortality rate is 50.2 of 100,000 live births. The rate of life-threatening complications for new mothers in the United States has more than doubled in two decades. This increase can be explained by several complex factors, including unequal access to care.
Looking more closely at the data, maternal mortality rates for black women are consistently three to four times higher than for white women. This racial disparity in maternal mortality affects women of all income groups. Serena Williams and Beyonce made this clear by sharing their frightening childbirth stories.
The hard truth is that more American women—of all races—are dying of pregnancy-related complications than in any other developed country. The United States is one of the few countries where the rate of women who die during childbirth has increased. According to professor Neel Shah of Harvard Medical School, American women today are 50% more likely to die in childbirth than were their mothers.
Reports emphasize that maternal deaths are often preventable since their causes reflect gaps in health care provision and systems, social support and infrastructure.
Here in Indiana, health care practitioners are raising alarms as an essential first step. They point to the lack of maternity health wards and a shortage of adequately trained medical practitioners. Improving maternal mortality rates here in Indiana will require updating facilities to include the appropriate technology, equipment and experienced personnel.
Currently, federal and state funding data show only 6% of block grants for "maternal and child health" are directed toward the health of mothers. Policymakers in Indiana can do more by tracking maternal mortality so that delays in lifesaving care and maternity ward deserts can be addressed.
In addition to grants, there is much we can do to expand the support for pregnant women and new mothers. An emphasis on maternal health will require addressing women's health before pregnancy.
To date, far too few philanthropic dollars have been focused on maternal health. A new report—the Women & Girls Index: Measuring Giving to Women's and Girls' Causes—quantifies charitable donations to organizations in the United States dedicated to women and girls.
The report finds that organizations focusing on women and girls received only 1.6% of all donations made that year.
Although women's and girls' organizations that focus on women's health receive the largest share of philanthropic support ($1.2 billion in 2016), maternal health has not yet attracted funding.
It comes down to this: We all must expand efforts to address maternal health. We must close the gaps in health care access. Such a goal will require the commitment of government, health care professionals, policymakers, parents, friends, neighbors and colleagues—in other words, all of us.•
__________
Osili is professor of economics and associate dean for research and international programs at Indiana University Lilly Family School of Philanthropy.
Send comments to ibjedit@ibj.com.

Click here for more Forefront columns.
Please enable JavaScript to view this content.