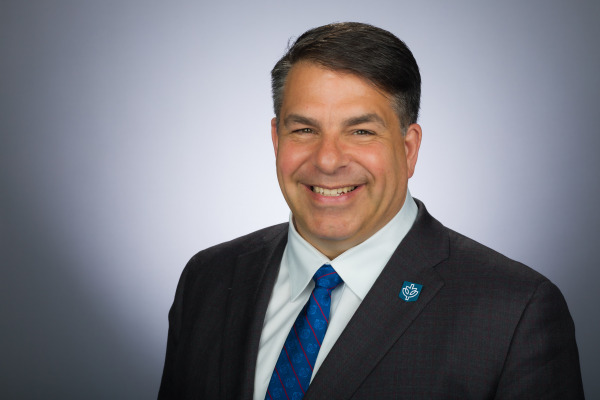 DePaul University in Chicago has named Robert Manuel—who has been president of the University of Indianapolis since 2012—as its next president, a position he will start on Aug. 1.
Phillip Terry, the immediate past president of UIndy's board of trustees and the former CEO of Indianapolis-based Monarch Beverage Co., will serve as interim president of the school on the south side of Indianapolis starting July 2.
The UIndy board has formed a search committee to look for a new president.
"President-elect Manuel's inspirational leadership combined with his dedication to academic values will solidify DePaul University's future as a distinguished institution that offers a transformative education to a diverse group of students," DePaul Board Chair Gerald Beeson said in a statement Tuesday.
DePaul's board unanimously voted to select Manuel, 54, at a meeting on April 21, but the decision was not announced until Tuesday. The school said it picked Manuel after "an extensive national search."
Manuel will succeed Gabriel Esteban, who has served as president since 2017 and last summer announced his decision to step down. Esteban will continue to serve as DePaul's president until July 31.
UIndy has nearly 5,600 undergraduate, graduate and continuing education students. It offers more 100 undergraduate degrees, more than 40 master's degree programs and five doctoral programs.
During his decade at UIndy, Manuel developed the R.B. Annis School of Engineering, which is now housed in a redeveloped local industrial building on Shelby Street. In addition, the school built three new residence halls, developed the 150,000-square-foot University Health Pavilion and purchased several parcels around the campus with the goal of creating more amenities for students.
"I have always been guided by the principle that a university serves as a vital community partner, anchor and catalyst for the development of local quality of life initiatives and economic infrastructure," Manuel said in a statement. "I have worked diligently to build networks for students with faculty, staff, alumni and industry to maximize their potential in becoming engaged citizens who contribute to their communities.
"I believe institutions are most impactful when they value the talents of their faculty and tie them to the needs of the community. This approach raises the collective impact for everyone and offers students the opportunity to see how their education serves their local communities."
Before joining UIndy, Manuel served as Georgetown University's dean of the School of Continuing Studies and then as its associate provost.
In the statement issued by DePaul, Manuel said he is "inspired by the life-changing opportunities a DePaul education creates for its students, as well as the community it has built for faculty and staff. I am excited by the potential partnerships that are possible because of the robust and diverse community in which DePaul lives."
In addition to serving as the UIndy board president, Terry recently was the executive-in-residence at the University's Stephen F. Fry Professional Edge Center, which aims to help students and alumni in a variety of career stages by connecting them with regional and global leaders.
"I am deeply honored to accept this interim appointment and serve as a steward for the University of Indianapolis at a time of incredible momentum," Terry said in a statement from UIndy. "I have the benefit of having been a board member throughout the entirety of Dr. Manuel's tenure, so I know the work that has occurred these last ten years to usher in tremendous growth at the University and I am excited to make sure that work continues throughout this important transitional period."
Manuel said in a statement he has worked closely with Terry and that he has "provided important counsel to myself and to my senior leadership team as we have navigated a challenging last two years. As a result he is intimately familiar with university operations and will be able to deftly guide the university, without interruption, as the board conducts a presidential search."
Please enable JavaScript to view this content.