Probo Medical's latest acquisition realizes the company's transition from a niche repair firm for ultrasound components to a multinational imaging-machine supplier.
Dave Trogden founded Fishers-based Probo Medical in 2014 to fill a narrow market. Health care providers that were used to paying $10,000 to $15,000 for new ultrasound probes flocked to buy the firm's refurbished components at half the cost.
The narrow focus served the company well for a few years, allowing it to consistently double annual revenue.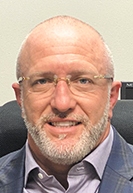 But now the company—under recently appointed CEO Michael Asmer—has a far broader vision, one that aims to maintain the explosive growth by expanding into the whole gamut of medical-imaging equipment.
"We've watched, over the years, just how important imaging has become in the medical arena," Asmer said. "It's going to be critical for moving health care forward."
Asmer took the helm in November, succeeding Trogden, who now serves as chairman. Trogden, who could not be reached, says on LinkedIn he "remains active through the board of directors and shared ownership."
Asmer closed his first big deal in March, the acquisition of Florida-based Elite Medical Technologies and its 2-year-old European arm, Future Medical Equipment.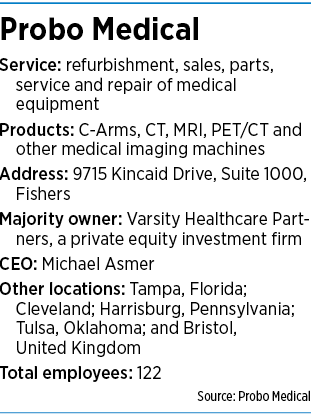 The purchase not only establishes the 122-employee firm as a multinational company, it brings "big iron" medical imaging machines—including CT, MRI and PET/CT—under Probo's umbrella.
The deal swells Probo's projected 2020 revenue to $80 million, a gargantuan leap from the $11 million it recorded in 2017.
Terms of the purchase weren't disclosed, but to help pull it off, Probo raised $21.5 million in a private offering, according to a Securities and Exchange Commission filing.
Acquiring related companies has been Probo's chosen growth method since 2018. It's actually how Asmer joined the company.
Asmer was CEO of MedCorp—a Tampa, Florida-based company offering full-service ultrasound sales and repairs—when Probo bought the company in February 2018.
"It was a good marriage," Asmer said. "They were doing a lot with probes and probe repair, and we were selling a lot of systems that needed probes and probe repairs. It kind of helped complete the picture for us."
The deal caught the attention of Varsity Healthcare Partners, a Los Angeles-based private-equity firm. Varsity invested in Probo later that year to become a majority shareholder.
Representatives from Varsity did not respond to requests for comment by IBJ's deadline.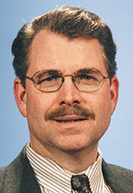 Steve Jones, a finance professor in the Indiana University Kelley School of Business at IUPUI, said Varsity appears to have viewed Probo as a strong platform that could grow even faster by acquiring complementary businesses.
Jones said private-equity ownership—which usually is accompanied by ambitious growth goals—can be a jolt for smaller firms like Probo.
"When you take a company that has grown organically and you bring in private equity, there's a risk there," Jones said. "But on the other hand, it's an educated risk. It's not always sustainable to stay small. Sometimes, if you don't grow, you get eaten up by the competition running alongside of you."
Probo's first Varsity-backed acquisition was the February 2019 purchase of Harrisburg, Pennsylvania-based Trisonics. Asmer said acquiring Trisonics brought additional engineers and salespeople focused on ultrasound repair into Probo's fold.
A few months later, Probo bought suburban Cleveland-based Providian Medical Equipment, a deal that Asmer said helped Probo modernize its sales tactics.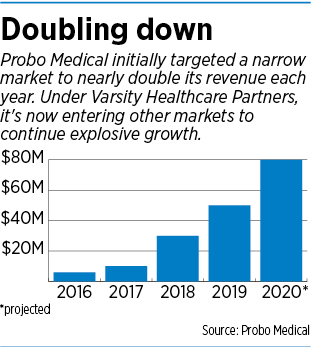 Probo's acquisition spree and internal growth has made it a fixture of IBJ's Fast 25 list, which highlights central Indiana's fastest-growing private companies.
It ranked second on last year's list, with revenue growth from 2016 to 2018 of 398%. Over that span, sales grew from $6.0 million to $30.1 million.
Last August, Inc. magazine named Probo the 476th-fastest-growing private company in the nation.
Asmer said there's still plenty of room for more growth. He noted that the domestic imaging market is about $5 billion, and the international market is at least twice that.
He acknowledged that the coronavirus will pinch revenue this spring, as health care providers deal with the pandemic. But he said the sales outlook longer term remains strong—in part because of the growing reliance on imaging to reduce the need for invasive medical procedures.
"We are probably going to see some degradation of sales in April and May, but it won't change what we're going to do. Imaging has been a steady market in health care as long as I've been in it," Asmer said.
He said that, even as the company seizes growth opportunities, it won't lose sight of its role as a middle-market business, one that operates in the space between family doctors and big manufacturers like GE and Siemens.
"We think we're one of the better-poised companies in the United States—and the world," Asmer said, "to bridge the gap between large [original equipment manufacturers] and these 'mom and pop' operations."•
Please enable JavaScript to view this content.