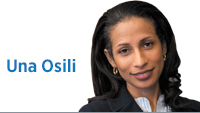 As we move forward to a new year, the words of the acclaimed Indian author Arundhati Roy resound. In her widely quoted essay published in the Financial Times, she writes: "Historically, pandemics have forced humans to break with the past and imagine their world anew. This one is no different. It is a portal—a gateway between one world and the next."
To rebuild our world, we will need to confront urgent issues from the past. The COVID-19 recession has not only exacerbated high levels of inequality, it has also reinforced widening racial and social divisions.
Technological change and the digital transformation have meant industries with business models reliant on low-skilled and low-wage workers have been hit hardest. The costs of the pandemic are being borne disproportionately by low-income workers with unprecedented needs in food insecurity, rental assistance and mental health services.
By looking at historical data, scholars have emphasized that changes in the eventual distribution of wealth following the pandemic will depend on health impacts, policy reforms and important prior conditions.
Economists have drawn attention to the short-term and long-term effects of pandemics. Initial evidence suggests that the 1918 influenza pandemic worsened inequality.
To meet the challenges of our time, we must address the pandemic's rising toll on low-wage workers.
Although our political landscape remains sharply divided, there are some policy reforms many Americans support. Some encouraging shifts in public opinion include support for direct cash payments to vulnerable households, raising the minimum wage, and actively supporting small and minority-owned businesses.
First, we have seen urgent calls for direct cash payments to tackle mounting need for rental assistance, food, utilities and mental health services.
Second, we have seen renewed support for overhauling the federal minimum wage, which currently stands at $7.25 per hour and has not been updated since 2009.
President-elect Joe Biden has pledged support for raising the federal minimum wage to $15 an hour. Efforts to raise the minimum wage at the state and local level continue to gain momentum.
The Congressional Budget Office estimates that increasing the minimum wage to $15 by 2025 would boost paychecks for nearly 27 million American workers and lift 1.3 million people out of poverty.
Finally, yet another promising shift is that more Americans are supporting locally owned small businesses, socially conscious companies and—as an outgrowth of the urgency of the racial and social justice movement—Black-owned enterprises.
Rob Fairlie, an economist at the University of California, Santa Cruz, has studied the pandemic's initial impact on small businesses. His research indicates steep losses of small businesses in the United States from February to April last year.
African American businesses were hit particularly hard in 2020, with a 41% drop in the number of Black-owned enterprises, from 1.1 million in February to 640,000 in April. Nearly half of U.S. Black-owned businesses have been shuttered, with long-term implications for livelihoods and recovery.
State and local governments, private companies and not-for-profits can remove institutional barriers for Black-owned businesses. An immediate step is for companies to examine their supplier networks to ensure that their processes are inclusive of Black-owned companies. Black-owned enterprises can also benefit from direct investment and equity contributions.
The pandemic has been devastating, but it can also be a catalyst for change. We can reimagine our society and commit to our core values as we rebuild to meet demands for inclusive growth and equity. •
__________
Osili is professor of economics and associate dean for research and international programs at Indiana University Lilly Family School of Philanthropy.


Click here for more Forefront columns.
Please enable JavaScript to view this content.