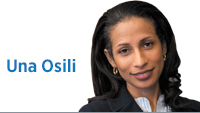 A new year brings renewed hope and optimism.
Charitable giving has been central to the health and well-being of communities in Indiana and beyond. A global pandemic made clear how interconnected we all are. However, there is still a great deal of uncertainty as we enter its third year.
Three key trends will likely shape the charitable-giving landscape in 2022. There are both opportunities and risks in the year ahead.
First, charitable giving tends to be closely linked with overall economic trends. Households give to causes and organizations that matter to them, but financial and economic conditions will continue to shape their giving behavior.
The economic data for 2021 showed a strong year for the U.S. financial markets. Last year, the S&P achieved returns of over 26%, and strong corporate earnings and fiscal and monetary policies boosted equity markets. The International Monetary Fund has projected 4.9% growth for the global economy in 2022.
Along with strong growth and low unemployment, inflation surged last year. Demand induced by the COVID-19 recession and the dual challenges of supply-chain disruptions and labor shortages led to higher inflation rates. According to the federal Bureau of Labor Statistics, U.S. inflation rose 6.8% over the last year, its fastest annual rate since 1982.
Second, ongoing disruptions in the labor market will pose challenges for the not-for-profit sector. The increasing cost of goods and services places a strain on not-for-profit budgets. Plus, resignations and job changes impose a significant burden for the not-for-profit economy. Before the pandemic, not-for-profits employed 12.5 million people, the third-largest employer in the country. The only sectors employing more workers were retail, restaurants and hospitality.
Not-for-profits will need to adapt to labor-market shortages amid higher demand for services. Organizations must seek innovative ways to deliver their services while implementing flexible schedules and better working conditions.
Finally, the pace of technological innovation in the philanthropic sector in fundraising and service delivery will need to accelerate even more in 2022. Not-for-profits showed resilience and creativity by exploring new ways of connecting with donors and their stakeholders, ways like digital giving and crowdfunding.
Many not-for-profits are still learning how best to use new technological tools. Organizations have achieved success during this challenging time by expanding interpersonal engagement via hybrid and virtual gatherings.
The pandemic accelerated a growing trend: the need for digital tools and personal connections.
With the uncertainty of the pandemic still unfolding, we can expect the shape and pace of the economic recovery in 2022 will influence charitable giving.
Not-for-profits will need to navigate new economic realities and embrace technological innovation to achieve growth and impact in the year ahead. In other words, what worked before might not work now. Indeed, it is a new year of hope, a time of opportunity and change.•
__________
Osili is professor of economics and associate dean for research and international programs at Indiana University Lilly Family School of Philanthropy. 

Click here for more Forefront columns.
Please enable JavaScript to view this content.