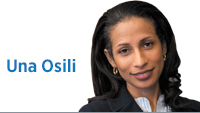 On March 16, our nation was shocked and outraged by the horrific mass shootings in Atlanta. Of the eight people killed, six were Asian-American women.
With a climate of growing anti-Asian hate during the pandemic, there has been a rise in violence against Asian Americans and Pacific Islanders.
One advocacy group for Asian Americans and Pacific Islanders, Stop AAPI Hate, documented nearly 3,800 self-reports of anti-Asian hate incidents in the past year. Based on the data, Asian women report hate incidents at a higher rate than men. Moreover, these hate incidents and crime statistics are likely to be underreported.
Donations and contributions have spiked since the shootings that also brought public awareness to the violence against Asian Americans.
According to the research group Candid, $25.8 million has been pledged to Asian American groups or causes in the aftermath of the Atlanta shooting.
By comparison, only $595,000 had been committed this year before the attacks and $54 million in all of 2020.
A recent Go Fund Me campaign to raise funds for the medical expenses of an elderly Asian American woman attacked in March in California has raised nearly $1 million. The Asian grandmother announced that she would dedicate these funds to combat racism against the Asian American community.
Another Go Fund Me campaign was launched by a young man whose mother was one of the Atlanta shooting victims. The campaign has raised almost $3 million from over 75,000 donors.
Once again, Americans are confronted with acts of violence and have raised their voices to denounce these senseless acts. It is inspiring to see many leaders and activists of all backgrounds join forces to combat intolerance and violence against Asian Americans and Pacific Islanders.
Last summer, a multiracial coalition of Americans joined nationwide protests following the killing of George Floyd.
An estimated 15 million to 26 million Americans took to the streets to protest and call for racial justice. The protests also triggered urgent debates on race and social justice. Many Americans adorned their homes with bold messages of solidarity with Black communities and hung banners outside their homes. The data shows that nearly 20% of American households gave to racial and social justice in 2020. The racial and social justice movement in 2020 was very much an online phenomenon. Many of these donors are younger and from diverse backgrounds.
With the recent surge in violence against Asian Americans, a multiracial coalition is needed to condemn hate and work to achieve lasting social change. Opinion polls show growing support for addressing racial disparities.
Here in Indiana, we must raise awareness and deal with the legacy of discrimination and other forms of exclusion. Asian Americans span vastly different migration experiences and socio-economic backgrounds.
We can all contribute to Asian American organizations working to combat hate and violence. Supporting local organizations to advance the health and well-being of the Asian American/Pacific Islander community must be a priority.
To combat anti-Asian violence, we need a renewed multi-racial commitment to fight hate and intolerance. Let's work together to achieve racial justice and equity.•
__________
Osili is professor of economics and associate dean for research and international programs at Indiana University Lilly Family School of Philanthropy. Send comments to ibjedit@ibj.com.

Click here for more Forefront columns.
Please enable JavaScript to view this content.