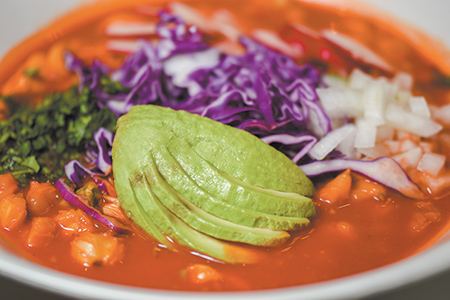 A small California-based chain that entered the Indy-area market in 2016 with the upscale Los Arroyos Mexican Restaurant and Take Out in Carmel now plans to branch out with a location in downtown Indianapolis.
Los Arroyos has agreed to lease 2,724 square feet at street level at 137 E. New York St. in the Ardmore apartments-and-retail project. The restaurant is likely to open in summer 2022.
At the Ardmore, Los Arroyos will join tenants Shake Shack, which opened Sunday; Rise'n Roll Bakery; and recent signees Java House and Sweetgreen.
Steve Delaney, first vice president and restaurant specialist for CBRE, represented Los Arroyos in the lease deal. Ryan Gershman, a principal for Ardmore owner Gershman Partners, and Executive Vice President Meghan Demars Kiger represented Gershman.
The Carmel restaurant is located at 11503 Spring Mill Road in The Bridges, a 63-acre mixed-use project, also developed by Gershman Partners.
"This is a first-class restaurant operator, and their first Indiana location in Carmel was a big success," Ryan Gershman told IBJ via email. "At the Ardmore, they'll bring an upscale bar/cantina with a proven track record."
The restaurant will be well-positioned across Delaware Street from the front doorstep of the Mass Ave entertainment and culture district, Delaney said.
"It affords them both the Mass Ave customers in the evening for dinner and the downtown daytime population for lunch," Delaney said. "It's a perfect location in that respect."
The first Los Arroyos location opened in a 600-square-foot subleased space in Santa Barbara, California, founded by Mexican immigrant Tony Arroyo. In 2004, he opened a second location in Montecito, California, and then restaurants in the cities of Camarillo (2009) and Goleta (2017). In the meantime, he had opened the Los Arroyos in Carmel.
Please enable JavaScript to view this content.