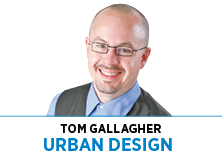 Cities have moments in their existence when bursts of energy and focus propel them forward. In my column last month, I described developments in Columbus, Ohio, that suggest it is having such a moment, one that has moved Columbus past us in terms of livability and vitality.
Indy has seen those moments, too. In the early 1970s, even as interstate highways were encroaching on the principal urban area to carry people away from it, the city made a conscious effort to locate Market Square Arena and the Indiana Convention Center in the central core, giving locals and visitors a reason other than work to visit downtown—a hallmark that remains central to the city's economic strategy. These projects renewed confidence in downtown, kicked off an era of reinvestment in public spaces and private developments, and garnered commitments from the city's biggest employers to stay in Indy.
I believe we are on the verge of another critical era. Indy has the knowledge and the ability. We also have an abundance of potential catalytic projects—either in design or gaining momentum—that, thoughtfully executed and with the right partners in place, could set the bar for our next 100 years. To name a few:
◗ Circle Centre mall. Columbus recently demolished its downtown mall in favor of a public space and new residential opportunities. While our Circle Centre was originally executed more thoughtfully than the one in Columbus, changes in the retail world have rendered its original purpose obsolete. Circle Centre has a prime location, but successfully repurposing it will likely require a major transformation. The city must make this a priority.
◗ South side of Market East district. One of Indy's newest named districts, Market East encompasses the areas north and south of East Market Street. Those areas have been relatively quiet, but within walking distance there are models of what could be. The CityWay development to the south and the Bottleworks district to the north, each at about 12 acres, have created momentum in their adjacent areas and set the tone for development. Imagine the potential on the south side of Market Street as the county jail and the heliport move out of Market East, unlocking more than 30 acres that are well-positioned along Washington Street and the potential Union Line multi-use corridor.
◗ Elanco Global Headquarters. Columbus has always had a strong visual connection to the "other side of the Scioto River," but the city hasn't found a catalyst project to stimulate development there. But Elanco's arrival on the west side of our White River will bring an internationally connected major employer to the 90-acre, former GM stamping plant site. Elanco has expressed its desire to become an anchor institution that can help energize a West Indianapolis neighborhood and help connect people to the river.
◗ IU Health/IU School of Medicine campus. These long-standing Indianapolis anchor institutions, looking to innovate the way they deliver health care, research, and education, are creating a joint campus that will stretch south from Capitol Avenue and 16th Street and have meaningful local and regional impact.
◗ The White River. In my last column, I wrote about the positive influence that attention to the Scioto River had on quality of life and development in downtown Columbus. Significant investment has already been made in the White River, particularly in the prevention of combined sewer overflows. And to prepare for a more engageable river, the city has completed the White River Vision Plan, which lays out a system-wide strategy for connecting neighborhoods along the river through the ecological and recreational opportunities the river can provide.
◗ The Union Line Super-connector. In previous columns, I have offered detailed thoughts about this concept: repurposing downtown's outdated, raised rail viaducts into a multi-modal connector, similar to the High Line in New York City. Beyond its potential to connect all of the city's major downtown venues, it could connect to neighborhoods around Riverside Park, the 16 Tech research hub, Elanco, the south side of Market East, Elevator Hill (the area of the former Angie's List campus) and NOMA (the burgeoning district "north of Mass Ave").
Several of these opportunities have the potential to benefit the entire city, not just downtown. Creating critical mass and building on synergistic opportunities—the things that give cities their "electricity"—are always necessary but don't need to be concentrated only in downtown.
Still our iconic center of business and leisure, downtown can drive its own legitimate local economy, one less dependent on visitors. But Indy can be a city full of "cool places," walkable urban neighborhoods throughout. The International Marketplace, 38th Street and Glendale are just a few of the places that could become great urban places outside of downtown proper.
We may be feeling a little behind Columbus at the moment, but Indy has great potential so long as we prioritize quality over quantity. In the end, the most important thing we can learn from Columbus' recent successes might be that anything is possible. Vitality takes vigilance and auspicious action. We are at a critical moment that we shouldn't let pass us by.•
__________
Gallagher is a principal and urban designer with Ratio and a professor-in-practice of urban design at Ball State University. Send correspondence to TGallagher@ratiodesign.com.
Please enable JavaScript to view this content.