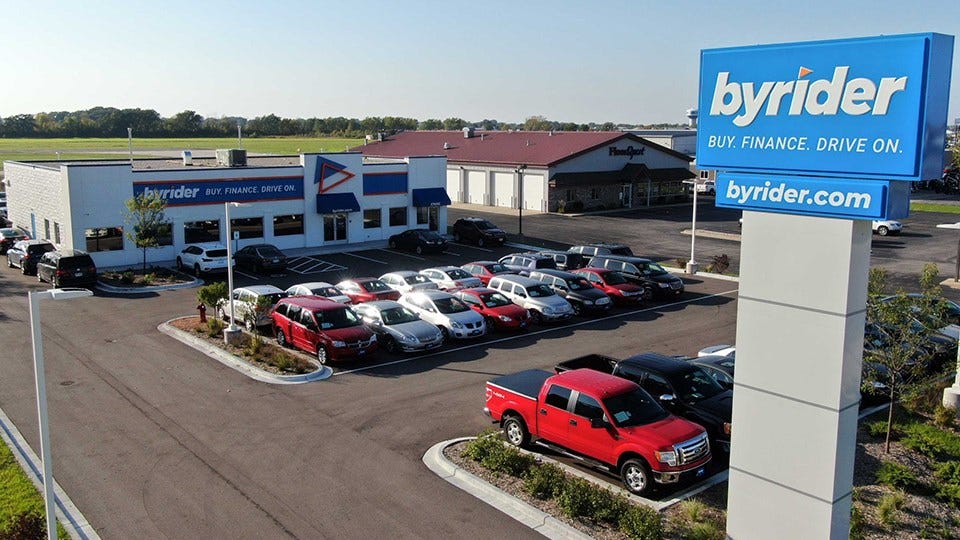 Byrider plans to cut 43 employees at its Carmel headquarters, the company said this week in a public notice to the Indiana Department of Workforce Development.
Byrider, one of the largest used-car dealers in the United States, said the layoffs would be permanent and effective Dec. 30.
The list of employees being eliminated includes personnel in management, finance, facilities, recruitment, marketing, technology and strategy.
"Byrider, like many companies, is still dealing with the financial impact of the COVID-19 pandemic, rising interest rates, increased inventory and operational costs, inflation, etc.," the company said in an email to IBJ. "As a result, we have made difficult decisions to reduce some of our company store operations to better position the company for long-term success."
Founded in 1989 by Marion auto dealer James DeVoe Jr., who died in a 2006 plane crash, Byrider sells used cars at more than 140 franchised and company-owned dealerships around the nation. The company rebranded from J.D. Byrider to just Byrider in 2019.
According to a profile of the company published by IBJ in August 2020, the company has 800 employees at its Carmel headquarters and its 32 company-owned dealerships.
Byrider not only sells the cars but also finances them through its subsidiary, CarNow Acceptance Co., using a model known in the auto sales industry as "buy here pay here." Because Byrider often makes riskier loans, it also charges higher-than-average interest rates on those loans.
Please enable JavaScript to view this content.