In the wake of the coronavirus outbreak, venture capitalists—locally and nationally—have slammed on the brakes like a speedy driver hitting a fast-forming shroud of fog. And now they're proceeding with caution.
Institutional markets became increasingly volatile as COVID-19 spread across Asia, then Europe and now the United States, leaving venture capitalists holding tighter to their cash and spending more time examining the health of the companies in which they've already invested.
U.S. venture capital deals in the first quarter declined 22%, according to PwC and CB Insights quarterly MoneyTree report released this week. Much of that declined was attributed to the coronavirus outbreak analysts said, and they expect it to get much worse.
Locally, the amount of venture capital raised by Indiana tech firms in the first quarter of this year—$14.8 million—was far less than half the amount raised in the first quarter of either 2019 or 2018.
For a burgeoning tech hub like Indianapolis, that puts a lot of promising equity-backed startups and scaleups—especially those who will need cash this year—in peril.
It also threatens to stunt the growth of Indiana's own venture ecosystem by thwarting the ability of the funds to raise money to invest.
Twelve of Indiana's 21 venture firms launched in the last decade, with the new firms accounting for nearly one-third of the $22.5 billion capital under management by all venture firms in the state.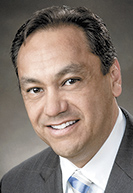 Boomerang Ventures—which is expected to raise enough to become one of the state's biggest such firms—was formed last year, along with seed venture fund Gravity Ventures. Boomerang is still raising money, although the firm's director, Oscar Moralez, said that has slowed. Still, he remains optimistic.
Allegion Ventures, HG Ventures, Indiana Philanthropic Venture Fund and Indiana Seed Fund came online in 2018. High Alpha Capital took off in 2015 and Purdue Ventures in 2014.
Local venture funds are important everywhere, but they're even more crucial for a community trying to build its muscle as a Midwestern tech hub. Only about 5% of venture capital generated nationally—most of which comes from the East and West coasts—ends up in the Midwest, according to recent reports by PwC MoneyTree and the Brookings Institution. And much of what does come to the region lands in Chicago.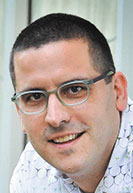 In fact, Indiana has routinely ranked in the lower third of all states in attracting venture capital from the coasts.
While local venture firms invest regionally and some nationally, they certainly look to invest locally when the opportunity arises.
"At this time, having the ability to get capital from venture firms who are more apt to know you is a huge advantage," said Phil Miller, managing partner of Gravity Ventures, an Indianapolis-based seed
fund.
Overly optimistic?
Despite their relative youth—or perhaps because of it—many managing directors of local funds remain optimistic. Some even said they are continuing to evaluate investment opportunities.
Still, none of Indiana's venture fund operators think it will be easy for them—or for startups and scaleups—to raise money.
Moralez, who heads up VisionTech Partners along with the much larger Boomerang Ventures, said the former invested in a cybersecurity firm on April 3.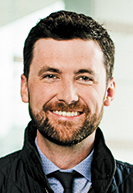 But that's likely an exception rather than a rule, said TechPoint CEO Mike Langellier.
"Although we're seeing some deals get done, that's not indicative of the current state. Most of the deals getting done now have long been in the pipeline," he said.
Even those venture firm chiefs who are optimistic admitted they've braked hard under the current, unprecedented conditions.
"We had a good trajectory, but that's been disrupted," Moralez said of the local capital landscape. "We'll have to retrace some of our steps."
All nine venture firms reached by IBJ for this story said they have scaled back on investing and instead are touching base with the companies in their current portfolios.
"We're spending the vast majority of our time right now checking in personally with each one of our portfolio companies to see what they need, to see what questions they have and what advice we can offer," said Don Aquilano, co-founder and managing director of Indianapolis-based Allos Ventures.
Startups and young scaleups—especially those raising capital now or that will need to do so in the next six months—face the biggest challenges in the pandemic environment.
Tech companies are the most at-risk if funding dries up.
At any one time, "dozens" of local tech companies are raising capital, Langellier said.
"Venture capital is oxygen for tech companies. It's a critical ingredient for the entire tech ecosystem," he said.
Even in good times, tech companies can't simply turn to a bank for help.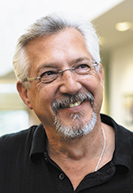 "Historically, banks lend based on collateral—hard assets, buildings, real estate, equipment and accounts receivable," Langellier said. "Tech—especially in this market—is people, software and computers."
Brick wall
While there's a real can-do attitude in Indiana's tech and venture capital sectors, that youthful optimism might be hitting a brick wall. Some local funds, including Purdue Ventures, are sidecar funds and require matches.
"We match a percent of the lead investor in deals," said Purdue Ventures Managing Director John Hanak. "We follow institutional investors and those institutional investors are pulling back."
Hanak said the investment pause is "nearly universal."
In fact, almost overnight, fund managers said, the amount of funding available to venture-backed firms, especially startups seeking their first significant round of capital, has decreased more than 75%.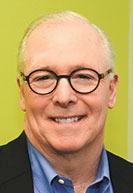 "Many Indiana startups depend on friends and family and angel investors," said Chris LaMothe, who leads Elevate Ventures, which invests in startups for the state. "And those people simply don't have the resources right now. Many have been hammered in the public markets."
And since "funding from angels and friends and family has dried up, that's slowed pitches to [firms like] Elevate Ventures," LaMothe said.
Still, count Elevate Ventures and Indianapolis-based venture studio High Alpha among those charging forward.
"We're open for business. Exclamation point," said Kristian Andersen, a partner at High Alpha, which is in the midst of investing in two funds with a combined $100 million. "We are starting companies and making investments.
"We're going to try not to descend into despair and self-doubt," Andersen added. "This is going to create a lot of opportunities. I have no doubt there's going to be a Cambrian level of innovation that comes out of this."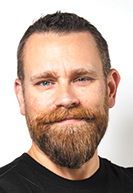 LaMothe, who previously headed the Indiana Chamber of Commerce, is equally eager to forge a path forward. "Elevate Ventures is open for business. We have very strong support from the governor and the [Indiana Economic Development Corp.] to stay aggressive," he said.
Changes likely
If there's money out there, the way to go about getting it is certainly going to change—likely for at least the next six to 12 months.
Max Yoder, CEO of local tech firm Lessonly—which closed on a $15 million Series C round of funding this year, just before the coronavirus took hold in the United States—said his firm has always met with venture capitalists in person when raising money.
"They want to see your operation in person and meet not only the executive team, but managers and team members," Yoder said. "They want to see how you work together firsthand before they invest."
Before the coronavirus outbreak, Hanak said, it would have been "unheard of" to invest in a company without meeting its executives in person.
"Early-stage investment is like a courtship. It's a contact sport," he said. "Investors are investing in teams and people, and they absolutely want to meet them in person."
But Elevate Ventures and High Alpha said they're now negotiating through videoconferencing.
"It's an adjustment dealing with people in a Brady Bunch-like grid on a videoconference," Andersen said. "But we all have to adjust and move forward. Sitting idle helps no one."
Some companies are finding ways to make hay even in this dark hour.
Scale Computing has launched a platform that allows workers to access their desktop work computer from home, according to Aquilano. Locally based Emplify has launched a crisis management solution and is offering a free trial, he added, and Lessonly is capitalizing on its ability to help customers with remote training and education. All those companies are Allos portfolio firms.
Still, Aquilano said, "There's no hiding the fact this is going to hurt more companies than it's going to help. Coronavirus will be harmful to 95% of venture-backed companies."
And even the businesses that are thriving during this time are experiencing their own problems.
"I have talked to a number of CEOs that are going through some type of survivor's guilt," Andersen said. "I tell them to be grateful—and humble—and keep doing what got them here. Their success can be uplifting to all of us."
The most difficult part of this period, local venture fund managers said, is the uncertainty.
Hanak said he's been studying "nonstop" the investing and business environment since the coronavirus spread through this country a month ago.
"People want to know how long this will last," Hanak said. "I'm analyzing data and reading the signs, and I just don't know. I don't think anybody does."
Maybe not. But Moralez predicts "it could take two years for venture capital to get back to normal."
"We're going to see casualties out of this," he said. "One of our companies has very little cash on hand, and I don't think that's an isolated incident. It's really unfortunate because this is such an unusual situation."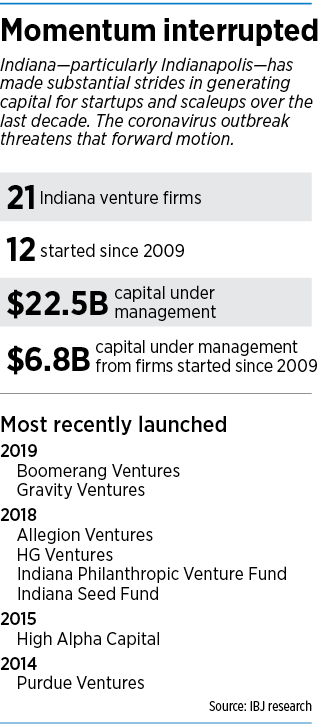 Predators lurk
The sudden coronavirus-induced dam of capital has caused valuations of companies to plummet in the last three weeks. That means startups and scaleups trying to raise money could be forced to give up a bigger piece of their companies in exchange for the same amount of investment in the past.
TechPoint's Langellier said that has left many companies seeking "bridge rounds" of funding just to get them through the next 12 months or so.
"The last seven or eight years, there's been a lot of capital chasing fewer deals. What you are seeing is a shift in the balance of power," High Alpha's Andersen said.
Local venture managers said some savvy investors cashed out of the stock market before the coronavirus. And some are looking to reinvest "opportunistically," Andersen said.
"Some investors have become predatory … and are taking advantage of companies that are disadvantaged," he said.
Conversely, fund managers said, this environment could be an opportunity for companies with cash to make strategic acquisitions on the cheap.
Instead of madly chasing after money and giving up big chunks of their company in return, local venture fund managers recommend that startups and scaleups look inward.
"Now is the time for startups and scaleups to do everything they can to extend their runway: bootstrap, sell products and services, look into the government support programs and ask for help from current investors," Hanak said.
Moralez is advising his venture firm's portfolio companies to look at hiring freezes; cutbacks on marketing, research and development; and renegotiating contracts and salaries. "The last thing we want to see is a company cut headcount," he said.
"We're telling our companies, if you have the opportunity to swap profitability and capital efficiency for growth, do it," Andersen said. "We're also telling companies that facts will matter more now than charisma. A great story and the natural charisma of the team will no longer be enough. You have to articulate facts when you're seeking funding."
"The best advice I can give to executives is to take care of the company so the company can take care of its employees," Andersen added.
Positioned for a comeback
Most venture fund managers say there's no doubt the economy is headed toward a significant recession. But they couldn't predict whether that recession will be 'V' shaped, meaning it will have a quick bounceback, or 'U' shaped, meaning the trough lasts longer. Either way, local fund managers say, Indiana is in good shape for a rebound.
"After this is all over, Indiana and Indianapolis will still be centrally located, we still have a great cost of living … and we have a real strength in advanced manufacturing and supply chain management—and the coronavirus outbreak has proven just how important that has become," Elevate Ventures' LaMothe said.
"This is going to be very difficult for everybody and it's going to be very difficult for Indianapolis," Andersen said. But the city has an innate resilience and a diverse economy that helps, he said. "Indianapolis has an esprit de corps as a city that allows us to bounce back from adversities faster than a lot of cities."•
Please enable JavaScript to view this content.