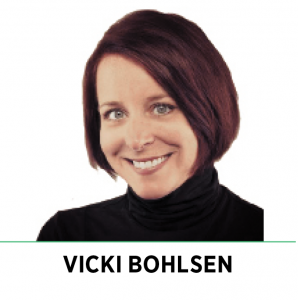 When I started Bohlsen Group more than 10 years ago, I had one main goal: to make the world a better place. So, it was natural that we become the first B-Corp-certified company in Indiana—right?
Well, it was actually unplanned. I started out just wanting to use a free assessment tool offered by B Lab, a company that certifies other firms, to measure and improve upon the impact we had on our workers, clients, community and environment.
According to the official B Corporation website, "Certified B Corporations are leading a global movement to redefine success in business. By voluntarily meeting higher standards of transparency, accountability, and performance, Certified B Corps are distinguishing themselves in a cluttered marketplace by offering a positive vision of a better way to do business."
What I gained from taking the assessment was not only validation we were on the right track, but also ideas and steps to institutionalize things we were doing and ways to expand our best practices and impact. So we decided to do it. I highly suggest you check it out.
Being a B Corp is now at the core of Bohlsen Group's operations. Not a single decision is made without considering the ethos of what it means to the triple bottom line: people, planet and profit.
Currently, more than 3,400 companies in 150 industries in more than 70 countries are certified. Eight of those companies are in Indiana. Certification keeps growing, likely because B Lab offers resources for a like-minded global tribe of people who want to use business as a force for good.
Honored with a 2020 World's Most Innovative Company designation by "Fast Company," B Lab's quick response to the fundamental injustice, inequity and violence that disproportionately harms Black people and people of color, for instance, was unprecedented. I find myself visiting B Lab's resources nearly every day so I can learn and hear from others in the B Corp family about how they are addressing this most important issue and so many others.
But you do not have to become a B-Corp-certified company in order to be an organization that practices social responsibility. I have found that every company is doing something in the corporate social responsibility space—oftentimes, without even being aware of it. I suggest organizations assess their internal and external practices and relationships so they can uncover and build upon what they are already doing positively in the areas of employees, customers, community and environment.
This might mean that organizations formalize policies or institutionalize best practices. Seeking feedback from all stakeholders and communicating operational changes from the top down will create a spirit of sustainability that can then be built upon year over year.
A commitment to corporate social responsibility is no longer optional! Companies need to understand that CSR affects their internal (employee engagement, productivity, recruitment/retention) and external (increased sales, customer loyalty, brand awareness) growth.
With the events of 2020, it is now more important than ever that we all unite to make the world a better place, because:
◗ Consumers want to know what the brands they support are doing to address social and environmental issues. They pay close attention to a brand's social responsibility efforts when they buy a product or choose to engage with an organization.
◗ Our future workforce cares about social and environment issues now more than ever. The way an organization treats the community and planet suggests good things to its employees about how it perceives and respects them.
◗ Organizational innovation occurs when you are addressing the direct needs of customers and the impact of your business performance on the world.
We recently went through the B Corp recertification process for the third time. Although it is a rigorous process, I love that it helps to keep our efforts organized and forces us to address how we can continue to improve.
CSR might not solve all the world's problems, but it can be a force behind making the world a better place to live in.•
__________
Bohlsen is founder and president of Bohlsen Group and co-host of the "Taking Care in Business" podcast.
Please enable JavaScript to view this content.