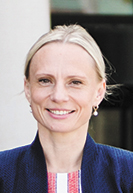 Age: 41
Hometown: Ukraine
Residence: Noblesville
Family: husband, Jason; 12-year-old and 14-year-old daughters
Education: bachelor's and master's from the National University of Economics in Ukraine; master's from IUPUI
Political experience: Indiana state senator (2017-present)
Career: financial consultant, farmer, former adjunct professor at the Indiana University Kelley School of Business in Indianapolis
Why she's running: to be involved with health care reform and remove federal roadblocks
Top priority: health care
What she's streaming: Fox News and local TV news
Q&A
What do you think needs to be done to improve access to and the affordability of health care?
The only thing that can be done and should be done is opening it up for free enterprise. We are moving to government control, and that is a bad direction. Our regulations create consolidation, and consolidation drives down competition. We need to look at each segment of the market, and we need more price transparency. The subsidies in every part of the health care market are not helping.
What should be done to address the massive amount of student debt in this country and make college more affordable?
I think the government needs to stay the hell out of college debt. We've created a monster. Not every profession requires college education. The whole education system has to change, but to change it, we have to eliminate pervasive incentives. We're pushing people with all these guarantees to go to college and then students come out and can't find jobs or pay loans back.
What is your position on trade and tariffs?
I'm a big supporter of free trade, and I'm not a fan of tariffs. But we don't have free trade with a lot of countries. China, for example, doesn't follow the rules. … And we need to eliminate the regulations that incentivize companies to invest in foreign countries instead of investing here. Equal treatment will bring a lot of good competition.
What should be done to address climate change?
At some point when you reach 95% efficiency, it becomes so expensive for these companies to create more efficiencies. So then they go to China and they pollute the same. It's all the same world, and they are polluting the same earth.
China does whatever they want. We need to have reasonable regulations.
State senator thinks government should do more with less
Victoria Spartz never wanted to work for the government.
She moved to the United States from Ukraine in 2000, and became a citizen in 2006, which she says took longer than it should have because the government at one point lost documents she submitted.
"It took forever," Spartz said.
In the years that followed, while Spartz lived in Noblesville with her husband and their two young daughters, she started her own consulting business and used her skills as a certified public accountant to work with the Big Four public accounting firms.
But she became frustrated with government regulations. So she got involved with the Republican Party to do something about it. She firmly believes government should be small—doing less, but doing those things more efficiently.
"We need to get the federal government out of a lot of business regulations," Spartz said.
In 2017, she was asked to become part of the government, though, to work as chief financial officer for the Office of the Indiana Attorney General.
Going into the public sector made her a little uneasy, but she decided she liked the challenge, so she accepted the job.
Around the same time, some Republicans were urging her to run in the caucus election for retiring state Sen. Luke Kenley's seat. She resisted at first. To her, politics is 95% bull and only 5% productive.
"I like to be productive," Spartz said.
Her supporters continued to push her, though, saying the Indiana Senate could use someone with a background in finance. So, she ran.
"I'm just bad at saying 'no' sometimes," Spartz said.
She won the caucus race and then had to resign from the Attorney General's Office due to the conflict of interest the two positions created.
"I didn't really have a chance to work in that office much at all," Spartz said.
During her time at the Statehouse, she's been passionate about issues like health care and government spending.
With her family, she also oversees about 3,000 acres of farmland where they grow soybeans and wheat.
"It's not the main thing, but it's pretty time-consuming," Spartz said. "If I have to drive a combine, I can drive a combine."
She has also taught at the Indiana University Kelley School of Business in Indianapolis, but dropped that from her workload once she became a state senator.
"It's just another hobby that I don't have time for," she said. "Someday, I'd love to go back and do that."
Now, after only about two years in the Legislature, she's running for Congress because, she said, it's important to elect members who can get things done, especially on health care.
"That's what I've done my whole life—fix things and make it better," Spartz said.•
Please enable JavaScript to view this content.