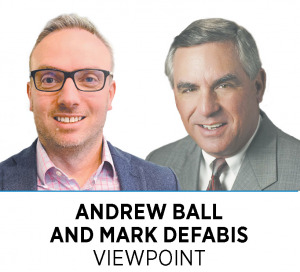 Imagine you hire a contractor to repair a crack in your wall, but the contractor discovers the crack is a symptom of a bigger problem. Your foundation is crumbling, maybe, or termites are eating your floor joists.
Would you want the contractor to slap some plaster and paint on your wall and ignore the bigger problem? Of course not. Your home could literally fall apart.
So, why are we accepting that approach with our supply chain problems?
Over the past two years, as the global pandemic has upended our daily processes, functions and routines, we've heard a lot about the toll it has taken on the supply chain.
But we've got news for you: The pandemic didn't cause supply chain problems. It exposed problems that can't be solved by short-term remedies.
You've heard the supply chain horror stories. In ports where ships carrying shipping containers usually steam directly to the docks, dozens sit anchored. Containers that do get offloaded often end up sitting in shipyards, languishing for lack of trucks and truck drivers to carry them to their destination. Labor shortages have limited the hours warehouses can operate to unload containers, so some shipping containers are left on truck chassis until they can be unloaded, which takes those chassis out of the supply chain, which means there aren't enough chassis to move goods out of shipyards, which means … well, it's a vicious cycle.
Lawmakers and policymakers have offered several solutions—from running ports 24-7 to calling out the National Guard to drive trucks—but those are only short-term fixes. We need long-term solutions.
So, what should we do?
First, we need to capitalize on the attention of lawmakers and policymakers to educate them about the flaws in our supply chain, helping them see that the current crisis is a symptom of a systemic problem.
Then we need to examine the supply chain holistically, not addressing flashpoints, but recognizing that the supply chain is about velocity—the speed at which goods move efficiently through the system—and that the whole will only function well if all of its components are strong and aligned.
We also must recognize that no individual company, industry or geographic area can solve this problem alone, and that some current policies and regulations actually decrease supply chain velocity.
As we craft our solutions, we need to see this as a long game. We need to adopt national policies addressing commercial freight movement, and we must be willing to make supply chain investments that won't generate immediate returns but will, over time, strengthen the overall system. We must assess policies and regulations to ensure they don't impede supply chain velocity.
Finally, we have to recognize that nothing less than global competitiveness hangs in the balance. Addressing supply chain problems as we have over the past decade—with creative workarounds and short-term fixes—created new challenges: rising domestic shipping charges and increased manpower costs, for example, that put the United States and Indiana at a disadvantage internationally. We must offset those disadvantages with increased supply chain efficiencies, innovative approaches and collaboration.
The bottom line is this: We can't make small repairs to our system and expect a meaningful impact. That's the approach that put us where we are today. Instead, solve today's problems while also building a national supply chain that allows us to compete and affirms our role as a leader in the global economy.•
__________
Ball, co-CEO of Henriott Group, chairs the Conexus Indiana Advanced Manufacturing Council. DeFabis, CEO of IDS, chairs the Conexus Logistics Council.
Please enable JavaScript to view this content.