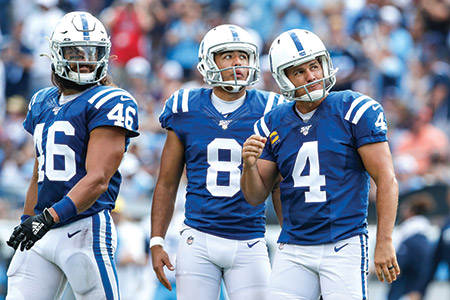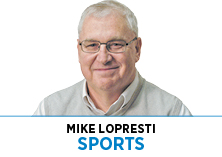 And now, introducing the most relentless, merciless, invincible opponent in all of sports.
Tick … tick … tick …
Yep, the clock. Nobody beats time. Ever. So if this is not the end for Adam Vinatieri, you can certainly see it from here. He is 46, has swung his right leg through to make a kick 2,471 times in his pro career, and is older than 12 of the 19 NFL head coaches hired the past three seasons. It's finally begun to show.
Think about this. Come Sunday at 1 p.m., when the Colts meet Atlanta, it will be 28 days and 18 hours since they last kicked off at Lucas Oil Stadium. Almost a month since Indy saw its NFL team in person for a preseason game with the Bears. Just look what has happened with the Colts since then.
Andrew Luck … gone. He already knew what was coming when the Bears game began that night, but most of us didn't. Now you see him, now you don't, and the vanishing act was a national conversation for weeks. Even today, you still wonder if there is a piece to this puzzle yet to be understood.
The offense … different. The 370 rushing yards are the most after two games for the Colts since the moving vans arrived from Baltimore, back during the first Reagan administration. Indianapolis is tied for second in the league on the ground. For instructive contrast, this is where the Colts finished in the NFL in rushing the past 11 seasons: 20, 22, 23, 29, 22, 20, 22, 26, 29, 32 and 31. Now would be the time for the reminder that 142 players were taken in the 2017 draft before Marlon Mack.
Jacoby Brissett … looking perfectly at home in the backfield, and not a temp, like 2017. Two games, two fourth-quarter rallies. A flurry of broken tackles. He had a couple of mistakes at Tennessee, but if Vinatieri makes anything the first week, Brissett probably has the Colts 2-0 after two road games. The No. 7 jersey sales should be picking up.
The schedule … suddenly more manageable. The Colts won't see Ben Roethlisberger at Pittsburgh, where the Steelers are 0-2. Who knows what Drew Brees will be like late in the season at New Orleans? He's out at least six weeks. None of the other AFC South teams look scary. The Colts will face a sieve when they play Miami, if the Dolphins don't find answers. They have been outscored in two games 102-10. The 2000 Baltimore Ravens set an NFL record by allowing only 165 points all season. At this rate, the Dolphins will pass that in week four.
Oh, and one other good thing about the rest of the schedule. New England ain't on it. The Patriots are already inspiring discussion about their chances to go 16-0. Winning the first two games by a combined score of 76-3 will do that. Bill Belichick undoubtedly doesn't want to hear any of that nonsense after two weeks, but he needn't worry. People are too busy talking about how in the name of #MeToo they could throw a touchdown pass to Antonio Brown the same week reports came out that he's involved in a civil suit over rape allegations and never bothered to tell the Patriots before they signed him.
Most jobs, a guy could get canned for keeping the boss in the dark over such a tidbit. But, hey, Tom Brady can always use another receiver. And you thought Deflategate made the Patriots look bad?
Finally, Vinatieri … the most reliable athlete in town, and now a problem.
He's still the kicker. Frank Reich says so. Half the NFL speaking world guessed there'd be a move or a retirement announcement or something this week, but not so. It would have been a tragedy had it ended this way for Vinatieri—slumped over in Nashville, after watching a PAT kick suddenly swerve right as if it were avoiding a deer on the highway.
The past two weeks would suggest the finish line is not that far away for him. Maybe the end of the season, maybe sooner. If fate has a heart, it will grant Vinatieri another moment or two in the sun. Which brings up the matter of goodbyes.
They can be so unforgettable, and Vinatieri deserves that. He should be like Ted Williams hitting a home run on his last at-bat. John Elway winning the Super Bowl MVP. Peyton Manning along for the ride with his Denver defense for his second championship ring.
He should be Bill Russell winning his 11th NBA title in his last appearance, finishing 10-0 in Game 7's, a truly astonishing record that has never gotten the attention it deserves.
He should be John Wooden with his 10th national championship in his night on the bench. Or Wilt Chamberlain scoring 23 points and 21 rebounds, his final basket a dunk. Or Kobe Bryant, with 50 shots and 60 points.
He should be Pete Sampras, with one final U.S. Open title win over Andre Agassi as his last match. Or Pele, his farewell match a friendly one between his New York Cosmos and his old Santos FC team from Brazil. He played a half with each side, in the rain, which inspired the headline in a Brazil newspaper the next day: "Even the sky was crying."
The last act is not always so perfect.
Larry Bird, a shadow of himself with a bad back, managed only 12 points his final game for Boston, as the Celtics were knocked out of the Eastern Conference semifinals by Cleveland. It was Bird's 164th and last playoff game.
Michael Jordan had the perfect last bow with his steal and title-clinching shot in the 1998 NBA Finals, but he came back later as a Washington Wizard, and few remember how it ended.
The suddenness of Luck's departure meant no one realized his final play when it happened: A seven-yard pass to Zach Pascal last January, as time ran out in the playoff loss at Kansas City.
So it's not always a keeper. But then there was Reggie Miller, scoring 27 points his final game to try to get the Pacers past the Detroit Pistons in the 2005 playoffs. Indiana lost, but Pistons Coach Larry Brown called a timeout in the final seconds so all those present could give Miller a standing ovation. That included the Pistons, honoring Miller six months after the two teams engaged in the infamous brawl in the Palace.
That's how the last act should be for a winner and a competitor and a man like Vinatieri. Not a PAT kick clanking off the upright in Tennessee. Maybe Reich is right, and there is some fuel left. It'd be only right. Vinatieri needs a happy ending, and it would seem to be coming soon.
That's another thing we've learned since the last time the Colts played at home: Time is at his door.•
__________
Lopresti is a lifelong resident of Richmond and a graduate of Ball State University. He was a columnist for USA Today and Gannett newspapers for 31 years; he covered 34 Final Fours, 30 Super Bowls, 32 World Series and 16 Olympics. His column appears weekly. He can be reached at mjl5853@aol.com.
Please enable JavaScript to view this content.