A coalition of educators and workforce development organizations in Hamilton County want to create a career and technical education system that crosses schools and isn't contained to one building.
Since 1972, students from Hamilton County's six high schools have traveled to the J. Everett Light Career Center in Indianapolis and the John Hinds Career Center in Elwood for career and technical education training.
The arrangement cost the Hamilton County schools between $14,000 and $184,000 each this past school year. And it meant those out-of-county schools collected $450,000 in federal funds that might otherwise have been available for Hamilton County districts.
Now, educators and county leaders want to keep that funding—and the students—local, while beefing up the county's technical education offerings.
The Hamilton County Council next month will consider spending $425,000 to launch the Hamilton County Center for Career Achievement. Instead of putting the program in a brick-and-mortar building, the plan calls for creating shared access to pre-existing facilities within the county's six public school districts and the Ivy Tech Hamilton County campus. That would enable the districts to claw back the money that currently goes to other career centers for serving Hamilton County students.
Organizers say taking a system-based approach could redirect more than $5 million into county schools over the next four years.
"When you look at the traditional brick-and-mortar career center, it's one-size-fits-all. But it doesn't fit Hamilton County's needs," said Matt Putman, the career and technical education content director for Westfield High School.
"This newly proposed system isn't requiring those tens of millions of dollars for a standalone structure," he said. "It's using the resources and facilities we have within the schools and the county and adding Ivy Tech into the equation."
Over the last 50 years, Hamilton County schools have increasingly developed their own career and technical education spaces with in-house training facilities for welding, agriculture, construction trades, nursing and more. In the Hamilton Heights School Corp., there are outdoor "sand lots" for students to learn how to operate heavy construction equipment. Noblesville High School formed a partnership with Hare Chevrolet to allow students to use its mechanic's bays, thereby saving on the cost of an otherwise expensive education tool.
The same is happening at post-secondary institutions. Ivy Tech Hamilton County has its own data center on an internal network that allows students interested in cybersecurity to experiment without causing disruptions to actual networks.
The programs "came out of the schools themselves," Hamilton County Council member Steve Nation said. "They realized exactly what the benefits were to their students, so different schools developed different interests based on the teacher and student base."
Those resources currently exist in silos, though.
For example, Westfield High School recently built a commercial kitchen for culinary training using dollars approved in a voter referendum, but students are still driving out of the county to receive training in law enforcement, music and sound production, veterinary, cosmetology, dental, and automotive collision repair, refinishing and maintenance—even while some of those programs are being taught in neighboring Hamilton County districts.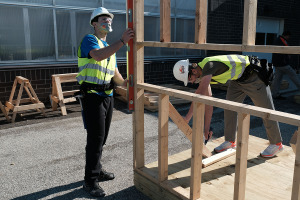 Sharing resources
When Derek Arrowood joined the Hamilton Heights School Corp. as its superintendent in 2006, he started meeting with other area superintendents to discuss building a countywide brick-and-mortar career center.
However, Arrowood said, there was no appetite for a referendum in the northern part of the county to pay for a new building and schools in southern Hamilton County were busy planning new capital projects just to keep pace with increasing student populations.
Already, more than 20,000 students attend the county's public high schools, a number that's expected to grow as the county's overall population is expected to reach 435,000 by 2030.
Faced with those conditions, Arrowood said Hamilton County needs an alternative approach to bringing those career and technical education programs together within the county.
"What we need to invest in is human capital, somebody who can lead this process to bring all of these kids that are going to Marion County to get this training back into Hamilton County," Arrowood said.
Dan Clark, vice chancellor at Ivy Tech Hamilton County, said pooling resources within the county both redirects federal money and makes better use of those dollars that have already been spent building existing programs.
"The models that can be built here will probably have 20-30% lower costs when you count all the transportation funds and duplicate services of having to send students to other facilities," Clark said. "They're not going to spend millions on a new facility. They're going to find a way to share the existing resources. They're going to save the students time by not transporting them as far and they're going to increase the opportunities for students."
If approved, an initial $425,000 in funding would support the research and development of the Hamilton County career center, the hiring of its executive director and implementation efforts leading up to student enrollment by the end of 2023.
Conducting a needs assessment with local employers and creating an inventory of established programs will be the first step in creating what officials are calling the Hamilton County Center for Career Achievement.
Cataloging the hodge-podge of varying programs will be vital to presenting all students in the county with a comprehensive menu of options. It will also help point out slight variations on seemingly redundant programs—and there are differences. For example, Putman said, Westfield and Hamilton Heights both offer construction programming, but Westfield's is more aligned with residential development and Hamilton Heights' is more in-tune with commercial development.
"Each one is a piece of the puzzle," he said.
Once the cataloging is completed, the Hamilton County Center for Career Achievement will hire an executive director to align the career and technical education programs with area employers' needs.
Story continues below graphic.
Increasing participation
One challenge facing the program is the small number of students who take advantage of the existing system. Fewer than 350 students—less than 2% of Hamilton County high school students—enrolled in career and technical education programming during the 2020-2021 school year.
Joshua Snay, a senior at Hamilton Heights, attends veterinary courses at the J. Everett Light Career Center. He said he's grateful to have had the foresight and opportunity during his freshman year to plan his schedule around the 25-minute drive from northern Hamilton County to Marion County.
Having already taken all of the animal science classes Hamilton Heights offers before his final year, Snay said he would likely have filled his schedule with unnecessary business classes had he not been able to attend J. Everett Light.
"I've been able to gain the information of what it takes, education-wise, to be a vet, and what it takes in general to get where you want to be," Snay said. "I don't think I would've gotten that at my school."
Snay said J. Everett Light has a full in-house animal clinic with skeletal models, a reception desk and a surgery room that allowed for animals to be brought in and used as education tools. Snay said his veterinary training helped him land a job with the Yellow Dog Veterinary Clinic in Carmel, meaning he'll have real-world experience before attending the University of Finley in Ohio to continue his veterinary studies.
Though any change to the system would come after he graduates, Snay said he feels bringing similar services within the county would likely encourage more students—especially those who have to rush to return to their home schools after attending career training–to get involved in the programs.
"The school wants the best for you and wants to put you in a position that's going to make your life better, in general," Snay said. "Whether that's lining up a job for you or just showing you whether or not you really want to be in that career path."
Nation, the county councilor, said he supports establishing the Hamilton County Center for Career Achievement. It's his hope that unifying existing programs will increase student participation from 2% to as much as 40%.
Arrowood said a Hamilton County system could also reduce the cost of busing students to other counties and reduce the likelihood that students would have to miss other class time traveling to technical education programs.
"When you do it on-site, it greatly enhances the number of students that can be involved in that program," Arrowood said. "And, if I have dance partners to do that, I can send my kids someplace nearby to do that same thing."
Putman agreed and said that Westfield's participation in the program increased from four to 52 students when the school started offering health care training on-site four years ago. Both Putman and Clark said Westfield has programs that will reach as many as 150 students next year, so it's important the education and training aligns with the needs of the associated industries.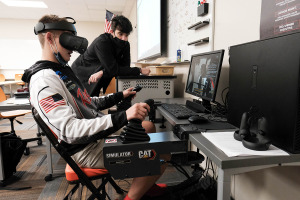 Preparing for the future
Creating a career center won't be easy. Shawn Wright-Browner, director of the J. Everett Light Career Center, said there have been unsuccessful attempts to launch a Hamilton County career center since she first started in the role 16 years ago.
"I absolutely support expanding any career-tech offerings, no matter what site it's on," she said. "We continue to grow on-site, as well as off-site, and we'll continue to do that."
A Hamilton County-based program can help communities there "adjust their workforce needs more directly."
Wright-Browner said she wasn't aware of the specifics involved in the latest proposal, but she's not worried about losing the tuition dollars if the Hamilton County program launches. The school most recently had approximately 2,000 students on its roster and fewer than 350 come from Hamilton County.
Wright-Browner said that in the past, space, teacher capacity, equipment and renovation needs at Hamilton County high schools have been a barrier to technical education programs. But she said she's optimistic those problems can be overcome.
"I can help them wade through and address needs as they come along, in the areas of funding, teacher certification, marketing, enrollment process and equipment and supply needs—anything to increase enrollment in career-tech," she said. "It helps the state if we can expand career-tech programs."
Organizers say that once the Hamilton County Center for Career Achievement is open and operating at full capacity for at least two years, it should be able to cover its budget and staff costs, expand career and technical education offerings, create additional dual credit and dual enrollment programs, and increase the number of work-based learning and apprenticeship programs.
"Having these industry certifications, apprenticeship opportunities and these dual credits aligned with an associate degree is going to prepare students for that day after they graduate high school," Putman said.
Clark said both the developing Ivy Tech Hamilton County campus and the proposed career center concept are blank canvases right now. Aligning his school's offerings with the high schools in the county could help increase awareness and involvement in career and technical education programs.
"There has to be way to get better completion rates, in less time, with lower cost and almost no debt. The Hamilton County Center for Career Achievement can scale a model to do that," Clark said.
"The real benefit is so many more students can afford those pathways without going into more debt," he said. "It will be a much broader range of education leading to good careers and ways to get started on bachelor's degrees with a lot less debt. Those two things together will make this unique, and the return on this investment very positive."•
Please enable JavaScript to view this content.