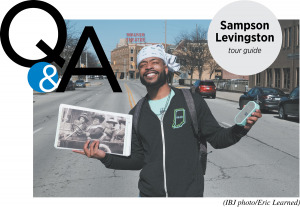 Sampson Levingston believes we discover who we are through discovering where we are. That's why he started offering Through2Eyes Walk and Talk tours in June—to give people an opportunity to learn more about the history of Indianapolis communities. This month, he's partnering with the NCAA for a historical basketball-themed tour.
What do you hope people take away from your tours?
I really hope that they are encouraged to learn more. There's all this stuff that's right around them that they didn't know, and hopefully that inspires them to look for other things that they didn't know was right around them.
Looking at street names, school names and sculptures and trying to figure out—Why is this here? Why is this named for this guy? Why is this sculpture here in this place? What does this mean? I hope they really start to just kind of ask questions, just as we did when we were kids.
How many people take the tours?
I've walked one person; I've walked 30. I will walk whoever wants to walk. I've done groups—I've had corporations come; I've had churches come; I've had schools come; I've had neighborhoods come and book clubs come; I've had kids come.
What's the cost to go on a tour?
They do cost around $20 per tour, and then I'll do group rates.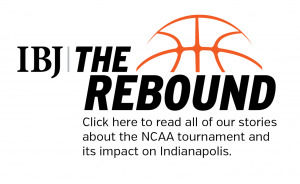 What is the tour schedule? They are typically on Saturdays and Wednesdays, and the ticket link is on my website (Through2Eyes.com).
Are people able to request a certain neighborhood for a walk, or do you set that in advance?
Right now, I only have the walks built out in Martindale, Irvington and (on Indiana) Avenue. And I'm ready to build out an Old Northside walk, Fountain Square walk and White River State Park walk. But other than that, I wouldn't mind creating a new walk for them, but it would cost more for me to create a new walk.
What are the responses?
When people go on a tour and then show me the different books that they read or lectures they've attended or how their kids have chosen to do one of the people I talked about for their school projects, it's really awesome.
The response has been overwhelming as far as how many people really connect to these tours. It's truly a walk and talk. I want people to talk just as much as I do.
Were you expecting that kind of response when you started this?
I only planned to do one, and then I got an email from WISH-TV and they asked me if I wanted to have them film one of my walks. I remember telling all my friends, "Hey, I'm doing another one of these, and I need people there." And then from there, we're on the news and they asked me, "So, when are these happening?" And I was like, "Saturdays and Wednesdays," because those were the only days they had been at that point. I remember driving home as fast as I could to put up more ticket links and then from there just kind of been rolling.
Now, it sounds like something that you're going to continue for a while?
Most definitely. I'm looking at doing even other parts of the state as well. It's something I enjoy doing, and people enjoy interacting with me.•
Please enable JavaScript to view this content.