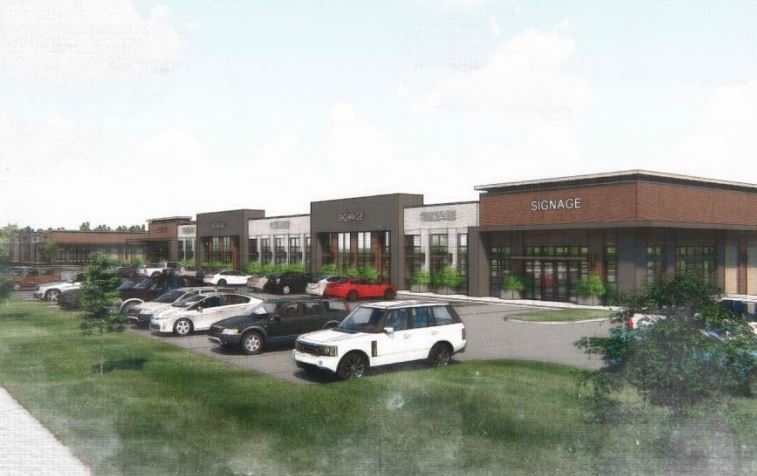 Construction is expected to begin this spring on a $72 million mixed-use development in Noblesville that will include one of the first Wawa convenience stores in Indiana, according to the project's developer.
The 34-acre Midland Pointe development at the southeast corner of State Road 32 and Hazel Dell Parkway is a joint venture between Indianapolis-based Secure Holdings LLC and Carmel-based Old Town Cos. LLC.
The Noblesville City Council on Tuesday night voted 8-0 to approve a preliminary development plan for Midland Pointe. The city and developers first announced plans for the project in May 2022.
Secure Holdings President Jim Adams told the city council he expects to break ground on Midland Pointe in May or June with building construction beginning in early 2024.
The project is expected to include 40,000 square feet of commercial and retail space, residences, a park and a pond.
Wawa and Crew Car Wash are among the businesses that will open at Midland Pointe along State Road 32, Adams said.
Pennsylvania-based Wawa announced plans in December to expand into Indiana, Kentucky and Ohio. The announcement at Tuesday's council meeting was the first official confirmation that Wawa will open a store in Noblesville.
Wawa has more than 1,000 locations across six states and Washington, D.C. The retail convenience stores offer built-to-order food such as hoagies and breakfast sandwiches, beverages, coffee drinks, and, in a majority of locations, gasoline.
Wawa, founded in 1964, employs more than 45,000 people overall. The spokesperson said each new store employs 35-40 workers on average.
The company also detailed plans last year to expand into Tennessee, with the first of up to 40 stores in the Nashville market set to open in 2025.
A bank and restaurants also are expected to open at Midland Pointe.
"We're kind of vetting those [restaurants] out right now as we build the project," Adams said.
The residential component, Midland Reserve, will be a 256-unit developed by Old Town Cos. that will include two-story flats, three-story apartments, four- and five-unit townhouses and a clubhouse.
A public park called The Grove will be located along the north end of the pond and adjacent to the restaurants.
The developers expect outdoor dining and other activities will take place at The Grove, which will be accessed from a trail spur off the Midland Trace Trail.
Midland Pointe is the latest project on the west side of Noblesville, which has experienced rapid development in recent years.
The Village at Federal Hill, which will include 220 apartments, 31,700 square feet of retail and a 210-space public parking garage, is under construction near the intersection of state roads 19 and 38.
Nexus, a $52.8 million mixed-use apartment building developed by Carmel-based Cityscape Residential, opened last year at the former Marsh Supermarket location at State Road 32 and River Road, a mile west of the courthouse. It includes 287 residential units and 36,000 square feet of commercial space.
Please enable JavaScript to view this content.