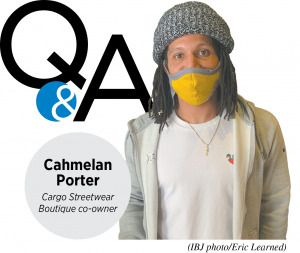 Sometimes opportunity comes at just the right moment. Such is the case for Cargo Streetwear Boutique, which has been selling clothes and shoes from a cargo container since November 2019.
The container has been parked along Shelby Street in the Garfield Park neighborhood, but owners Cahmelan Porter and Alex Olla—who design much of the clothing they sell and curate the rest—are ready to move it to a site in Fountain Square.
But that's not as easy as it sounds, what with variances and permitting and all. So they were thrilled when St'artUp 317—which matches artists, founders and makers with empty spaces for pop-up shops—asked Cargo to open in the former Pearings Café downtown during the NCAA Tournament.
Now, Cargo is extending its stay in the building through at least May, as their shipping container is moved and permitted. IBJ talked with Porter—who owns the brand Komäfi—about how business is going.
How do you describe what you sell?
We sell culture—wearable culture. We carry brands … that are up-and-coming, and we have really interesting cultural, artistic pieces. Some of the clothes we sell are art pieces. It's wearable art.
How has Cargo done in Garfield Park?
It's actually done pretty well. We've been fortunate that, through that first pop-up [done through St'artup 317 in Fountain Square], that enough people knew about us. So, we do pretty well making it a destination, a place for people to come there to shop … because there's not a lot of foot traffic there.
Why a cargo container?
We built the shipping container to reduce our overhead. Through St'artup 317, you're not paying any rent and so it makes it a lot easier to have a lower overhead. Through that process, we understood that's how we can increase our margins to make sure that we can pay ourselves enough to live.
When did you open the pop-up downtown?
March 18. It was supposed to be from March 18 through April 6. But now we're staying through May.
We're kind of making decisions on a month-to-month basis. The building owner has been very great to work with. We're waiting until our variance hearings and everything is approved over at 1336 Shelby [in Fountain Square]. Once that's wrapped up, we'll be looking to move back into our container.
How have the last few weeks gone downtown?
They've been really great. It's been amazing. Support from just everyone.
It's more of a community feel. And because we have more space, we've noticed that more people will hang out in the shop, just kind of have conversations with us about literally everything—about clothing and shoes and some just politics or weather.
Any chance you'll stay downtown?
Well, the hope is to build something long term, so that's kind of what we're figuring out now. If there was an opportunity to do something in Fountain Square and downtown that made sense, we'd absolutely love to do that.
In Fountain Square, we are also building out a 20-foot container to go alongside of ours that we will white-box and make available to other people for pop-ups.
What kinds of businesses might go in the white box?
I'm hoping more retail businesses, local makers. Any local creators who are creating cool stuff.
In our store currently, we allow people to use a pop-up rack to sell their own brands. We charge $25 for rent a day and we get tons of requests for more space than just one rack. So that's what made us think to start a white box.•
Please enable JavaScript to view this content.