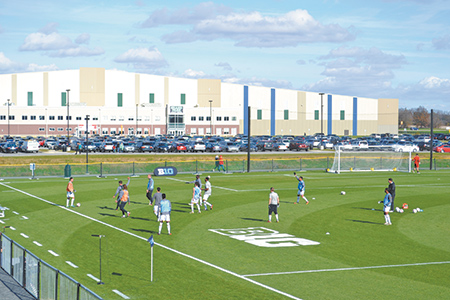 Companies interested in buying or operating Grand Park Sports Campus in Westfield will have an additional two weeks to submit proposals.
The city for the second time extended the deadline for proposals, this time from Monday, July 25, until Monday, Aug. 8, to "give bidders adequate time for consideration," Westfield Director of Communications Chris Proffitt said Friday in an email.
Proffitt said the city has heard back from appraisers and it expects to have appraisal documents in hand by Monday.
The original deadline for proposals was June 22. The city extended that deadline until July 25 because appraisers asked for additional time to perform their work at the 400-acre sports campus.
The Westfield Redevelopment Commission on March 3 issued a request for proposals to purchase Grand Park or enter into a public-private agreement to operate the sports campus.
Indy Sports & Entertainment LLC, which does business as the Indy Eleven, was among 18 companies that responded to the city's initial request for interest in either purchasing or entering into a public-private agreement to operate the massive youth sports complex.
Also among the potential bidders was Ripken Baseball LLC, which is co-owned by Baltimore Orioles great Cal Ripken Jr. and operates youth baseball facilities throughout the United States, including the well-known Ripken Experience complex in Myrtle Beach, South Carolina.
Grand Park Sports Campus opened in 2014. It has 31 soccer fields, 26 baseball diamonds, two administration buildings and seven concession stands. A 378,000-square-foot multi-use event center opened in 2016.
Please enable JavaScript to view this content.