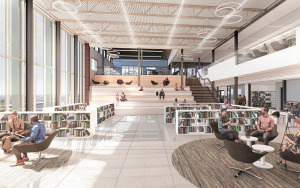 A 64-acre site in Westfield is expected to become a prime live-work-play spot in the rapidly growing city's downtown once the development is built out.
City officials say construction will begin within months on the first phase of the $190 million Grand Millennium Center that will be bounded by Park Street to the north, Westfield Boulevard to the east, 169th Street/David Brown Drive to the south and U.S. 31 to the west.
Plans for the site—whose northern border is only a block west of the $35 million Grand Junction Park and Plaza the city opened early this year—include a library, medical facility, hotel, apartments, restaurants and eventually an event center.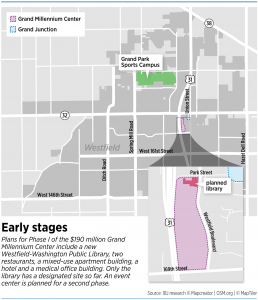 From north to south, the land includes the former site of the Curtis Dyna-Fog factory, which is being demolished, a wooded area and an open field.
Mayor Andy Cook called Grand Millennium Center "a key part of the overall plan" for downtown Westfield.
"It's to be developed very carefully," Cook said. "We're very interested in being unique. We're not in a huge hurry to make it happen tomorrow."
City officials plan to break ground later this year on a $17.7 million, 45,000-square-foot Westfield-Washington Public Library, at the northeast corner of Park Street and Westfield Boulevard. It is expected to open in the second half of 2023.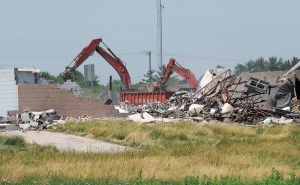 "I really think the library is going to kick off a lot of exciting things there, and Grand Millennium has certainly played a role in that," Westfield City Council member Scott Willis said.
Colorado-based NexCore Group plans to construct a 60,000- to 100,000-square-foot medical office building at Grand Millennium. It could break ground this year, according to Nedra Moran, whose Indianapolis-based firm Healthcare4Tomorrow consultancy worked to place the facility at Grand Millennium.
The $25 million building will include the Westfield Ambulatory Surgery Center and offer services such as cardiology, OB/GYN, podiatry and interventional radiology, Moran said.
"Obviously, the Westfield area is just blossoming and growing very, very rapidly," she said. "They really have limited health care facilities, and so we thought it was the best thing because we would be providing full-time people."
Carmel-based CRG Residential plans to construct a mixed-use apartment building with 250 to 300 units, and a hotel and two restaurants are also planned for the first phase of construction.
Details about the apartment building, hotel and restaurants are not yet available as the negotiating, planning and zoning processes continue, although Willis called the restaurant brands interested in the sites "game-changing."
"We're very anxious and we're very excited about the downtown Westfield opportunities," CRG Vice President of Development David George said.
The first phase of construction is expected to last through late 2024 or early 2025, according to Birch Dalton, manager of 31 32 Investors LLC, which will sell land to developers for the Grand Millennium Center site.
Dalton began planning for Grand Millennium Center in 2016 as managing director of Westfield-based EdgeRock Development, but he said the pandemic "crushed the timing" for construction.
A 2,500-seat event and convention center on the south end of the site is planned for the project's second phase. Dalton estimated it would be in operation by 2026 if all goes to plan.
"I think you'll see a lot of activity this year and a lot of vertical stuff in 2023," he said about the construction schedule.
The Indiana Economic Development Corp. recently approved $4 million in incentives for Grand Millennium Center. Dalton said 31 32 Investors will use the money for road infrastructure, utilities, demolition of old buildings and design of the event center.
"That one was a heck of a big incentive for the project," he said.
Growing up fast
City officials said each of Grand Millennium's elements will fill a need in a city that is growing faster than resources and services can keep up.
A recent Indiana University report said Westfield last year was the fastest-growing city in Indiana among those with more than 5,000 residents.
According to the U.S. Census Bureau, Westfield's population increased from 30,068 in 2010 to 50,630 as of July 1, 2021.
And the city hosts 2.6 million visitors a year at its Grand Park Sports Campus, for events ranging from youth sports tournaments to the Indianapolis Colts training camp. All of those visitors travel on area roads, and many of them eat and sleep in Westfield.
The Indiana Department of Transportation and the city will attempt to alleviate traffic backups when they begin widening State Road 32 next year through downtown, while Westfield Boulevard will eventually extend south to East 161st Street.
The new Westfield-Washington Public Library will replace the 32,101-square-foot facility that sits on 2.6 acres at 333 W. Hoover St. between Westfield middle and high schools.
Library Director Sheryl Sollars told IBJ in April the library has "an overabundance of people wanting to come and use our facilities."
And Moran said Westfield residents consistently told her the city needs more medical facilities with doctors who work full time. She said people don't want to travel to Indianapolis for their health care needs.
"This project started out as a freestanding ambulatory surgery center, and now it has sort of taken on a life of its own because of the demand for the various needs" of Westfield residents, Moran said.
A place to gather
A 2020 feasibility study for the event center, produced by the Chicago-based planning services firm Stone Planning LLC, similarly determined people in Westfield and Hamilton County want more entertainment opportunities closer to home.
"In contrast to the county's existing meetings offerings, there is a definite lack of entertainment venues in the area. The one significant facility in Hamilton County for touring events is the Palladium [in Carmel], which is a high-end performing arts center with theater seating," the study's authors wrote. "Local stakeholders have indicated that residents and visitors have shown a need for entertainment opportunities that do not require a trip to downtown Indianapolis."
Dalton described the proposed event center, which would include space for conventions, as a "Vegas-style entertainment center with a 2,500-seat auditorium."
"That's a big, long-term project for our community," Dalton said. "It's a Hamilton County attraction, not just a Westfield attraction. It's going to take a lot of buy-in from a lot of different political units."
Willis said Grand Millennium Center will play a key role in increasing the vibrancy of the city's downtown, which is seeing an increase in development. Carmel-based Old Town Cos., for example, is developing a mixed-use project between the new Grand Junction Park and Plaza and S.R. 32. The development is called Union Square at Grand Junction, and is to include up to 300 apartments, about 50 condos, 50,000 square feet of office space, and 30,000 square feet of retail and restaurants.
"I think [the Grand Millennium Center] just adds to the downtown experience, and if you're there on a Friday or Saturday night, you see people," Willis said. "It's bustling, you know, for a little city like Westfield, and we just need to continue to build on that energy."
He said residents have told him they want more stand-alone restaurants and places to visit that aren't near Grand Park. The 400-acre sports center, he said, is primarily for visitors, unless residents have a reason to be there for a sporting event.
"So, the downtown area is really for our residents," Willis said. "And I know my goal, and I think many leaders in the community would like to see [it also, is for] the downtown area [to] become a gathering place for our community."•
Please enable JavaScript to view this content.