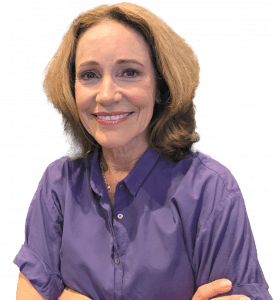 Indianapolis-based Langham Logistics is set to open a 150,000-square-foot warehouse in Whitestown to serve pharmaceutical and biotech companies—and their suppliers—who need cold storage, meaning anything from chilled space to ultra-low-temperature freezers.
Langham, which CEO Cathy Langham opened with two siblings in 1988, has long served customers who needed cold storage. But the growing demand from pharmaceutical firms and a desire by companies to bring more of their operations back to the United States is driving growth for Langham as well.
IBJ talked with Cathy Langham about the company's Whitestown warehouse and what's changing in the industry.
What led you to launch Langham Logistics in 1988?
When I graduated from IU Kelley School of Business, I took a job with a trucking company, a less-than-truckload common carrier, and worked in that space for a few years—and then was invited to buy a local terminal as a franchisee.
I was 25, single, nothing to lose, so I said yes and opened a franchise for them, signed a 10-year franchise agreement. And then a year later, I opened an air-freight-forwarding franchise.
I sold both of them and opened Langham Logistics with my sister Margaret and brother John.
What were your goals at the time?
My goals, since I worked in that space, were really to do a better job than the company I worked for in terms of meeting our customers' goals of efficient delivery, as well as communication with them.
How have your goals changed over time?
That's an interesting question. They haven't changed all that much.
It's still about getting shipments delivered and through warehouses for our customers and giving them visibility and communication. So those high-level goals are still the same.
And our mission, the company mission, is to be the recognized leader in providing tailored solutions to organizations with transportation, logistics, warehousing or other supply-chain challenges. So, we appreciate the importance of partnerships, the value of company experience, creativity, relationship and integrity.
The big difference today is that we're using a lot better technology and visibility tools to provide real-time communication to our customers, and then business intelligence tools to help have more strategic conversations than, "Hey, this shipment delivered on time yesterday." So, technology has changed the game in our space.
When did you get into cold storage? And why did you move into that area?
We have been in the cold storage transportation business for many years—for, I would say, 20 years—where we are moving raw materials or food or pharmaceuticals on temp-controlled trailers called reefer trailers.
Three years ago, I decided to open a warehouse that did that. So, we have air-conditioned space, or control-room temp space, then we've got a chill room, which we call refrigerated space, and then frozen space.
And we also have ultra-low-temp freezers—for vaccines like the Pfizer vaccine during COVID.
We did that in Phoenix, Arizona. And the reason we picked Phoenix [was that] a lot of California pharma and biotech companies want somebody close for overflow storage or business-continuity planning. But they wanted it east [of California]. They want the location east of the mudslides and the fires and the floods and all that sort of thing, but still within a day's drive.
We opened that facility three years ago. And it's 150,000 square feet.
At that time, who would've known that, with the Pfizer vaccine, there would be that need?
Nobody. We didn't know.
But we thought there was a need in the market. We went to a big pharma customer with a proposal, an unsolicited bid, to use that space, and they said yes. And we opened it, and it's full. And now, we're doing the same thing in Whitestown.
What types of companies use cold storage?
Namely, biotech and pharmaceutical companies and their suppliers. It's a lot of raw materials, or packaging supplies, or vials, that sort of thing—ingredients, chemicals. Especially now, post-COVID—or I should say, post-big-supply-chain challenges.
A lot of companies now want most of their raw materials to be closer. They want them at least to be in the domestic U.S. So, instead of waiting seven weeks [pre-pandemic] for raw materials for manufacturing, now they're looking for 12 to 18 months, so they need more storage.
It's got to be controlled. It's got to be high-quality, validated space. So, our timing worked pretty well on that.
What led to the decision to locate in Boone County?
We saw a building we liked. We bought a shell building.
I love Indiana. I've got almost 700,000 square feet of warehousing here. And the timing is great. I want to serve many companies, want to reshore this product, and they want it in the crossroads of America. So, they want it in the middle U.S., so we can reach the coast as quickly as possible.
It's really a replica of what we did in Phoenix—150,000 square feet, air-conditioned, chilled, frozen and then the ultra-low-temp freezers.
How has serving the cold-storage
sector helped Langham Logistics grow?
What we really love about this sector is the altruistic [nature]. We really feel like we're making a big difference by helping pharmaceutical companies and med-device and biotech companies come up with new drugs to cure cancers and diabetes and all the things that they're working on.
So, I think it's been really good for our team. I really feel like they're part of a solution.
And also, we didn't really know this when we started opening pharma warehouses, but we are one of few companies in the country that knows transportation and pharma warehouse. So, we are a one-stop shop for our customers, and they seem to like that a lot.
It's been accretive to our transportation business as well as the warehousing business.
What are the barriers to expanding in the cold-storage business?
Well, it's expensive. There's a high barrier to entry.
It's not just a dry-box warehouse. And we've got those, too. And, oh, by the way, that business is very important to us. Our automotive, industrial products—those are clients that we've had forever, and they taught us, they helped us learn this warehousing business, and it's working well.
In the pharma business, you're buying big freezers. You're buying multiple generators. You're buying and installing HVAC systems and freezer walls. And it's a lot of expensive product that, just like anything else in the supply chain, is tough to get—and the costs are going up. The cost of steel is going up.
What are some of the next projects or goals for Langham Logistics?
We have our grand opening on July 14 at Whitestown. So, we will get that up and running. We've got a few clients waiting to go into that space.
After that, we're looking at 1.1 million square feet in Whiteland, Indiana, for an opportunity that we already have a customer very interested in. So, we're going to exploit Indiana. We're going to do a lot here. After that, we're going to look east.
So, I think North Carolina. Lilly's got some plants there. And Amgen. A lot of big pharma companies are down there, and there's a lot of opportunities. So, we will look there.
Where do you expect to be in five years?
We want to be a $200 million business in five years. And that's a pretty steep growth curve for us. But what we've experienced in the last year has informed our guess on that. It's a goal, but it's not out of the realm of possibility for us. We will work hard to get there.
What about 10 years?
10 years? Wow. That's tough.
That's the 2030s.
I will be on the beach in Florida, but the business will be closer to, I think, a half-billion dollars. I've got a fantastic team.
And I think that's the key to success, especially in space like this. Quality is front and center to everything, and so is operational excellence.•
Please enable JavaScript to view this content.