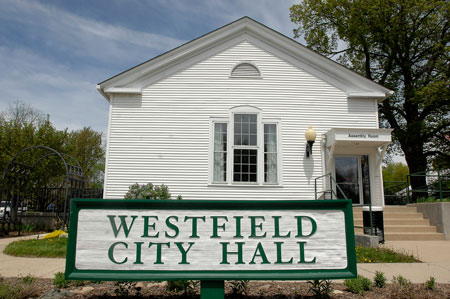 The Westfield City Council on Monday night rejected a proposed ordinance to change the city from third-class to second-class status.
A move to second class would expand the city council from seven to nine members and make other governing changes.
Councilors voted 6-1 against the ordinance, with Scott Willis casting the only vote in favor.
"I think at some point, we should be a second-class city," City Council President Mike Johns said of his vote against the ordinance. "I just can't support it at this point."
Westfield will not be able consider a move to second-class status for another five years, until prior to the 2027 election.
A move to second-class status would add two additional council members—one at-large and another representing a sixth district.
In addition, the city's clerk-treasurer position would be eliminated. In its place, a move to second-class status would establish an elected city clerk position along with a city controller post that would have been recommended by the council and appointed by the mayor. The ordinance called for an effective date of Jan. 1, 2024.
Westfield was eligible to move from third-class status because it crossed the population threshold of 35,000 that Indiana cities must have to be considered for second-class status. According to the U.S. Census Bureau, Westfield's population increased from 30,068 in 2010 to 50,630 as of July 1, 2021.
Dave Miller, a Westfield resident, spoke in the public comment portion of Monday night's meeting and expressed his disappointment with the ordinance's defeat.
"We're at about 7,000 people per councilman now," Miller said. "If you take a look a the next couple of years at the growth of those 6,000 homes that have been approved that are going to be filled at some point in time, we're going to be looking at [a population] of 65,000 to 70,000 people. Now, these people will need to be represented, in my opinion."
A report into Westfield's finances published last year by Indianapolis-based consultant Baker Tilly Municipal Advisors LLC recommended the city move to second-class status.
Indianapolis is the state's only first-class city, which requires a population of 500,000 or more. More than two dozen cities in the state have second-class status, including three other Hamilton County cities that made the move in recent years due to population growth.
Fishers changed from a town to a second-class city on Jan. 1, 2015, after voters elected the city's first mayor and nine-member city council in the 2014 election.
The Noblesville City Council voted in 2013 to upgrade to a second-class city, and residents elected the city's first nine-member council and clerk in 2015. It officially took on second-class status on Jan. 1, 2016.
The Carmel City Council in 2016 voted to elevate the city to second-class status after previous councils twice rebuffed Mayor Jim Brainard's proposals to upgrade the community's standing. Voters elected a city clerk and two additional council members in 2019.
Please enable JavaScript to view this content.