When Fishers becomes Hamilton County's newest city in 2015, it also will be the first of Indianapolis' northern suburbs to achieve "second-class" status.
Fewer than two dozen cities in Indiana carry the population-based designation, which calls for a different governance structure than in smaller, third-class communities.
Others—including suburban standouts Carmel and Noblesville—qualify for an upgrade because of their growth but have not made the leap. Yet.
Noblesville's Common Council began reviewing a proposal this month that would reclassify the city of about 55,000 after the next municipal election.
Becoming a second-class city would mean adding two seats to the seven-member council and dividing the clerk-treasurer's duties between an elected clerk and a mayor-appointed controller.

Ditslear
Municipal leaders informally looked into making the shift years ago, Mayor John Ditslear said, but decided not to proceed at the time. It made sense to revisit the issue as the community continued to develop, he said.
"As the city has grown, the [council] districts have become so large," Ditslear said, citing the benefits of expanding the legislative body. In addition to better representing the community, he said, a bigger council would mean fresh faces behind the dais—and possibly some new ideas for improving Noblesville. "New blood is not a bad thing."
Another factor: Longtime Clerk-Treasurer Janet Jaros has indicated she likely won't run for a sixth term in 2015, which could make it easier to divide the recordkeeping and financial duties.
And with redistricting planned for next year, anyway, "it appears to be the right time … to take another look," council President Roy Johnson told IBJ.
Indianapolis is the state's only first-class city.
Carmel Mayor Jim Brainard has twice proposed switching the tony suburb to second-class status, only to have the city council vote down ordinances that would authorize the move. The sticking point: Councilors didn't want to do away with the elected clerk-treasurer's position, held since 1996 by Diana Cordray.
When the first proposed ordinance failed by a 2-5 vote in June 2004, Brainard agreed to let the council vote on his controller appointment. That measure also failed.
He doesn't plan to resurrect the issue anytime soon, but "it makes sense for a city of our size to have nine council members," Brainard said of the 80,000-resident community.
The Carmel Chamber of Commerce agreed, and five years ago advocated reclassifying the city as part of an effort to improve government efficiency.
"It was a non-starter with the council," said Chamber President Mo Merhoff.
About the same time, former Greenwood Mayor Charles Henderson was floating the idea, for at least the third time, of upgrading the Johnson County suburb's status. The Greenwood City Council approved the move in 2010.
Although class can be an important distinction for city leaders, "regular people" often don't know the difference, said Jamie Palmer, a senior policy analyst for Indiana University's School of Public and Environmental Affairs.
"It's really just local politicians' preference," concurred Ann Cottongim, deputy director of the Indiana Association of Cities and Towns.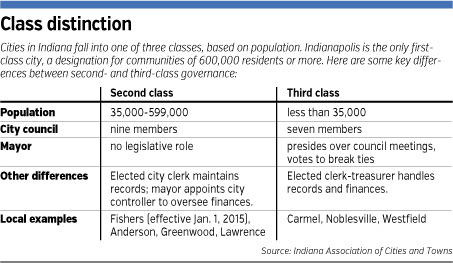 Fishers officials didn't have a choice, given the population last November when residents voted to turn the town of 80,000 into a city with an elected mayor and city council. Its first city election is scheduled for 2014.
Regardless of class, cities have an advantage over towns when it comes to economic development because they have a single executive who can act on local government's behalf, said John L. Krauss, director of Indiana University's Public Policy Institute and a former deputy to Indianapolis Mayor Bill Hudnut.
"Site selectors and companies looking to make investments in a community are looking for someone they can go to who can make commitments," he said. "Decisions happen so fast now, if you don't respond quickly and substantively to an opportunity, it goes someplace else."
The most significant difference between second- and third-class cities is the degree of sophistication its chief financial officer brings to the job, Krauss said. Elected clerk-treasurers are not required to have any financial experience, he said, and although some are "very competent," others are not.
"It's getting closer to the organizational structure of a business," he said.
Second-class cities can incur additional expenses—salaries for the two additional council members and department-head-level controller, at the very least—but having in-house financial expertise could reduce professional consulting fees.
Johnson, the Noblesville council president, said the panel will weigh all the pros and cons before voting on the class change later this month.
"We're still in the exploratory and discussion phases of this process," he said. "We'll be asking all the questions that, ultimately, will provide the answer to, 'What's best for the city of Noblesville?'"•
Please enable JavaScript to view this content.