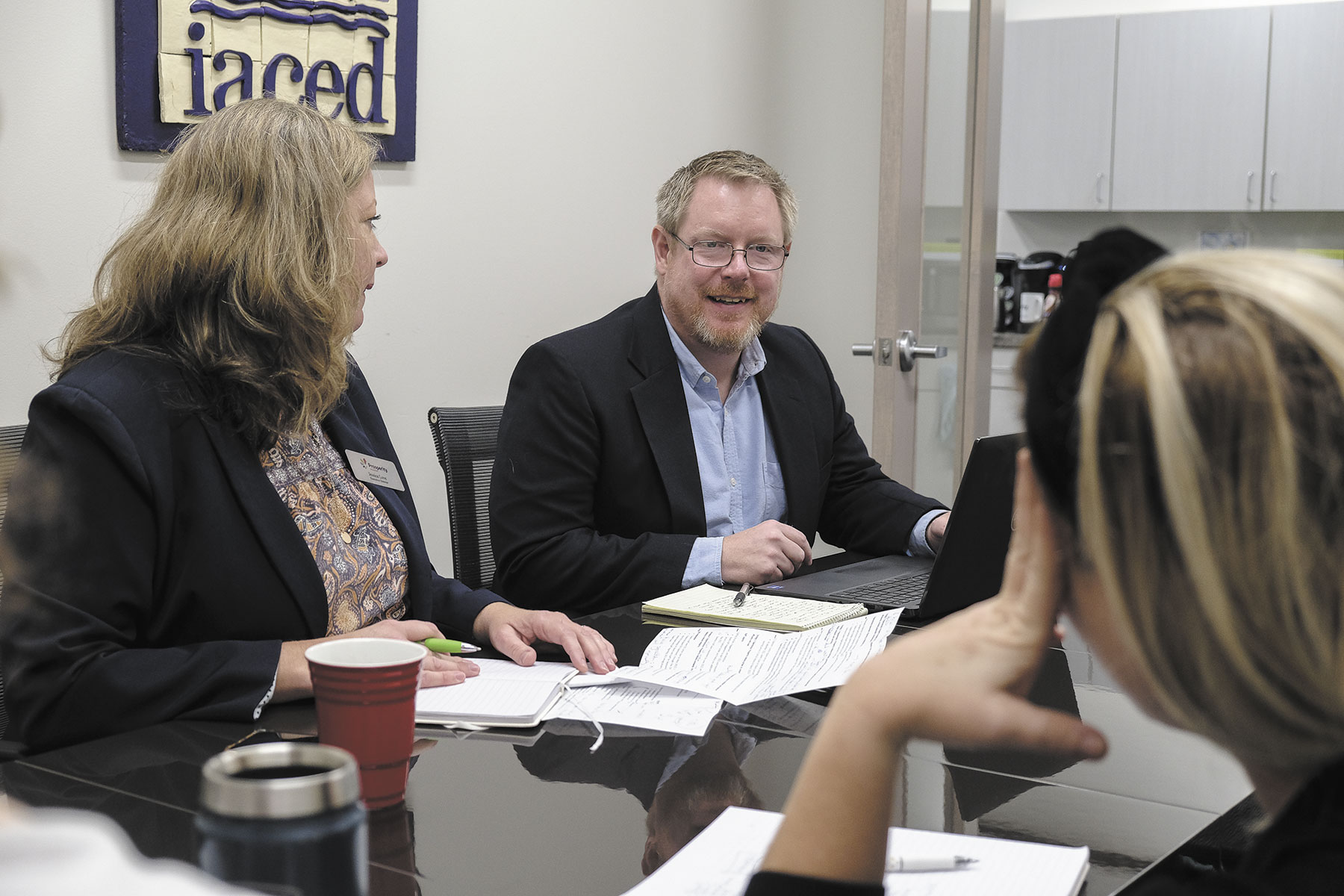 At the height of the pandemic in 2020, Indianapolis spent nearly $34 million in federal money on rental assistance in just six months.
Now, as federal funding fades, the Mayor's Office says the trick is to find a way to keep the IndyRent program humming—not at its super-heightened level but in a way that continues to adequately meet the need.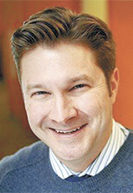 At its peak, the program doled out $7 million in a month, according to Deputy Mayor Jeff Bennett. That rate is impossible post-pandemic, so the city must decide how much eviction-prevention assistance is possible.
"If you're doing specifically an eviction-prevention-based rental assistance program, that's probably not $7 million a month," Bennett told IBJ. "Is it two? Is it half a million? Is it some other number?"
At the pandemic's onset, IndyRent provided assistance for residents who experienced a COVID-related disruption of income, were at or below 80% of the area median income and were at risk of losing housing. Applications surged to 10,000 in the first three days after launch.
Today, the program provides help only to those facing eviction. Only those with a court date can receive assistance, which is a potential model moving forward, according to Bennett.
With federal aid, the program has spent $169.3 million and filled over 60,000 applications since the pandemic began. Bennett said IndyRent will still be stretching its remaining $16 million to make it to the end of the year.
Even though demand for assistance has dwindled, the $1 million in local funds the city was spending per year pre-pandemic on rental aid still won't be enough to meet the current need. But officials are hopeful other revenue can be found. That might include requests for federal funding or action, partnerships between the city and housing advocacy groups or maybe some new approach.
There is one additional chunk of funds coming to the rescue. The City-County Council voted Sept. 12 to put $20 million of the State and Local Fiscal Relief fund into IndyRent.
Council President Vop Osili told IBJ he's supportive of future allocations to the program and has seen positive results.
"It is a priority for members of the council to address this issue. So many households in our county, so many individuals, have been hit by this, and we continue to advocate for the care and housing of our most vulnerable," Osili said.
He also said the rate of evictions is just one of many issues that came to be put "on the front burner" due to the pandemic and needs to continue to be addressed.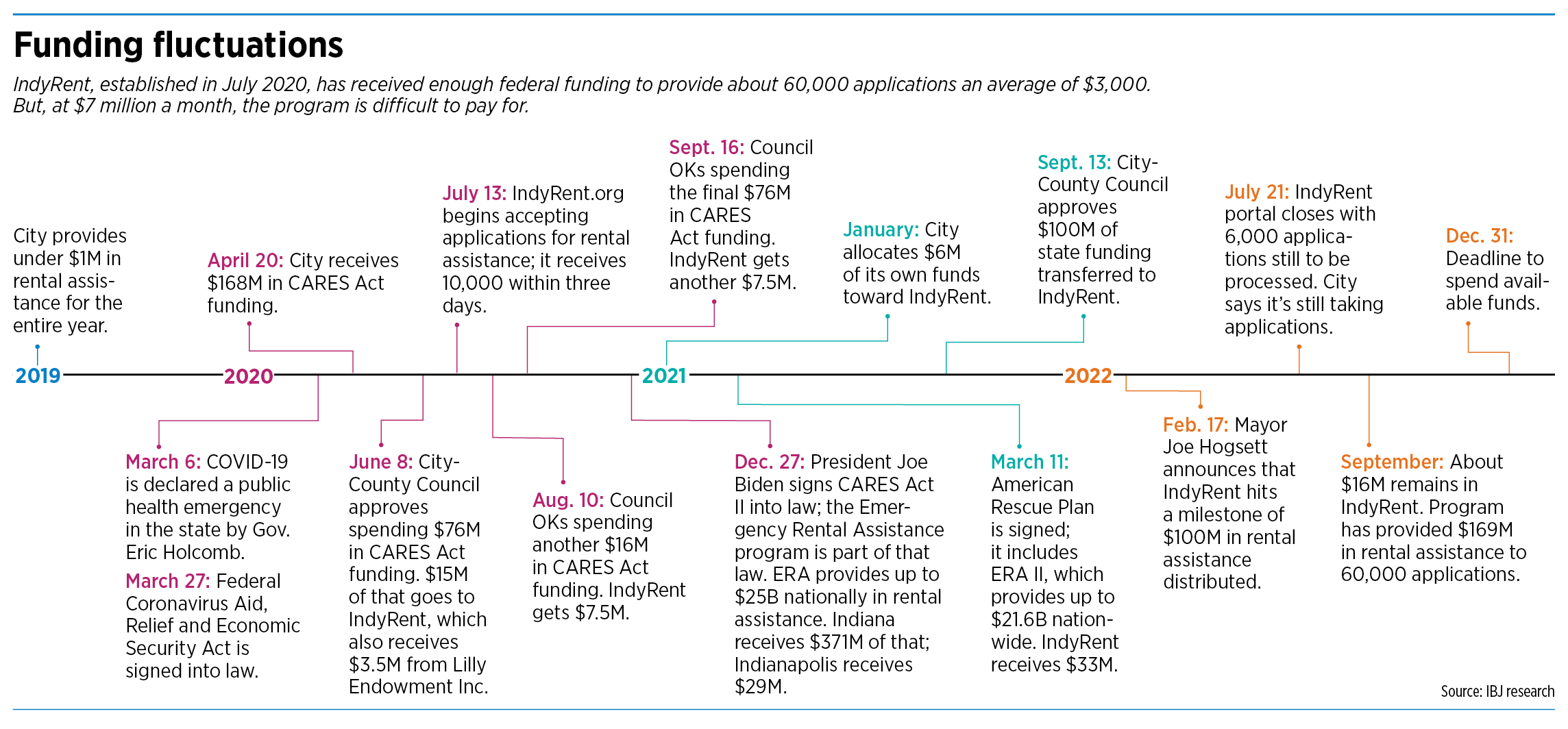 Turning to the feds
The city's next hope is a request for additional Emergency Rental Assistance II funds from the U.S. Department of the Treasury. These reallocated funds would be from localities that have underspent, and Indianapolis would have until the end of 2024 to use them, Bennett said.
"We don't have an answer yet," he added.
Andrew Bradley, policy director for Prosperity Indiana, which comprises about 200 community economic development groups across the state, said a September 2021 reallocation of nearly $100 million in rental assistance given to the state shows that Indianapolis could get lucky again.
Bennett said that reallocation was "the shot in the arm" that allowed Indianapolis' program to take off and last as long as it has.
Indiana has spent or obligated 94% of its first installment of Emergency Rental Assistance and just 64% of its second allotment, according to National Low Income Housing Coalition data. The state has $148 million remaining. The Treasury Department can reallocate funds not spent by Dec. 31.
Bennett hopes the remaining funds and the potential reallocation of Emergency Rental Assistance funds will bring the program into the next year.
"It would be suboptimal if we just had to end the program Dec. 31 and then turn it back on at some point in the future," he said. "It'd be nice to have a longer runway to that permanent program."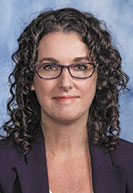 Indianapolis isn't alone in facing these challenges, said Diane Yentel, president and CEO of the National Low Income Housing Coalition. Because of the decrease in federal relief funding, the coalition has put out a request for proposals for the Erase Cohort, which stands for End Rental Arrears to Stop Evictions. The city is partnering with Prosperity Indiana and the Hoosier Housing Needs Coalition to apply for the program.
The group's aim is to help get remaining funds to state and local entities, find resources, think through protections that could be implemented at the local level, and advocate for change.
Some hope hinges on Congress, which has shown bipartisan support for eviction-prevention assistance. The Eviction Crisis Act was introduced in 2019 and co-authored by Republican Indiana Sen. Todd Young.
Yentel said the housing coalition advocated for the legislation, along with a companion U.S. House bill.
"What we're doing now is educating members of Congress, working to increase the number of co-sponsors on that legislation," Yentel told IBJ. "So that next year, we could have a better chance of moving it forward quickly."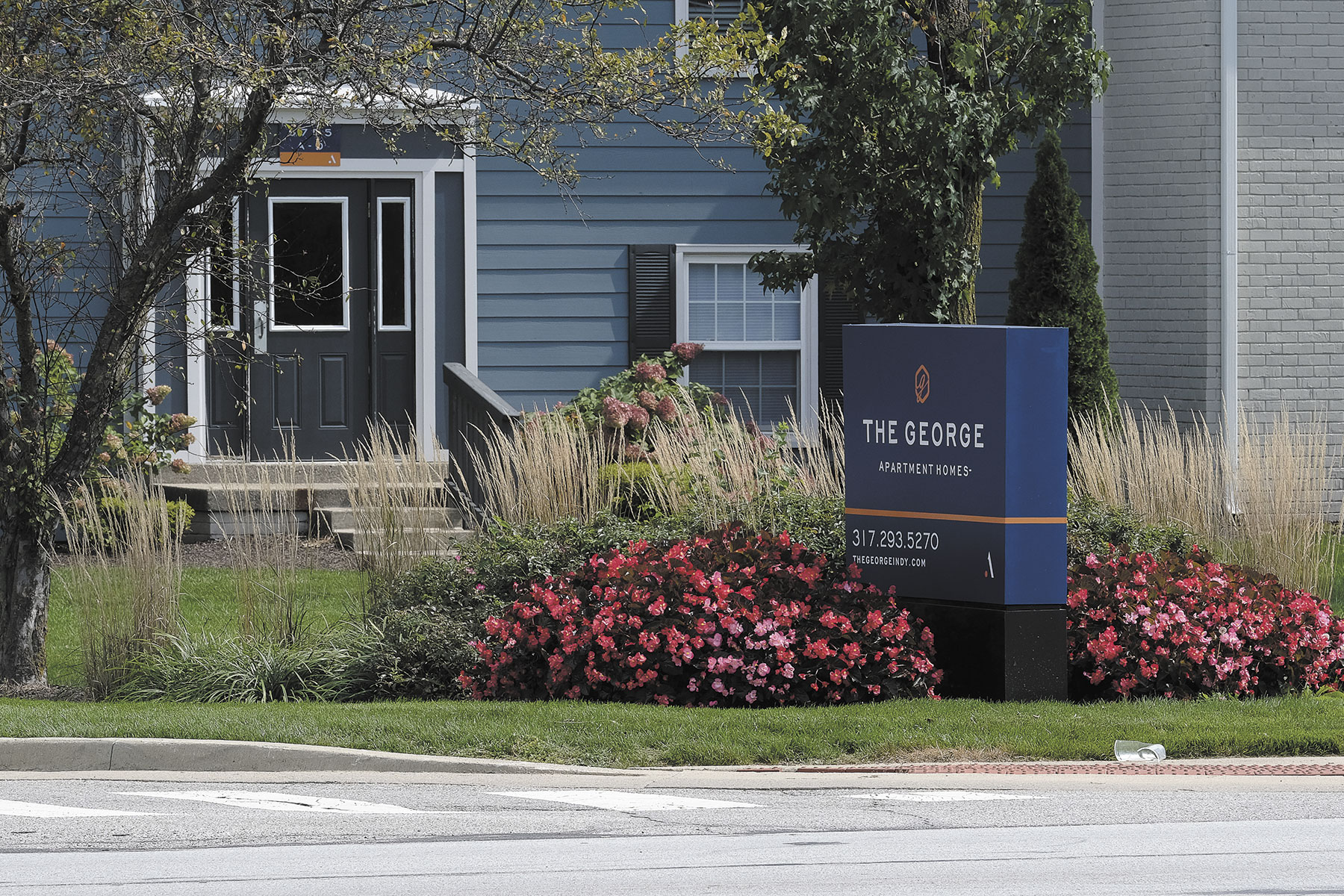 Long-term thinking
City officials have shown that the housing issue is a priority. At a recent press conference, Mayor Joe Hogsett highlighted both the impact of IndyRent and the limit of its funding.
"Those monies are not inexhaustible," Hogsett said. "But it certainly has helped many, many renters maintain their homes during a very difficult economic time."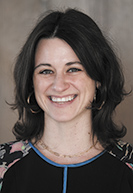 Scarlett Andrews, head of the Department of Metropolitan Development, said the department will continue to prioritize affordable housing. The city also has a tenant advocacy program that will continue.
Once there is a better idea of what a post-pandemic rental assistance program should look like, Indianapolis can combine its funds with state, philanthropic and possible federal funds.
"I think you could get to something that is a sustainable, permanent program," Bennett said. "But it's something that vastly outmeasures our ability to fund it solely with local dollars."
While funds are up in the air, the city has taken steps to improve the outlook for eviction prevention in Indianapolis. The two years that IndyRent has existed have improved partnerships in the community, Bennett said.
"We have really good relationships with many of the judges who understand what we're trying to do and I think see us, or see the rental assistance program, as a way to keep tenants stable while recognizing that landlords do need to collect rent," Bennett said.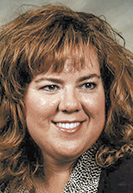 Free legal assistance is now available in eight of Marion County's nine small-claims courts, via a program that is funded through the end of 2024, Bennett said. Rental-assistance program navigators are also on site and available to help renters facing eviction apply for assistance.
Amy Nelson, head of the Fair Housing Center of Central Indiana, said a state law limiting rent increases, like one in Michigan, would help the housing crisis here. She also said that when investors buy property to use as rentals, that prevents residents from becoming homeowners and worsens the housing crisis.
"We all knew at some point the money was going to run out," Nelson said in an email to IBJ. "We sincerely appreciate all the city has done to get as much money as they could and to get it distributed. However, there's just such a need in our city."•
Please enable JavaScript to view this content.