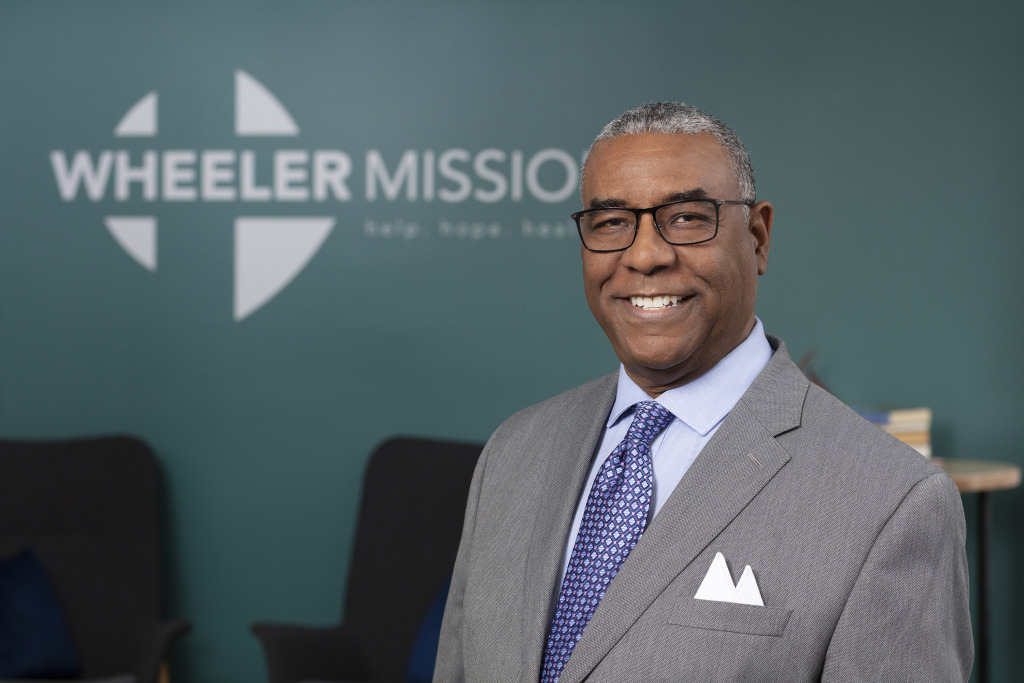 Indianapolis-based not-for-profit Wheeler Mission has promoted Chief Development Officer Perry Hines to president and CEO to replace longtime leader Rick Alvis.
Hines, who has led development efforts for Wheeler Mission since 2021, was unanimously selected by the organization's board of directors to succeed Alvis, who has overseen the organization for nearly 33 years.
Hines will assume the job in March, while Alvis will remain available for consultation as president emeritus.
Hines, a Western Kentucky-raised former corporate marketing executive, will be the first African American leader of the nearly 130-year-old organization.
Alvis announced in March that he would step down after a successor was found. During his tenure, the organization's budget increased from $700,000 to nearly $16 million and employment increased from 17 to 175. 
The board of directors' search for a new chief executive was aided by FaithSearch Partners, a Texas-based Christian search firm, which yielded 700 potential candidates.
In following up the work of his successor, Hines said there will be "evolutionary change, not revolutionary change" at Wheeler Mission. One of his main goals is to increase knowledge about Wheeler's wraparound services. He said the not-for-profit has high brand awareness, but residents have a low level of brand knowledge.
"We're more than just emergency shelter services," Hines said.
The 60-year-old Hines told IBJ that his upbringing in a single-stoplight Kentucky mining town with a population of 900 was integral in his desire to serve his communities.
"It was the bedrock, because everybody knew each other and when someone needed something, everybody else came to the rescue," Hines said. "We didn't have GoFundMe pages, we didn't have Facebook, we didn't have all of those things. We had our neighbors and our community."
Hines has a mixture of corporate and not-for-profit experience, which he said differentiates him from Alvis, who is an ordained Christian minister. The organization's growth requires it to be run a bit more like a business, he said. But his faith will still play a role.
"I'm going to honor God, serve others and transform lives," Hines told IBJ. "If we do the first two, the third will result."
Hines has a bachelor's in journalism from Western Kentucky University and a MBA from the University of Minnesota. He was in IBJ's 1997 Forty Under 40 class.
Aside from managing his roles on several boards, Hines enjoys spending time with his wife, Lisa, and his two sons and grandchildren. They reside in Carmel.
He is currently a board member of not-for-profit Indiana University Lilly School of Philanthropy and sits on corporate boards for Federal Home Loan Bank of Indianapolis and Horace Mann Educators Corp. He's served on the board of directors for the Indianapolis Urban League, Indiana Humanities, the Madame Walker Theater, and many others.
Founded in 1893, Wheeler Mission has served the Indianapolis community through a variety of programs for the poor and the homeless.
Wheeler has nine locations and recently invested $14.8 million in a state-of-the-art facility for it's Center for Women & Children, at 3208 E. Michigan St. It opened in August 2021 and serves up to 367 women and children per day.
Please enable JavaScript to view this content.