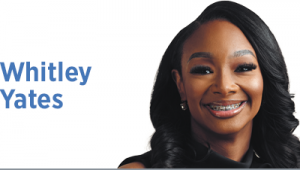 There has been a national call for equity within the health care industry.
In every facet of the industry, inequities and barriers are prevalent. Health equity is achieved when every person has the opportunity to attain his or her full health potential.
What you will find, however, is that most of the conversations about health care equity are patient-centered and never provider-focused. I am a former long-term-care worker and certified nursing assistant, and we are trained to always place the needs of our patients over our own, leaving little to no room to advocate for a better working environment. But I am a firm believer that, when you treat your health care employees as valued and meet their needs, they are better positioned to provide the highest level of care to their patients.
Seeing value beyond salary is a key element in implementing value-added employee incentives or benefits through the lens of health equity. I stumbled across an Indiana company that is leading the way with its level of support incentives. Westfield-based Majestic Care provides community-based skilled nursing in short-term, long-term and memory care throughout Indiana, Ohio and Michigan.
What stood out to me about Majestic Care as I began learning more about its business model is that its leaders sincerely invest in the well-being of their employees. The company provides all its full-time-care team members with free smartphones and pays the bill. Another wraparound benefit is a child care assistance program that helps remove barriers for single parents. All full-time employees and their families have access to 24-hour telehealth services. And at a time in which rent prices nationally have increased about 12% and Indiana rental price growth is teetering closer to 13%, Majestic Care has strategically worked with apartments to provide a rental discount of up to 20% for employees. Majestic Care is also working on a national grocer employee discount program to help reduce food insecurity for its team members.
These types of steps are uncommon but should be the standard. Reducing the stress and burden of these aspects of life helps improve employees' overall health.
A few months ago, Majestic Care CEO Bernie McGuinness announced a diversity, equity and inclusion initiative for the company's 3,000-plus employees. The initiative will create and develop a minority leadership training program to help advance careers for underrepresented team members. The initiative will include training for all levels of leadership and will continue forging an equitable working environment for Majestic Care employees with a sizable investment of a quarter-of-a-million dollars to help propel the effort.
I am constantly questioning the intentionality of such endeavors when they don't have actionable steps or a fiscal support structure to help make them a success. But this initiative shatters such stereotypes. When we speak honestly about achieving health equity, we shouldn't silo our focus on the patients only; we should also keep top of mind how we treat and support the full health of the care providers.•
__________
Yates is director of diversity for the Indiana Republican Party, a political commentator and a law degree candidate. Send comments to ibjedit@ibj.com.

Click here for more Forefront columns.
Please enable JavaScript to view this content.