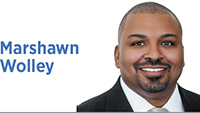 School boards and superintendents outside of IPS have failed to lead on education reform in Indianapolis—and we must demand they start thinking big enough to participate in the solutions.
This year, school boards will be elected all over the county. We should consider the black and Latino achievement gaps in Marion County as civil rights issues that are on the ballot.
According to SAVI, an IUPUI data center, only 39.3% of black students and 43.2% of Latino students in Marion County passed the English section of the ISTEP, while 82.6% of white students passed across the county.
Only 29.3% of black students and 37.8% of Latino students passed the math portion of the ISTEP, while 86.3% of white students passed.
Much attention is paid to these racial achievement taps at IPS. But not nearly enough attention has been paid by education advocates and even the media to school boards and superintendents in the townships outside of IPS.
Nine townships and at least 11 school districts have impeded our collective ability to wrestle with the K-12 system issue in the city.
That must change. First, there's the simple fact that not all black and Latino kids go to IPS schools. Also, racial achievement gaps on state tests, disparities in who takes AP exams and their performance, school discipline, and kinds of degrees obtained are ultimately connected to educational attainment gaps post-K-12.
Of course, creating pathways to get students out of our local K-12 system with a degree doesn't necessarily mean we've increased our optimal talent pool for what continues to be a knowledge-based economy. We know there has been a disturbing increase in graduation waivers, that send students out of school without appropriate preparation.
Our future competitiveness as a city requires an all-hands-on-deck level of engagement from the broad community—and superintendents and school boards across the county must lead.
A growing coalition of parents, civil rights organizations and even funders have been looking at the problem of citywide racial achievements gaps and we've made some observations.
Thus far, school boards and superintendents have failed to lead teachers, principals, parents—and in a very important respect, other potential partners—by not developing public-facing and big enough plans to take on the challenge of racial achievement gaps.
These school leaders cower in townships hoping no one calls them out.
We know teachers are attending professional development days and school leaders are probably executing on a variety of initiatives within their districts. Teachers and school leaders are doing work. Consultants are getting paid. But this problem isn't merely an issue of increased instructional time or deploying equity specialists.
Superintendents don't control city agencies that impact the factors that undermine student learning in neighborhoods, and the mayor—who has some tools that could be leveraged in the education space—ultimately isn't the superintendent of any of the Marion County schools.
That township superintendents and school boards have yet to produce plans with metrics that include engagement with parents and partners like the city and others is both a failure of vision and a minimal expectation voters should seek from courageous leaders engaged in a challenge that threatens the future potential of the city.
Superintendents and school boards are responsible for asking for help and envisioning plans big enough to take on the challenge of racial equity in education in Indianapolis.
The school board candidate that is prepared to demand better by enlisting the collaborative support of others should be what we all demand this election cycle.•
__________
Wolley is a lecturer, columnist and diversity and inclusion consultant. Send comments to ibjedit@ibj.com.

Click here for more Forefront columns.
Please enable JavaScript to view this content.