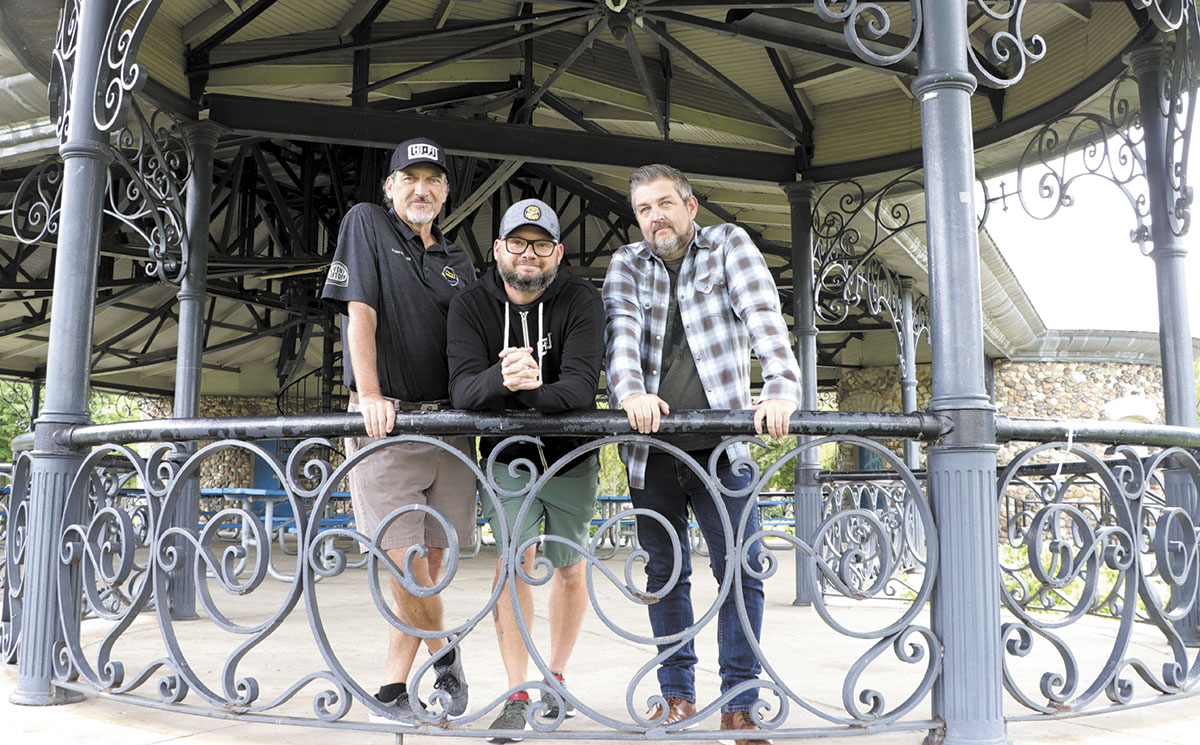 If WonderRoad becomes a multiday music festival with staying power, it would be a rarity in Indianapolis.
Consider that, during the past 20 years, local festivals Indy Summer Stages, Jammin' on Jersey, WARMfest, Evermore and the Fountain Square Music Festival have all debuted and eventually disappeared.
The reasons for each event's demise vary, but it's safe to say an event sticks around if enough music fans buy tickets.
The organizers of WonderRoad—scheduled for June 11-12 in Garfield Park—think they can make that happen.
In fact, Denny Young, president of Cleveland-based Elevation Festivals, said WonderRoad has a reasonable shot at selling its first-year goal of 15,000 tickets. Elevation Festivals is producing WonderRoad in association with Indianapolis concert company MOKB Presents.
And he has experience to guide him. Elevation Festivals just served as producer for another new event, Pittsburgh's Maple House Music + Arts Festival, on May 21. Maple House was a sellout, and Young said 35% of tickets were purchased during the 10 days leading up to the single-day event.
"You normally do about 30% to 40% of your ticket sales in the last 10 to 14 days," Young said. "We don't have 35% left to sell for WonderRoad."
High-profile bands Vampire Weekend and Lord Huron will headline WonderRoad, one of two music festivals making an Indianapolis debut this summer.
On Sept. 3-4, the All IN Music & Arts Festival will present Cage the Elephant and Daryl Hall & John Oates as headliners at the Indiana State Fairgrounds.
Neither festival is launching with aspirations of rivaling major attractions like Lollapalooza in Chicago or Bonnaroo in rural Tennessee. Dan Kemer, a partner at MOKB Presents, described WonderRoad as a "boutique festival." And All IN organizers announced an "intimate capacity footprint" for the festival's performances at Indiana Farmers Coliseum and Hoosier Lottery Grandstand.
Young said ticket sales for WonderRoad are impressive in the context of inflation affecting consumers following two summers of pandemic restrictions.
"You are going to see a lot of people at WonderRoad," he said. "It is going to be a success story in 2022, and I promise you not every festival is going to be a success story in 2022."
That's already clear. Cincinnati's Bunbury Music Festival, an event that presented artists such as the Killers, Jack White and Post Malone from 2012 through 2019, decided last fall to pull the plug on a 2022 comeback.
In a Nov. 30 tweet, Bunbury's official account announced an extended hiatus: "Due to a variety of circumstances & complications resulting from the pandemic these last 2 years, it has been very difficult to get a small music festival off the ground; from booking, to supply-chain issues & obtaining adequate staff."
WonderRoad is a small festival as well. But Young and Elevation co-founder Steve Lindecke are adding it to a music festival portfolio that includes annual events WonderStruck in Cleveland and WonderBus in Columbus.
Young said WonderRoad is closer to a sellout than the 2022 editions of WonderStruck (July 9-10, starring the Lumineers and Vampire Weekend) and WonderBus (Aug. 26-28, starring Duran Duran, Lorde and the Lumineers).
"I believe we were the beneficiary of announcing the Indianapolis lineup … in early December, because we sold an enormous amount of tickets in the first three weeks," Young said.
Young and Kemer said they came up with the idea for WonderRoad when Kemer visited the 2021 edition of WonderStruck in Cleveland. Kemer, who worked as a talent buyer and executive for corporate concert company Live Nation from 2007 to 2020, hosted Elevation's Lindecke around Labor Day to scout Indianapolis locations for WonderRoad.
"We started talking to bands in September," Kemer said. "We just received an email this morning about a list of artists for 2023. The sheds [an industry nickname for amphitheaters such as the Ruoff and TCU venues in central Indiana] aren't thinking about 2023 yet. They're just trying to get through their 50 to 60 to 70 shows this season."
'Legitimate industry'
Non-festival concerts at Ruoff and TCU, as well as shows at venues ranging from the Vogue to Clowes Hall, contribute to the economy of Indianapolis.
In April 2021, an initiative titled Indy Music Strategy published a report crediting the city's music ecosystem for generating $1.19 billion annually.
Jim Rawlinson, an economic development professional for the Veridus Group, served as project manager for Indy Music Strategy. More than 1,200 respondents completed surveys used to assemble the 2021 report.
"When we talk about economic impact, there's direct economic impact, which is what Indy Music Strategy studied," Rawlinson said. "That's paying for stage rigging and lighting and professional sound people, paying the artists and paying for logistics. There's a real direct impact from that."
Indy Music Strategy reported more than 8,000 jobs generated and supported by the local music sector, accounting for $276 million in earnings.
The U.S. Department of Commerce's Bureau of Economic Analysis reported that Indiana's arts and cultural sector generated a total output of $7.8 billion for 2019-2020. The report cited 78,000 arts and cultural jobs in the state, with $4.6 billion in compensation.
Rawlinson said new festivals add to a city's quality of life and boost music's indirect impact.
"Much in the same way as the Colts are a value for the city of Indianapolis, in terms of name recognition and giving residents something to do, music is no different," Rawlinson said. "And there's maybe a broader audience for that."
Rawlinson said festivals can make people feel like a welcomed part of a community.
"If we want to have an active, engaged citizenry, we need to give them things other cities are offering," he said. "It is a direct competition between Indianapolis and a ton of other Midwestern cities."
Also the vocalist-guitarist in Indianapolis rock band Maravich, Rawlinson pointed out another 2021 economic-impact summary: Indiana University's Kelley School of Business' report on the motorsports industry in Indiana.
According to the report, the motorsports industry contributes $1.2 billion to Indiana's GDP each year.
"Even if it's not necessarily an apples-to-apples comparison, those numbers are pretty close," Rawlinson said, noting the $1.19 billion figure listed by Indy Music Strategy. "It shows that music is a legitimate industry, and it deserves to be perceived as one."
Seeking support
In 2017, Mike Angel cofounded the annual Back Alley Ballyhoo music festival that will be presented this year on the weekend of Aug. 5-6 in Fountain Square. From 2015 to 2019, Angel and his business partner, Patrick Burtch, organized the Virginia Avenue Music Fest and its free-admission performances in Fletcher Place and Fountain Square.
Angel, who co-owns record store Square Cat Vinyl with Burtch, said he has mixed feelings about Indianapolis as a place for music festivals.
"We literally handed 150 up-and-coming bands, mostly local, on a platter to the people of Indianapolis," Angel said of the Virginia Avenue festival. "It was still terribly hard to get sponsorship to keep something like that moving forward. The town still has a problem with supporting musical endeavors that aren't backed by large corporations like Live Nation," which owns Ruoff Music Center and schedules lineups at Old National Centre and White River State Park.
WonderRoad co-founder Young said his company, Elevation Festivals, succeeds as an independent promoter because it's a known entity in the Midwest.
"People from Indiana, southern Ohio, Kentucky, Pennsylvania and Michigan come to our WonderBus festival in Columbus and to WonderStruck in Cleveland," Young said.
Kemer, meanwhile, said MOKB Presents has built a reputation by overseeing operations of Fountain Square venues Hi-Fi, Hi-Fi Annex and Lo-Fi. In August, MOKB Presents will promote Garfield Park concerts headlined by the Avett Brothers and Gov't Mule.
"I think the Indiana music fan knows MOKB Presents," Kemer said. "I think they trust the brand and know what we've done."
The lineup for Square Cat Vinyl's Back Alley Ballyhoo is made up of 19 artists who play psychedelic music. Bands from California, Texas, New York and Indiana will perform on two stages—one on Woodlawn Avenue near Virginia Avenue and the other inside the record store.
"I think small, specialized festivals are doing well," Angel said. "There's a niche group of listeners."
Another local event—Post Festival, which specializes in experimental rock music—will end its pandemic hiatus with performances Sept. 9-10 at Broad Ripple's Vogue. Chreece, a single-day hip-hop festival that debuted in Fountain Square in 2015, plans to return in 2023.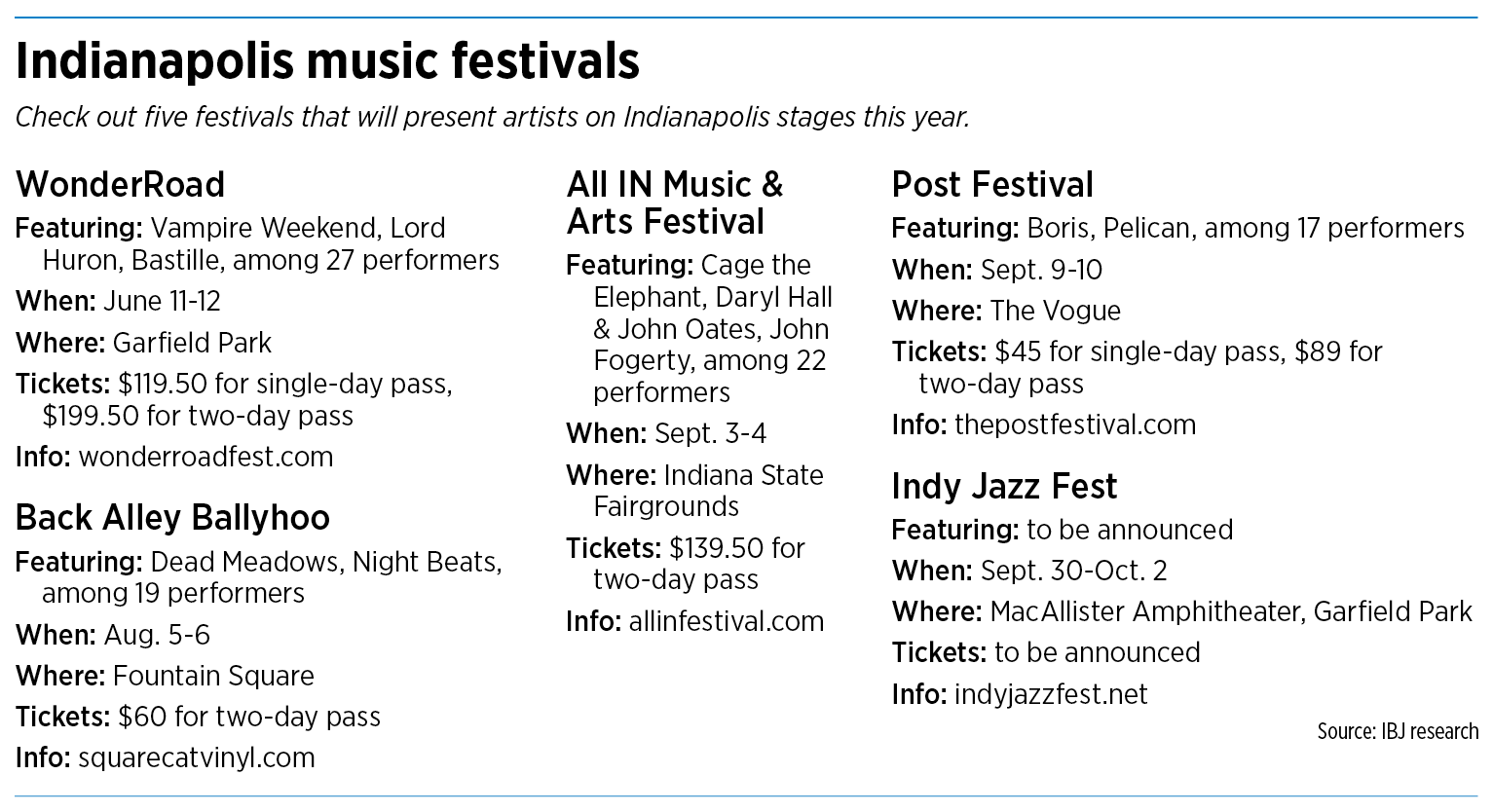 Fields of play
Young said the WonderStruck, WonderBus and WonderRoad events schedule artists who fit under an umbrella of styles he listed as alternative, indie, pop, jam and New Orleans jazz.
The performers, Young said, appeal to young people who are forming their tastes in music, as well as to their parents who enjoy keeping up with new music.
Beyond Vampire Weekend and Lord Huron, WonderRoad will feature appearances by Bastille and Chvrches on the festival's 27-artist bill. The lineup includes hip-hop musician Taylor Bennett, who is a sibling of Chance the Rapper, and Leah Kate, who's racked up 47 million Spotify streams of her current single, "10 Things I Hate About You."
Although Garfield Park features the MacAllister Amphitheater—a permanent stage accompanied by fixed seating as well as an open lawn—WonderRoad will be presented in a different part of the park.
The festival will position two temporary main stages on baseball fields near the park's aquatic center.
Young and Kemer said performance times on the two stages will be staggered so attendees won't have to miss any artists.
"The easy route and the cheap route would be to use MacAllister Amphitheater," Young said. "But by building our own stages, we're creating a production that is unique to the space that we are in. And people are going to have a different experience. We want to give a festival experience."
A strong obligation
Although multiday music festivals have come and gone in Indianapolis, Indy Jazz Fest has survived multiple changes in management and formats since its debut in 1999.
Rob Dixon, the festival's artistic director, said it's important to celebrate the legacy of Indianapolis jazz greats such as guitarist Wes Montgomery, trumpet player Freddie Hubbard and trombone player J.J. Johnson.
"We must have a jazz festival here," said Dixon, who's also a highly regarded saxophone player. "We have a strong obligation to keep it going."
The 1999 edition of Indy Jazz Fest made a big impression at White River State Park's Military Park and IUPUI's campus, drawing 60,000 attendees for a lineup that included B.B. King, Branford Marsalis, Isaac Hayes and Chaka Khan.
Financial losses attributed to weather cancellations left the festival's founding not-for-profit in peril in subsequent years, and the American Pianists Association took over and managed Indy Jazz Fest from 2003 to 2008.
Since 2009, the Indianapolis Jazz Foundation has presented Indy Jazz Fest under the leadership of Dixon and Jazz Kitchen owner David Allee.
Sites for Indy Jazz Fest have included Broad Ripple's Opti-Park, Garfield Park's MacAllister Amphitheater, IUPUI's Campus Center and indoor nightclubs.
"It's a small organization, so we've been able to be malleable to fit what we think is the best way to serve the Indianapolis community," Dixon said. "There's a lot to be said for tradition and always doing it at a specific venue and always doing it at a specific time, but I think there are positives about being more flexible."
For the second consecutive year, Indy Jazz Fest will be presented as a multi-day event at MacAllister Amphitheater. Standout bass players Thundercat and Victor Wooten made the 2021 festival a hit, with Allee and Dixon offering praise to Indianapolis drummer Richard "Sleepy" Floyd for his role in curating the lineup.
The lineup for this year's event, scheduled for Sept. 30 to Oct. 2, has yet to be announced.
Even though Indy Jazz Fest boasts more than 20 years of name recognition in Indianapolis, Dixon said the event relies on high-profile artists who can attract a crowd.
"I think our lineup dictates whether people are going to come out," he said. "People ask, 'Who's playing the festival?' before they get excited. It's not like Penrod [Arts Fair], where everybody shows up. There is a little bit of pressure to have a really strong lineup, even though we have strong brand recognition. It's a situation of, 'What's on today's menu?'"•
Please enable JavaScript to view this content.