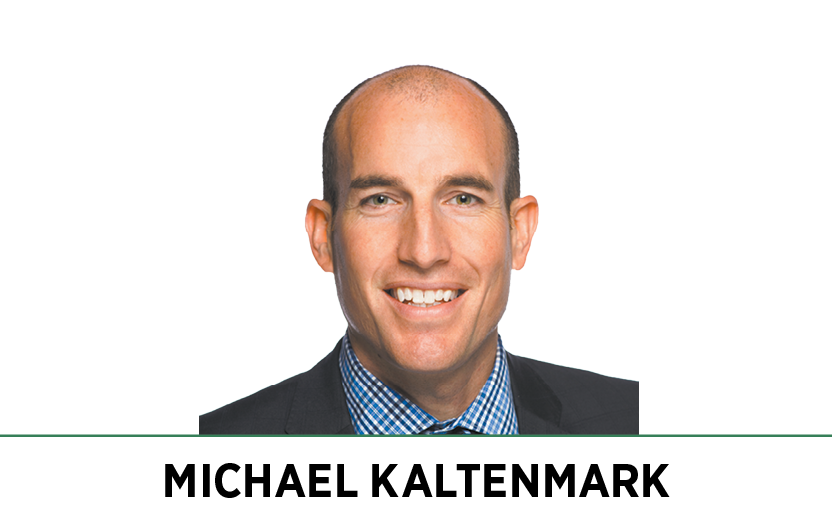 On the second Saturday of September, more than a thousand Butler University students, faculty, staff and alumni gathered on campus, boarded bright yellow school buses and descended on Indianapolis streets, parks, schools and health care facilities, all in the name of service.
That same morning, fellow Bulldogs in 11 alumni communities across the country joined the effort in their own neighborhoods.
Dubbed Bulldogs into The Streets—or BITS—this annual tradition welcomed more than 1,250 volunteers who contributed 3,750 hours worth nearly $100,000 in service to the Circle City.
The event intentionally sets the tone for the academic year and speaks directly to the hallmark of a Butler education, which involves not only readying students for successful careers, but also preparing graduates for meaningful lives by combining an intimate academic environment with real-world experiences.
The aim is to create compassionate, adaptive thinkers who aspire to become more engaged with surrounding neighborhoods during their time at Butler and support positive work in their respective communities long after their days at 46th and Sunset.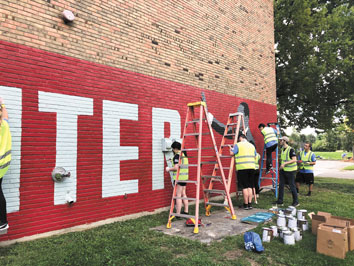 To achieve such results, however, the civic-service-focused approach must extend beyond a one-day event and even outside the curriculum. Such social responsibility must prove to be ingrained in the institutional mission and campus culture as well.
And that's exactly why Butler facilities, programs and initiatives are designed to benefit more than students by enhancing the vibrancy of the Indianapolis metropolitan area.
It's also why Butler seeks to be a critical partner in the city's continuing economic, educational and cultural growth as a key driver in improving the quality of life of its residents.
And it's ultimately why Butler sought greater community impact through partnership in 2014 by becoming a founding member of the Midtown Anchor Coalition, a robust collection of community-minded, culturally rich institutions and entities close to campus. In addition to Butler, members include Butler-Tarkington Neighborhood Association, Newfields, Crown Hill Cemetery, International School of Indianapolis, Citizens Energy Group and Midtown Indy Inc.
Quite simply, coalition members are committed to making their shared geography a premier destination to live, work, visit and learn. With that in mind, the group was eager to join the Great Places 2020 effort aimed at transforming neglected Indianapolis neighborhoods into dynamic urban centers of commerce and community. This was especially true when the Great Places designation was awarded to Maple Crossing in Butler's back yard—centered at the well-traversed hub of 38th and Illinois streets.
The 38th Street corridor serves as a connective spine, linking the cultural geography of the Midtown Anchor Coalition district to Indianapolis residents and visitors alike, with the Maple Crossing Great Place in the heart of it all. As a result, Butler and fellow Midtown Anchor Coalition members couldn't pass up an opportunity to join other institutions, neighbors, civic and community leaders, and local businesses to address years of neglect along the 38th Street corridor.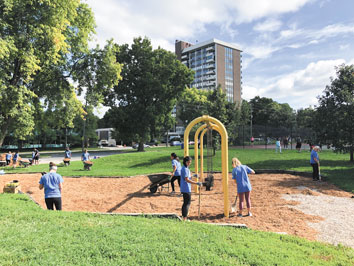 While there is still much work to be done, Butler and its institutional peers have already begun making impactful investments within the Maple Crossing Great Place and surrounding neighborhoods.
For instance, over the past two years, Butler and coalition members have sought to encourage home ownership and neighborhood stabilization while attracting and retaining workforce talent through Midtown Anchor Coalition's Anchor Housing program.
Furthermore, Butler has committed financial support, professional expertise and content toward programmatic support of the new Tarkington Park, thus creating thriving spaces that allow neighbors to connect and learn.
Likewise, Butler has made significant investments in the broader work of Midtown Indy as a means to ensure that, as Maple Crossing grows, it remains an inclusive and accessible place with programming to support entrepreneurs; affordable housing and services for seniors; and improved safety, connectivity and transportation options.•
__________
Kaltenmark is director of external relations at Butler University.
Please enable JavaScript to view this content.