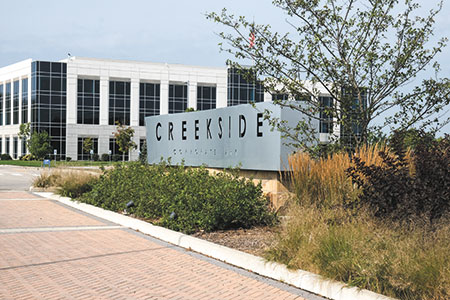 It's been six years since Zionsville partnered with the local school system to purchase 91 acres of undeveloped land from Dow Chemical Co.
Town leaders' vision was to create a business park like no other. Some 24 acres of the 91-acre site along 106th Street are dedicated to open space, paved trails and other amenities. Called Creekside Corporate Park, the business park was to culminate in more than 400,000 square feet of office space once built out.
The land cost the school system $3.4 million and it sold the property to the town for $3 million plus interest, to be paid by 2028. Infrastructure improvements added another $4.5 million to the town's investment.
But today, just one business operates there. Lids Sports Group—the park's first tenant—moved out earlier this year, and the building's owner, Genesco Corp., put the 150,000-square-foot building up for sale. Only the park's second tenant—DK Pierce & Associates—remains.
Town leaders say development is coming, but has been slow because they're picky about tenants. At least three of the remaining 13 parcels might have occupants in coming months, including an arts and events center that already has a live website.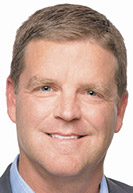 As for the Lids headquarters, the building could be under contract soon, Mayor Tim Haak told IBJ. The local office of Chicago-based Cushman & Wakefield is handling the listing and has kept town leaders informed of companies interested in purchasing it.
"I think, given the vision of what we wanted, we're prepared for [development] to take a while," Haak said. "If the original goal was to fill it up, it would be full. You know, we'd have a call center or a distribution facility or something like that. … We've had those offers and, we turned [them] down."
The town's vision for Creekside Corporate Park goes back more than a decade. Leaders wanted to see the land contribute more to the commercial tax base.
At the time, Michigan-based Dow Chemical Co. owned the property and wasn't interested in selling it piecemeal to developers.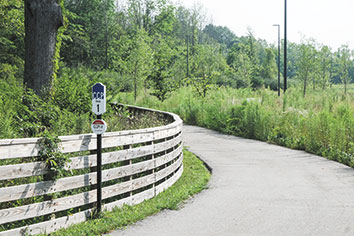 Then, in 2013, the school and town partnered to purchase the full 91 acres with the school system's existing bond money, with an agreement the town would eventually pay for the land and the school system would get a share of the tax revenue from new development.
Before work got underway to prepare the land for development, Indianapolis-based Lids announced in 2014 it was purchasing about 16 acres on the south side of 106th Street to build its $22 million headquarters.
Then, in 2016, pharmaceutical marketer and consultant DK Pierce & Associates broke ground on its $3 million, 18,000-square-foot headquarters on the north side of 106th Street.
Once infrastructure work, including a mile-long trail that connects to Main Street downtown, was complete, town and economic development leaders expected even more deals to finalize. The business park offered something no other in Boone County did: office space in a park-like setting where employees can walk to local restaurants for lunch.
But so far, there have been no new announcements. And this spring, Nashville, Tennessee-based Genesco listed the Lids building for sale as Lids' new owners moved the licensed-headgear retailer's operations to Indianapolis.
The right users
Town leaders say interest in the park remains strong, and they're willing to wait on the right tenants.
They're seeking corporate headquarters and offices for companies in research and development, technology and medical. They're not interested in warehouses, factories or heavy industrial users.
"We've had some that we liked that we wish would have come to fruition, but for various reasons, they didn't. They couldn't get financing, they wanted too much in incentives, and we said, 'No, it's not for us,'" Haak said. "Others didn't quite fit in the park, and we mutually agreed on that and we've relocated them to other parts of town."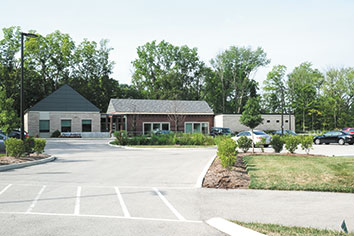 For example, N.K. Hurst Co., a dry bean and dry bean soup packaging company, expressed interest in Creekside for a processing and production facility. Ultimately, the company built its headquarters right outside of Creekside on Bennett Parkway.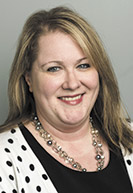 Molly Whitehead, director of the Boone County Economic Development Corp., said her office regularly fields calls about Creekside.
One challenge the park has faced is that some corporate clients are looking for an existing building that's move-in ready.
That's the silver lining in Lids' moving out, Whitehead said. Now, there is existing space for those companies to consider.
Cushman & Wakefield has listed the Lids space as one, 150,000-square-foot space or as four spaces varying in size. That opens the door for new opportunities, she said.
Meanwhile, the park's finances don't suggest the town is in dire need of filling the space. It has been able to pay ahead on its loan with the school, said Wayne DeLong, director of planning and economic development. To date, the town owes about $744,000 in principal, he said. And the early developments are generating enough tax revenue to meet the town's goals for this point in time.
"That's pretty good for having the note inked in May 2013," DeLong said. "That speaks to the town's aggressive nature to move that ball forward, but at the same time work on finding the right tenant base but still meet its obligations."
On the horizon
Haak and DeLong remain hopeful new-business announcements will come before the end of the year.
A July planning and economic development department summary posted on the town website indicates buyers are interested in several lots.
The department communicated with Treetops Arts & Events Centre about purchasing Lots 1 and 2, the report states. While that deal is not finalized, a website for the center, treetopscentre.com, and a Facebook page have gone live. The website describes a $15.2 million "world-class concert, social and corporate event center with local roots."
The 36,000-square-foot facility will be built in Creekside Corporate Park, the website states. A site map shows the facility on Lot 1 with parking on Lot 2.
"It's exciting for us, and we'd love to see it there," Haak said.
Treetops Arts & Events Centre representatives declined to answer questions about the project, saying they are currently "knee-deep in analysis."
The department reported discussions as well about offers to purchase Lot 3 and Lot 12, the report states. MR Redman Properties LLC has agreed to purchase Lot 12, and a purchase agreement is awaiting signatures. Meanwhile, Hokinson Cos. Inc. has expressed interest in purchasing Lot 9 through a letter of intent.
Whitehead said many people don't realize it typically takes three to six months to finalize economic development deals. Some take even longer. And reaching full buildout in a business park can take more than a decade. The Lebanon Business Park, for example, has been under development since the mid-'90s.
"I don't think any of us were under the belief that day one … it's going to be immediately full," she said of Creekside.
And leaders say the park is finally gaining traction.
"We've got some good activity," Haak told IBJ. "We're learning. It's our first foray into this, and we're learning it takes a little bit longer to get commercial deals done like this."•
Please enable JavaScript to view this content.