When you become an international superstar, leading one of the top franchises in movie history, surprise!, doors open for you.
If that happens and you are creatively ambitious, you realize that you now have the tools necessary to build your own doors.
Follow your muse through the door and you can bring a lot of people with you—including people who might not otherwise have known that the rooms you entered or created even existed.
All this is to say I have enormous admiration for Daniel Radcliffe, who could have coasted in Hollywood. Instead, though, he's parlayed Harry Potter popularity into a string of challenging roles on Broadway and in London. Now he's back on Broadway, lending his considerable talents—and leading his considerable fan base— to a nearly impeccable production of Martin McDonagh's tragicomedy "The Cripple of Inishmaan."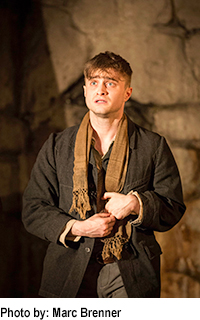 And, at least as far as I could tell, even those who bought tickets just to be in the room with their favorite wizard left the theater as breathlessly blissful as I—who never saw an entire Potter film—did.
"The Cripple of Inishmaan" concerns a group of locals on the titular Irish island in 1934 whose lives are impacted by the presence of a film crew nearby shooting the (real) film "The Man of Aran." Radcliffe plays Billy, whose disability makes his desire to be a part of the production seem to those around him, at best, delusional. That universe of characters includes his not-quite Aunties, a gossip-monger who is the village's de facto newsman, a widower with a boat that could take Billy to his dreams, and a young woman whose nasty habits include chucking eggs. To reduce any of them to a few words of description is to trivialize the rich writing of McDonagh and the expert work of the company. (My only quibble is that both Radcliffe and Sarah Greene, as egg-hurler Helen, are a bit pretty for the parts. But that's a beef I can't stew over.)
Colorful, eccentric storytellers are nothing new—what would Irish plays be without them?—but McDonagh does more than keep us guessing about the stories behind the stories. He surprises with who is telling tales. And those revelations pack emotional wallops that are both surprising and, in hindsight, inevitable.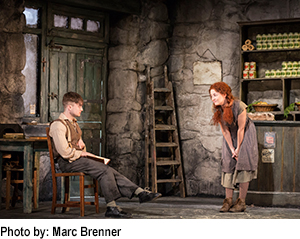 There's serious stuff going on here, but "The Cripple of Inishmaan" is also seriously funny. From its opening Radcliffe-free moments to its final revelations, it houses big, big laughs that come not from contrived punch lines but from rich, lived-in characters. Pat Shortt, as unofficial town crier Johnnypateenmike, may be a buffoon, but he's not one you grow tired of. In fact, his centrality to the piece grows as the play goes on. Telescope-coveting Bartley McCormick (Conor MacNeill) starts as a childish teen but becomes surprisingly endearing. And if McDonagh wants to write a spin-off that consists of nothing but sisters Eileen and Kate Osbourne (Gillian Hanna and Ingrid Craigie) complaining and worrying, I'll gladly take an aisle seat.
As for Radcliffe—that guy from the Harry Potter films—well, this is not a star vehicle. It's an ensemble piece. And it speaks to both Radcliffe's talents, his humility, and his eye on the big picture that he's allowed himself to surround himself with such actors.
And that he proves that he belongs in such good company.