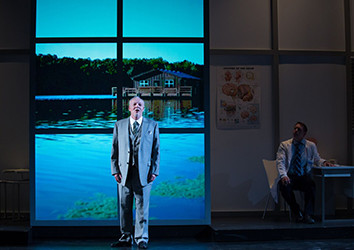 Photo credit Denis Kelly
With its season-opening "The Man Who Mistook His Wife for a Hat" (Aug. 21-23 at the Schrott Center)—its first opening of a full season in far too long—the Indianapolis Opera boldly placed a bet that it can retain and/or find an audience committed to discovery rather than recognition.
For a variety of reasons—including the obvious financial—the newly reformed IO is now focusing on more intimate works, in this case a three-singer, 70-minute, fact-based piece about a singer/teacher with a unusual brain disorder. No chorus of gypsies. No patter songs. No headdresses. No overture. Just two sets, three voices, and a musical diagnosis. Under the previous regime, Indianapolis Opera crafted a double-bill out of the solo operas "Bon Appetit!" and "A Water Bird Talk." But smaller is now the rule rather than the exception for IO.
It's not just a matter of scale. There's a big difference between the pleasures brought by a strong production of one of the major, well-known, big-passion operas and the more idiosyncratic ones showcased in "Hat." Ideally, all the elements in a large-scale piece work together and create magic, but a "Tosca" or an "Aida" audience can also ride through rough spots knowing a showcase aria is just around the corner. Those magnificent scores, well played, and a strong performer or two can make the overall experience worthwhile. And they can mask dramaturgical clunks with spectacle. Operas such as Michael Nyman's "Hat" demand a more holistic experience.
GLMMR, the NYC-based art collective credited with directing this production, crafted one breathtaking moment midway through "Hat," bringing music, performer, ideas and visuals together as a window of images behind the afflicted Dr. P (bass Tony Dillon) shift and fragment, taking us into his mind in a uniquely theatrical—and operatic—way. The ending, too, melded sight and sound in a way that clearly answered the question "Why musicalize this story?" (A question that anyone writing a musical or opera should ask and answer.) The Indianapolis Chamber Orchestra and the trio of performers offered solid work, throughout.
Beyond those moments, I found myself admiring more than fully engaging with the tale. No doubt there's power in the story—it helped launch writer Oliver Sacks to international recognition—but too often I felt like the obvious libretto was getting in the way. (One of the strongest musical moments occurred when husband and wife's voices melted in a lovely way, sans words). The lax libretto gave me too much time to sit with nagging narrative questions. Why didn't Sacks observe the afflicted teacher in his classroom? Why wasn't a brain scan ordered? If I were swept away, my mind might not have gone to those places, but as the opera demonstrates, we don't have all that much control over the workings of our brains.
Next up on the opera front: The Indianapolis Opera's next full production will be "Mansfield Park," based on the Jane Austin novel, in March. Meanwhile, IU Opera will stage "Dead Man Walking" in October in Bloomington.