Second in a series of dispatches from the Big Apple. For reviews of "Fun Home," "An American in Paris," and "The Curious Incident of the Dog in the Night-Time," click here.
SOMETHING ROTTEN
"Something Rotten" has no lesson to teach, no agenda to project, and no desire to help you impress your impressionable friends. If you come to the theater with some knowledge of Shakespeare and his works, great. If you know your musical theater history, that's terrific. But there are no entry requirements apart from the ability to accept a parade of groaner jokes without losing your smile.
If you're heading to New York with someone who says "I just want to be entertained," "Something Rotten" should be high on your list.
It's the story of theatrical brothers Nick and Nigel Bottom, who are having trouble competing with that arrogant know-it-all Williams Shakespeare. The Bard (why is he "the" bard and not "a" bard, Nick wants to know), played here by the marvelous Christian Borle, dominates the London theater scene and the desperate Bottom brothers need to find an advantage. That means going to an ineffectual soothsayer for a glimpse into the theatrical future.
What they find is that something called a "musical" will someday be all the rage and that Shakespeare is greatest legacy will be a play—and here's where the vision gets muddy—called "Omelet"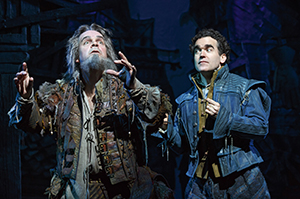 Credit Angela Sterling
And so, of course, the boys set out to create "Omelet: The Musical."
Silly? You betcha. Another show with jokes steeped in musical theater lore? Yup. An underlying message? Nope. Big laughs? Absolutely.
It's also the rare Broadway musical that isn't based on any previously published source or pre-existing song stack. Like "The Book of Mormon" (with which it shares director/choreographer Casey Nicholaw), "Something Rotten" was cut from whole cloth.
Real-life brothers Karey and Wayne Kirkpatrick, conspiring with book writer John O'Farrell, have wisely given the audience just enough reason to care about these folks, just enough sincerity in their relationships, and just enough goofy suspense about what will happen when "Omelet" hits the stage.
A terrific, playful collection of talents have been gathered to fill out the cast. None may be big names outside of us theater geeks, but Borle, Brian d'Arcy James, charmingly awkward John Cariani, Brad Oscar, and Heidi Blickenstaff aren't folks who need any resume padding. They've been surrounded by a truly supporting company.
Okay, so it isn't "The Book of Mormon"—the songs aren't as distinct, the comedy not as outrageous, and there's not an underlining, sneakily subversive message. But I sometimes think that the only people doing that kind of comparing are New York critics.
For the rest of us—those looking for shows to be pleasures unto themselves—"Something Rotten" delivers. When I wasn't laughing, I was smiling. And I have no doubt that we'll be seeing a parade of production of this lark as soon as the rights are available.
FOOL FOR LOVE
Every critic has gaps in experience and one of mine is the work of playwright Sam Shepard. I've read some of his plays and have seen filmed versions, but the Broadway revival of 1983's "Fool for Love" was my first opportunity to see one on stage.
When the lights go up on an edge-of-the-desert motel, we find May, doubled over at the end of the bed, barely visible under her wild mane. Eddie poses defiantly nearby a la the Marlboro Man. For the next 75 minutes, the two are rarely still—there's even some impressive lassoing.
The marquee names here are Nina Arianda and Sam Rockwell as May and Eddie, whose raw relationship isn't a dance as much as it is a push-pull struggle between magnets whose polarities keep changing.
There are moments when the magnetic pull is toward each other, moments when it's all about repelling, and still others when one of the pair is drawn to the other—who is trying to get as far away as possible. May and Eddie are either made for each other or the one of the worst-paired couples in history.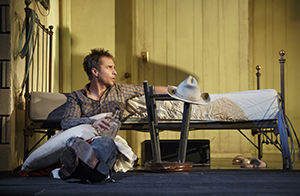 Credit Joan Marcus
This isn't a two-hander. There is a pair of other characters in the mix, one mysterious and the other grounded. The first is simply named Old Man (Gordon Joseph Weiss), and he spends much of the play staring into space, occasionally offering poetic, although suspect, commentary. The other is Martin (Tom Pelphrey), who would have been May's date for the evening… if Eddie hadn't have shown up. Both actors offer spot-on performances, reminding that one of the treats of New York theater is often the richness of the below-the-title cast.
May and Eddie have a mess of a backstory. And their prospects for the future aren't much better. What Shepard seems interested in, though, is how we get from moment to moment when we can't free ourselves from the world we've co-created—how we never can know if things are going to get better or worse.
While Arianda and Rockwell are fascinating to watch, I never felt the sum of their work exceeding their individual efforts. That certain chemical something just didn't seem to happen, tipping the evening away from being a satisfying whole and more toward an interesting acting exercise.
Still, "Fool for Love" is one of those shows—and this is one of those productions—that I find myself appreciating more as I get distance from it. Given the opportunity, I'd return to this dead-end motel for another look.
First Daughter Suite
What's it like having a presidential dad? How does it feel to grow up in the White House surrounded by security and limited in your freedoms—to be in a house that can never be a home?
I can't answer those questions.
But I can speak to what it is like to grab a last minute rush ticket (only $20) to see "First Daughter Suite" at the Public Theater, in which a group of terrific musical theater actresses try valiantly to make the best of a painfully disjointed quartet of musical sketches.
In the first, Pat Nixon passively referees a battle between daughters Julie and Tricia on the latter's wedding day to no particular dramatic effect. In the second, Amy Carter fantasizes a trip on the Presidential yacht with Susan Ford and respective moms to free the Iranian hostages. Those willing to return from intermission witness Nancy Reagan in a poolside battle of wills with Patty Davis (ending with a Latino servant administering knock-out drugs to keep Patty quiet). Finally, Barbara Bush's stoicism gets explained via a confrontation with the daughter she lost a half-century earlier.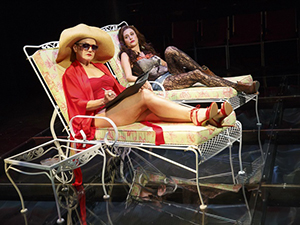 Credit Joan Marcus
It's the creation of Michael John LaChiusa, one of the most prolific musical theater composers today. He's had full productions of more than a dozen of his creations—including "Giant," "See What I Wanna See," "Queen of the Mist," and "Marie Christine"—at high-profile venues, primarily in New York. "First Daughter Suite" is a follow-up to LaChiusa's "First Lady Suite" and, despite the title of the new show, he still seems more interested in the mothers than the daughters.
Haven't heard of LaChiusa or his shows? Well, from my far-from-exhaustive-but-often-exhausting experience with his work, there are some pretty clear reasons why. Even our region's most experimental companies haven't, to my knowledge, staged any of them. And as much as I've tried, none of the cast recordings of his work have been less than a chore to listen to. Previous encounters on stage left me trying to figure out what I was missing both in his off-putting music and his odd dramatic structures and wildly inconsistent attempts at humor. Sample lyric: "They can't escape the public eye/and woe to those who dare to try."
The Public Theatre's production of "First Daughter Suite" didn't alter my inability to see his appeal.
The show lured me with the talents of Rachel Bay Jones (a saving grace in the Broadway revival of "Pippin"), Alison Fraser (treasured from "The Secret Garden" and "Romance, Romance"), Caissie Levy (from the "Hair" revival), Mary Testa ("Xanadu"), and more.
None disappointed. Fraser created very different but equally strong living portraits out of Betty Ford and Nancy Reagan. In understating Laura Bush and Rosalynn Carter, Jones made both memorable. And Testa was in amazing voice as Barbara Bush.
I'd love to see any or all of them again…in a show they can enhance rather than overcome.