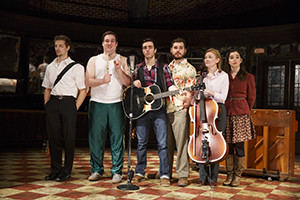 Like many of the musicals that have hit the road lately, "Once" (at Clowes Hall through Feb. 14) is an adaptation of a movie.
But its theatricality, its efforts to understand heartache, and its desire to create something emotionally true and moving, is light years away from the cringy, pandering world of "Dirty Dancing," "Ghost," "Flashdance" and other screen-to-stage dreck that's been making the rounds.
The difference is clear even before showtime, when the actor/musicians play spirited songs together onstage. During this pre-show, audience members are welcome to visit the onstage bar, which creatively adds a level of intimacy to the storytelling to come (while also, I assume, helping bump up the bar take). Once the stage is cleared of civilians, the last of the pre-show songs—a lovely rendition of "Raglan Road"—segues seamlessly into the first of the actual songs from the show, "Leave," a riveting song inspired by a character we never see and sung through the filter of her absence.
The singer is an unnamed Guy (Sam Cieri) ready to give up on his non-career in Dublin after his girlfriend moved to New York City. Enter a Czech woman (Mackenzie Lesser-Roy) with relationship baggage of her own whose insistence that he keep playing proves impossible to resist. I'll say no more about the plot except that, more than once I thought "How are they going to stretch this to a full-length musical?" Every time, I was pleasantly surprised by how the show's creators made it work.
Unlike other books/movies/plays about struggling artists, "Once" makes clear--through outstanding songs including the Oscar-winning song "Falling Slowly"--that Guy's got the musical chops to make it. He doesn't just have a fire that needs rekindling, he's got the talent to shine. And Cieri gives Guy a wiry, nervous awkwardness and raspy voice that bring make the character his own. If Lesser-Roy can't quite match Cieri, that's partially due to the way her early scenes paint her too much in the Magical Pixie Dream Girl mode. Yet by act two I found myself invested completely in them, individually and as a potential couple.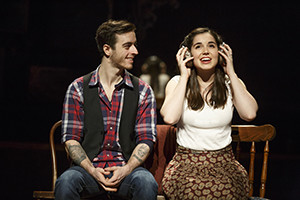 Non-equity tours can sometimes feel like a Xerox of a Xerox. In this case, the flaws in the show itself--supporting characters written to go for easy laughs, choreography not always seamlessly incorporated--were a bit more pronounced than in the first Equity tour (which I saw in Chicago), yet they barely impacted the show's overall effect.
"How's the heart?" Guy's father asks his son in one of many moving moments.
In this magical musical, I'm happy to report that the heart remains just fine.