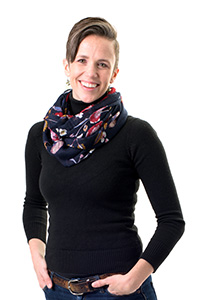 Through her work as associate artistic director of the Indiana Repertory Theatre, her directing work at the Phoenix Theatre (including "On Clover Road," closing this weekend) and her leading summer Shakespeare productions, Courtney Sale has become a force in Indianapolis theater.
But now she will be moving west. Seattle Children's Theatre has announced that Sale will be its new artistic director, assuming the role in August.
Sale, a 2016 IBJ Forty Under 40 recipient, graduated from Cornish College of the Arts in Seattle.

"Seattle is the city where I trained as a young artist. I was drawn to this community because of its dynamic artists, discerning audiences and ineffable beauty," said Sale. "What continues to inspire me and what I have tried to reconstruct in every place I lived after my time in Seattle, is its spirit of inclusion. I am honored to continue that work at SCT."
Since joining the Indiana Repertory Theatre in 2013, Courtney Sale has directed productions and expanded the young playwrights' program.
She's also been involved in IRT's Many Mentors Initiative in which mentees get a free ticket if joined by mentors paying a reduced price. She oversees classes, writes grants, and collaborates other IRT departments. "I don't know if anyone here can float and engage this much," she told IBJ last year. "And the parameters keep shifting."