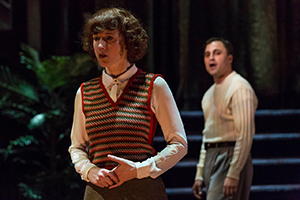 Photo by Zach Rosing.
The cliche question associated with mysteries is "whodunnit."
For me, though, the question is often "whyshouldIcare."
Sure, a clever, talented writer can carefully craft a crime, sprinkle clues, line up a parade of colorful suspects, lead the reader or viewer down some blind alleys, and eventually come up with a surprising but sensible denouement, but to what end?
When a mystery--between covers, on a screen, or on stage--can make me forget that question, I consider it a success.
Which brings me to the Indiana Repertory Theatre's production of "The Mousetrap" (through May 22). The IRT works a mystery into just about every season but this theatrical warhorse—with a 63-years-and-counting run in London—doesn't have the familiar characters of the IRT's recent Sherlock Holmes productions. Nor does it have the tricked-out-with-gimmicks set of its production of whodunnit "The Game's Afoot."
What Agatha Christie's 1952 play does have here is a production team and cast willing to take it on its own terms, neither embellishing it with unneeded silliness or unneeded weight. Yes, "The Mousetrap" is something of a machine. But it's a well-built machine that functions smoothly given proper care.
Giving away too much plot is criminal, particularly with mysteries, so I'll just say that the new owners of Monkswell Manor have their hands full on a snowy night with rooms full of guests. There's also earnest Sergeant Trotter who questions them about a recent murder. The tune "Three Blind Mice" is important although, even in the end, you might not be totally clear on why exactly that's the case.
Cassandra Bissell, in her IRT debut, solidly sets the tone in the opening as the proprietress of the manor, helping to balance the more colorful guests until the arrival of Trotter (Charles Pasternak), who becomes the engine to drive the play. Under the guidance of director Courtney Sale, the company (including IRT stalwarts Henry Woronicz, Robert Neal, Jan Lucas, Jennifer Johnansen and Ryan Artzberger) gets to play in a handsome Robert M. Koharchik set.