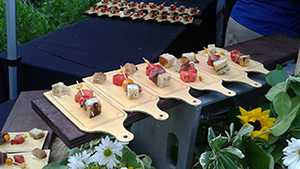 As a Zoobilation judge for the June 10th Indianapolis Zoo fundraiser, my responsibilities were limited to about a dozen booths, scoring restaurants on taste, presentation, and theme.
After that activity, which really only takes about a half an hour, I could just pack up and go home.
But what kind of journalist would that make me?
The better to try to craft a very subjective "best of" list. Instead, I stuck around to try to taste just about everything at the more than 80 booths. I say "just about" because I'm a human being and have only one stomach.
This morning, I emerged from my food coma with the following list of Zoobilation favorites:
10. Nada's Mu Shu Pork Belly Taco with seasoned avocado, crispy pork belly, hoisin barbecue sauce, and lime sesame cabbage. It's always interesting to see what the newcomers come up with and Nada brought its A-game.
9. Table at Market District's Candied Salmon Tootsie Roll wasn't candy, but it was a unique, delicious and handy way of presented finger food. It also was part of an impressive array of offerings by another welcome Zoobilation newcomer.
8. Alligator Gumbo from Georgia Reese's makes the list not just because of its flavor, but because Zoobilation should be a place where you try things you might otherwise not. And nobody else offered alligator gumbo.
7. This slot really should go to all of the steak and burger servers at Zoobilation. In the interest of going the distance and because of longer lines, I admit to skipping some of them. However, I will give a tip of the hat to Shula's Blacked Beef Tenderloin Tip.
6. The All-Out Duck from Maple Leaf Farms may have been a bit show-offy and overindulgent, but that's part of the fun of Zoobilation. The goodness mound featured smoked duck topped with pulled duck, duck bacon, mustard seed caviar, and pickled cherry, all on an edible spoon.
5. Eddie Merlot's Ceviche with shrimp and crab that gave ample attention to avocado and a hint of cayenne pepper.
4. Mojito Popsicles fro

m Nicey Treat was both nice and a treat. And necessary at about the
midway point of this year's hot Zoobilation adventure.
3. McCor

mick & Schmick's red pepper chili cone with micro greens, tequila lime marinated shrimp and lime caviar gets points not just for its user-friendly presentation, but also because its mix of flavors worked so well together.
2. Louie's Wine Dive's Smoked Trout cube proved a wonderful in-one-bite delight.
1. Severin Bar's Picnic at the Zoo paddle featuring a bite-sized BLT with wild boar bacon, a smoked sea salt biscuit with sweet cream honey butter and jam, and a square of marinated watermelon. Any of those three elements would have place it on this list. Together, well, I'll just say that if you are invited on a picnic by a Severin chef, by all means GO.
Did you get to Zoobilation? If so, feel free to chime in with your favorites. I'm going to take a nap.