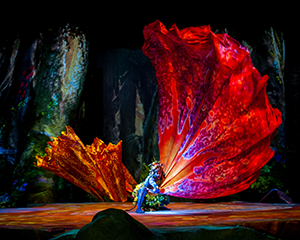 Yes, it set box-office records. But I'm not convinced that there's all that large of a following for "Avatar," James Cameron's veritable reboot of "Ferngully." (Quick: Name two of the characters in "Avatar.").
Yet there seems to be a belief that the film is beloved. Witness the substantial "Avatar" addition being built at Walt Disney World's Animal Kingdom park and the Cirque du Soleil's arena show "Toruk—The First Flight," at Bankers Life Fieldhouse through Aug. 14.
A prequel of sorts to the movie, "Toruk" sports an impressive set teamed with a sharp and creative use of projections. There are beautiful images, a strong sense of scale thanks in part of the sizable-but-largely-character-free cast, and a handful of amazing acrobatic moves. At least in its opening sequence, there's a very real sense of a new world unfolding before our eyes.
Set well before the movie, "Toruk" takes us on Pandora (James Cameron is far from subtle with names). Here—in a natural-disaster scenario that even Irwin Allen couldn't have dreamed up—a pair of friends go in search of rare objects required (for some reason) to appease (I think) a giant flying creature who is required (for some reason) to keep a magical tree from getting destroyed by an erupting volcano.
I wasn't expecting a Chekovian drama here, but at least offer a villain to hiss or an ending that leaves audiences in awe instead of in "what?"
"Toruk" lacks the commitment required to be either a full-blown pageant of wonders or an adventure with characters we care about and dangers that seem truly threatening. Its visual beauty is strapped to a series of plot devices as clunky as those in Marvel Universe Live. Any scrape can be solved with a line of narrative dialogue or a few backflips.
First-time Cirque goers are more likely to buy in, but returnees will note that "Toruk" has more narrative, more spoken English (courtesy of an on-stage narrator) and less jaw-dropping acrobatics, than others in the Canadian company's catalog, There's no excuse for a Cirque show to end with mechanical rather than human special effects.
All that being said, I actually liked it better than I did the movie.
But that isn't saying much.