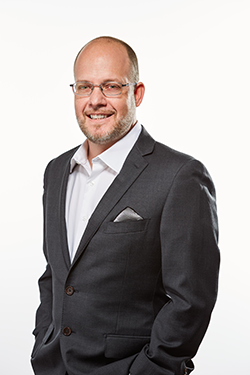 Jeremy G. Shubrook, 45, former director of production at the Adrienne Arsht Center for the Performing Arts in Miami, Florida, has been named director of festivals, performance and public programs for the Indianapolis Museum of Art.
He began work on Monday.
Technically, the position is a new one. But it incorporates some of the work done by Scott Stulen, whose title was curator of audience experience and performance. Stulen left in mid-2016.
"Scott changed the parameters around here," Shubrook told IBJ. "He looked at how audience engagement worked [and developed] experiences that were more interactive."
Those included Sulten's signature Cat Video Festival and the popular IMA artist-designed mini-golf course—which is scheduled for a return later in 2017.
Shubrook brings different experience to the table, having worked for 10 years at a performing arts venue that offered more than 500 events a year in eight spaces.

"I was like an air traffic controller," he said. "My job was to keep things moving. Here, it's going to be a little more than that. I get to pick some of the planes that are flying as well."
He offered no specifics yet. "We're looking at what worked well. I'm getting to know what [Stulen] did, and looking at the assets on campus."

"I've just arrived, but I think there are possibilities for presenting and producing and partnerships if all goes well. I don't mean full theatrical productions but more event-based producing," he said.
"I was very happy with the position in Miami," he said, "but the one thing lacking is that it didn't leave as much room for experimentation as I would have liked. Being inside the envelope of an art museum provides different opportunities."
He spent much of his first week exploring other arts offerings around town, including concerts at the Vogue, the Palladium, and The Hi-Fi, as well as plays at Indiana Repertory Theatre, Theatre on the Square and the Indy Fringe Building.

"I'm not looking to create a competitive environment," he assured. "I'm looking for complementary. What can we do that others can't or what can we work on together that they can't in their existing venue?"
IMA CEO Charles Venable, in a prepared statement, said, "Few other art-and-nature-based organizations in the country can produce programs that range from intimate performances for small, targeted audiences to large-scale festivals designed to attract thousands of visitors each season. ... Jeremy Shubrook's creativity, leadership and production ability will be integral to the success of such endeavors going forward."