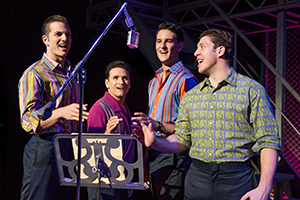 The stability of the construction of "Jersey Boys," the jukebox musical hit, gets a bit of a test in the current tour (at Clowes Hall through March 5).
The show—essentially the best VH1 "Behind the Music" episode ever put on stage—chronicles the rise and evolution of the Four Seasons, the hitmakers behind "Sherry," "Big Girls Don't Cry" and many more. With fluid staging, a solid tune stack, and a remarkably crisp book by Marshall Brickman and Rick Elice (which I appreciated this time more than ever), the show manages to get even those of us who didn't really know Frankie Valli from Frankie Avalon engaged in the streets-to-stardom story.
The current tour benefits from a Valli (Aaron De Jesus) who not only has the voice and the look but manages the tricky transformation from naïve teen to world-weary road warrior. And Cory Jeacoma, as songwriter and Four Seasons anchor Bob Gaudio, brings a shot of life to the show when he joins the band well into act one.
As the rest of the core quartet, Keith Hines has been allowed (or guided ) to turn Nick Massi into a one-joke cartoon, giving him a monotone delivery that's good for some easy laughs but robs the show of part of an emotional payoff. And while I have no illusion that I'll ever see as dynamic a Tommy DeVito as Jeremy Kushnier in the Chicago production, I was still disappointed in the Joey Fatone-like interpretation of the part by Matthew Dailey. The supporting cast (with Thomas Fiscella being a notable exception as mobster Gyp DeCarlo and others), too often seem to be more interested in getting the show over with rather than delivering the goods. And the women, across the board, come across as shrill afterthoughts even when singing.
Yet even without dance moves as crisp and coordinated as in previous productions, the show still holds enough of its power. My eyes didn't exactly adore it this time, but I was pleased to see that "Jersey Boys" has hung on to much of what it's got.