Construction crews are putting the finishing touches on a pedestrian path along the White River in Noblesville—a $2 million-plus project that took more than a decade to come to fruition.

Residents formed a committee in 2001 to discuss raising money for a riverfront walkway. Work on the first phase began in 2008 with an array of public and private funding; phase two started last spring.

Now known as Riverwalk, the paved path follows the eastern riverbank under Conner Street, linking a Riverview Hospital parking lot on the south side of the busy road with the Hamilton County Judicial Center to the north.

From there, it loops around a grassy area behind the courthouse before passing beneath Logan Street and emerging on the other side as a boardwalk of sorts overlooking the water. (Pro tip: Avert your eyes from the electric substation towering to the east.)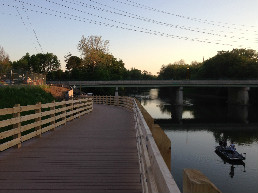 Noblesville's Riverwalk overlooks the White River. (IBJ photo/Andrea Muirragui Davis)
Not far upstream, the path ties into the existing White River Greenway pedestrian bridge leading to Forest Park.
A ribbon-cutting ceremony is planned for the end of the month, but officials are seeking funding for a third phase to spruce up the green space between Conner and Logan streets.

Eventually, plans call for extending the path south from the Conner Street bridge.

As it stands, Riverwalk spans less than a mile from stem to stern, but officials nevertheless say it provides a crucial connection to the city's quaint downtown—and highlights the river as a community asset.

What's your take on the project: Is an evening stroll along the river worth a seven-figure investment?