If tradition holds true, a line will start forming Saturday at the Hamilton County 4-H Fairgrounds well before the doors open at 8 a.m.

"Everyone wants to get in early for the best plants and the best buys," said Carmel resident Suzanne Stevens, one of the master gardeners who grew the 12,000-plus plants that have been arriving at the fairgrounds this week.

It takes a couple hundred volunteers to pull off the Hamilton County Master Gardener Association's annual plant sale, but after 15 years they know the drill.

Stevens and her fellow green thumbs nurture the greenery—perennials, biennials, annuals, veggies, grasses, trees and shrubs—in their own gardens so it's acclimated to local conditions, then host a series of "digs" to prepare it for sale.

The spring event is the not-for-profit organization's largest fundraiser, supporting scholarships for students interested in studying horticulture, a grant program and other projects including display gardens throughout the county (including nine at the fairgrounds alone).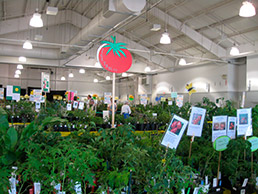 More than 12,000 plants will be available at the Hamilton County Master Gardeners Association's annual sale. (Photo courtesy of Hamilton County Master Gardeners Association)
Nearly 400 association members populate its 42 volunteer committees, keeping busy year-round.
Stevens sent 2,700 plants to the sale in 2012 expected a similar bounty this time around. Once the sale is over, she plans to hang up her garden gloves for a week, and then work on cleaning up her own beds.

"It has been a good growing year," she said. "The weeds have done beautifully."

The Hamilton County Gardeners Association's 15th Annual Plant Sale runs 8 a.m.-3 p.m. Saturday at the Hamilton County 4-H Fairgrounds and Exposition Center in Noblesville.
____

Have suggestions for a fun Friday profile? Drop me a note at adavis@ibj.com.