Westfield Washington Schools likely will hold onto 14 acres of high-profile property at the corner of U.S. 31 and State Road 32—at least until offers for the land improve.

Officials at the 6,400-student school district have high hopes for the parcel, which they've been told will be "very valuable" after the $600 million overhaul of U.S. 31 is complete in 2015.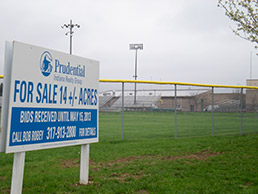 When commercial developers started expressing interest in the property, the district listed the land for sale, accepting offers through mid-May. The minimum bid: $5.4 million, which the district says is 90 percent of the property's appraised value.
Only one bid came in, and district business manager Nick Verhoff said he will recommend that the school board reject the offer and explore other (potentially more-lucrative) options for the sale.

The property now is home to the school district's administration building, football/track stadium and junior varsity baseball field. Given the cost of relocating those facilities, Verhoff said last month that the district can't afford to take a low-ball bid.

"The price has to be right," he said then. "We owe it to taxpayers to make the best use of our assets."

Local broker Ross Reller of Colliers International expects offers to improve when the highway project and nearby Grand Park Sports Campus are closer to completion. Early investments are just too risky in most cases, he said.

"I've heard developers say they'd rather pay retail and be right [about a location] than pay wholesale and be wrong," he said.